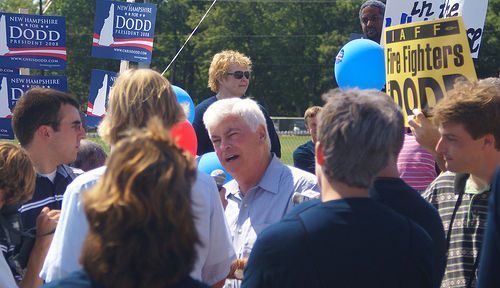 WASHINGTON–Announcement by Democratic Senators Chris Dodd of Connecticut and Byron Dorgan of North Dakota that they will retire was greeted with dismay by Democrats and with glee by Republicans hoping to recapture majority control of the Senate in the 2010 midterm elections next Nov. 2.
The Obama administration and the Senate Democratic leadership has struggled to assemble the 60 votes, 58 Democrats and two independents, needed to break Republican filibusters, most notably of the health care reform legislation now on a fast track to final approval. So with more than one-third of the Senate at stake in the midterms, even the loss of one seat could enable the Republicans to filibuster President Obama's agenda in the final two years of his first term.
The corporate media is pouring out a litany of gloom, forecasting that the Democrats may lose four or five Senate seats and as many as 30 House seats in the midterm.
But this ignores the fact that six incumbent Republican Senators have also announced they will retire and the GOP may well lose some or all of those seats. If the Democrats are able to hold on to most or all of the Senate seats they now hold and win the race for six open seats now held by Republicans, the Democratic majority could actually be increased.
"There are more Republican Senators retiring than Democrats," said Joelle Fishman, chair of the Connecticut Communist Party district and also chair of the CPUSA's Political Action Commission. "The approach has to be to make certain that the Republicans do not pick up more Senate seats," she said. "The GOP will be going for the jugular."
The labor-led grassroots movements, she said, should set as their goal "to increase the Democratic majority in the Senate above 60 so the Republicans can't continue their filibuster tactics."
Dodd, she said, was the target of the ultra-right. "They made him a scapegoat because he authored legislation taking on the sub-prime mortgage lenders, and insurance giants like AIG. He was out front on health care reform including a robust public option. His voting record was nearly 100 percent pro-labor." They pilloried Dodd for a personal mortgage deal reached with Countrywide Mortgage Company.
But given his low poll ratings, his chances of winning a sixth term were considered low.
The good news, she said, is that Connecticut's Democratic Attorney General, Richard Blumenthal, has announced he will run for Dodd's seat. "He has aggressively taken on the corporate interests and consistently stands up for workers' rights and consumer rights. He is one of the most popular elected officials in the state," she said. "He is someone ordinary working people can count on." She said the expectation is that the Republicans will fail to win that seat.
It will be more difficult to hold on to Dorgan's seat in North Dakota. Republican Governor, John Hoeven is "seriously considering" a run for the U.S. Senate. Democrats considering a run include Rep. Earl Pomeroy, North Dakota's lone at-large House-member or Heidi Heitkamp, Attorney General and former Tax Commissioner.
Democrats in Ohio stand an excellent chance of picking up the seat of retiring Republican Senator George Voinovich. Ohio Sec. of State Jennifer Brunner and Lt. Gov. Lee Fisher are vying for the Democratic nomination.
"Brunner is the better candidate by a long shot," declared Ann Pallotta, a long-time labor and community activist in Cleveland. "She is a magnet. She brings people along. She has been a fabulous Secretary of State, getting Ohio's election procedures back on track. She is pro-labor and a real fighter."
Other possible Democratic pickups in U.S. Senate races:
Missouri: Sec. of State Robin Carnahan is given a good chance of defeating Republican Roy Blunt to fill the seat now held by Republican, Kit Bond.
New Hampshire: Democratic Representative Paul Hodes is favored to win the seat now held by Republican Judd Gregg.
Florida: Kendrick Meek, Democrat, a member of the Congressional Black Caucus, could defeat Republican, Charlie Crist, in the race to fill the Senate seat vacated by Sen. Mel Martinez. Crist, despised as too moderate by the Republican right, faces a nasty primary challenge from Marco Rubio, former Majority Leader of the Florida legislature.
Kansas: Retirement of the rabid ultra-right Sam Brownback is an opportunity to challenge the GOP in one of their supposed strongholds. Among the Democratic challengers is Charles Schollenberger who calls for a "phased military withdrawal from Afghanistan" and a search for a negotiated end to the war.
Kentucky: Republican Jim Bunning's retirement is another opening for inflicting defeat on the Republican right. Democratic contenders include Dem. Lt. Gov., Dan Mongiardo and Attorney General, Jack Conway.
Louisiana: Incumbent Sen. David Vitter, client of a house of prostitution who nonetheless lectures others on their sinful behavior, faces a tough challenge from Democrat Charlie Melancon who stepped down from his House seat to run against Vitter.
The labor movement and other grassroots organizations are well aware of the daunting challenge in the 2010 midterms. Pushing through legislation like the $174 billion jobs bill approved by the House before the Christmas-New Year recess is crucial to overcoming a mood of anger and frustration among voters many of whom blame incumbents of both parties for gridlock.
Photo: http://www.flickr.com/photos/marcn/ / CC BY 2.0