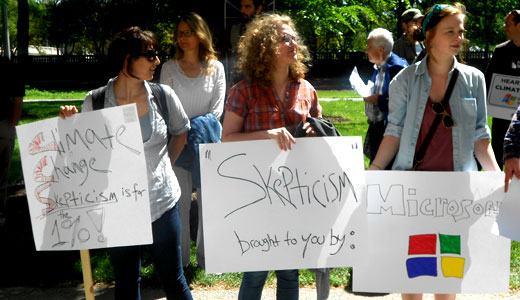 Sen. John Barrasso, R-Wyo., wants to attach an amendment to the Senate Democrats' budget plan that would prevent federal agencies from monitoring greenhouse gas emissions from exported goods produced outside the U.S. And Sen. Roy Blunt, R-Mo., is seeking to put forward an amendment that would require a 60-vote threshold for any laws that impose a federal carbon tax. These amendments would be significant roadblocks in the fight against global warming. Of course, for the anti-environment, pro-fossil fuel Republican Party, it's just business as usual
The proposed amendments are only two of about 110 anti-environment amendments offered by Republicans to the Senate budget. All this is being attempted not merely in the interest of climate change denial, but as a way of giving gifts to big corporations.
Activists are fighting back. "Giant corporations are hoping to sneak provisions into the rushed Senate budget bill to undermine the core regulatory protections on which Americans rely to make our country stronger, safer, cleaner, healthier, and more fair and just," said Robert Weissman, president of nonprofit consumer advocacy organization Public Citizen. But "the American people aren't so easily tricked, and they demand Senators vote down these corporate-gift amendments."
Sen. James Inhofe, R-Okla., promised "lots of amendments" to the budget, all of them equally disturbing. They would reportedly include further efforts to block EPA greenhouse gas regulation, and "reform" the Endangered Species Act to disallow the federal listing of a species until the U.S. Fish and Wildlife Service "determines that efforts led by state governments are unable to conserve the species." Such an action would circumvent federal protection for the animals and add a needless 'middle man' (the Fish and Wildlife Service) to the equation. Inhofe is a known climate change denier, and has also claimed that Endangered Species protections interfere with energy development.
Sen. John Hoeven, R-N.D., also remarked that an amendment that would address the controversial Keystone XL pipeline "was being worked on," though he did not elaborate. Hoeven is a leading supporter of the pipeline project, which the Obama administration has criticized, and which both environmentalists and Native Americans have outright denounced.
What this amounts to is an all-out attack by House Republicans on the fight against climate change; the struggle to reduce pollution including carbon output; and the ongoing efforts to save animals which are put in danger by the very global warming that the right wing turns a blind eye toward.
Rep. Henry Waxman, D-Calif., added, "Republicans have made an assault on all environmental issues. This is, without a doubt, the most anti-environment Congress in history."
Sen. Ben Cardin, D-Md., said that the Obama administration had fortunately been able to begin turning the tide in terms of poisonous output from coal plants, for example, but the Republican amendments would undo that progress. Federal environmental protection, in general, he said, is very vulnerable. But "I think it will backfire," said Cardin, "because Americans want clean water and clean air, and they think that clean water and clean air are important for our economy."
Votes on these amendments are expected to take place this evening. All amendments will be subject to a 50-vote minimum in order to be passed.
Katherine McFate, president of nonprofit research organization the Center for Effective Government, noted, "The last thing we need are damaging budget amendments that would throw up more roadblocks to protecting American families and communities."
Photo: Activists in Chicago protest the concentrated effort by Republicans and corporations to deny the existence of climate change, a denial that fuels the GOP's attempt to ram through amendments to the Senate budget that would strip important environmental protections. Blake Deppe/PW