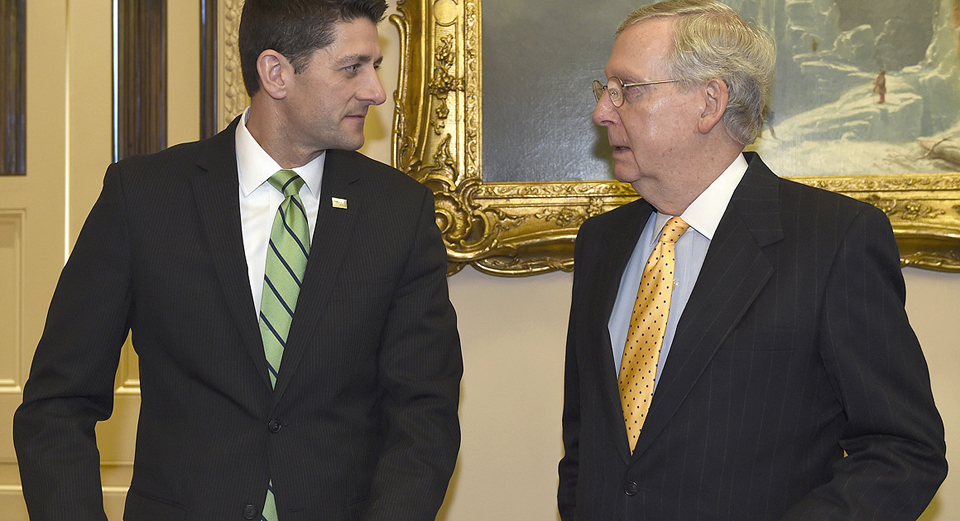 WASHINGTON—You've heard the phrase "driving while black." Well, welcome to "getting an auto loan while black." Or not.
That discrimination is what the Republican congressional majority and GOP President Donald Trump enacted in late May.
By a 234-175 vote in the House and a 51-47 party-line vote in the Senate, lawmakers gave the green light to auto lenders to discriminate against loan applicants who are members of minority groups, particularly African-Americans. One House Republican, Ileana Ros-Lehtinen of Florida, bucked her party's line, while 11 House Democrats voted with the GOP and for discrimination.
The lawmakers did so by repealing "guidance" from the Consumer Financial Protection Bureau – sent to the lenders – saying it would come down hard against such racial discrimination. It already has, recovering $176 million for victims.
That form of "redlining" has saddled millions of African-Americans seeking to buy cars for years with higher interest rates, and sometimes no loans at all, even when they qualified financially.
But the GOP majority used the Congressional Review Act, meant to overturn federal rules they don't like, to not only trash the anti-discrimination guidance, but to ban CFPB from ever tackling the issue again. Trump signed the legislation in late May in an unpublicized White House ceremony with Vice President Pence and congressional GOP leaders looking on.
"This auto loan guidance was carefully crafted by the CFPB to stop auto dealers from jacking up the interest and loan terms when they lend to minorities," Sally Greenberg, executive director of the National Consumers League – which monitors auto loan practices and blows the whistle on bad actors – emailed to Press Associates Union News Service.
"But even a guidance that protects minorities from a long history of being gouged is unsafe from relentless attack by Congress and the White House. Consumers taking out auto loans are now fair game. Even worse, the bill Trump signed also bans the agency from replacing a rule with a similar measure in the future. Once again under this administration, the fox is in charge of the hen house."
The Leadership Conference on Civil and Human Rights, whose members include the AFL-CIO and its unions, also lobbied against the GOP's bill to reinstate discrimination. LCCR also warned solons it would include their votes on the pro-discrimination scheme in its ratings of Congress.
"In the mid-1990s, a series of lawsuits were filed against the largest auto finance companies in the country alleging racial and ethnic discrimination. The data from those lawsuits showed borrowers of color were twice as likely to have their loans marked up, and paid markups twice as large as similarly situated white borrowers with similar credit ratings," LCCR Executive Director Vanita Gupta wrote to senators.
Just since the CFPB was established, it recovered $176 million for auto loan customers who suffered from the discriminatory markups, Gupta added. "In short, the CFPB's guidance acknowledges something we have known for a long time: Pricing discretion leads to discrimination."
Needless to say, CFPB Acting Director Mick Mulvaney, a former right-wing congressman from South Carolina who is also Trump's budget chief, saw the CFPB guidance as "a solution in search of a problem" and "bureau overreach."
Mulvaney also claimed federal fair credit laws would protect African-American car buyers. Congressional Republicans, except for a short rejoinder from Sen. Michael Crapo, R-Idaho, sounded that theme, too. He was the only Republican to address the discrimination issue.  The rest ducked.
That didn't convince Sen. Cory Booker, D-N.J., who gave the Republicans a dressing-down during Senate debate on the measure (SJRes 57).
"The way the established financing model works too often leaves space for implicit racial bias and leaves space for discrimination against Americans of color," Booker said.
"We know from studies that Americans of color who have better credit and who go in to try to purchase and finance a car, compared to white Americans with worse credit, will often get higher interest rates and worse terms on their loans set by auto dealers."
"In fact, in one specific study conducted by the National Fair Housing Alliance, they paired white Americans and people of color to visit auto dealerships and shop for the same car within 24 hours of each other. Unfortunately, and surprisingly — or maybe not to some — in most cases the applicant who was a person of color, despite having better credit and less debt, was offered higher cost financing options than the less-qualified white applicant."
"This is a practice no one can support. This is a practice most Americans think is outrageous. It is clearly wrong, and we should address it."
Booker reminded his colleagues auto loans aren't the only problem. He recounted illegal housing discrimination and used a specific instance he knew personally – against his parents when they tried to buy a house in his hometown, Newark. They were told it was already sold. The realtor then offered it to, a white couple right in back of them, with the same financial details.
Booker's parents really wanted the house, while the whites were "testers" of fair housing laws, so at the closing Booker's parents and their lawyer showed up. The realtor went berserk and sicced his dog on them. He had broken the law, and got caught. Booker's parents eventually got the house, which he grew up in, in a caring neighborhood, the senator said.
The same discrimination happens to African-American car buyers, Booker stated. The only difference? No dog.