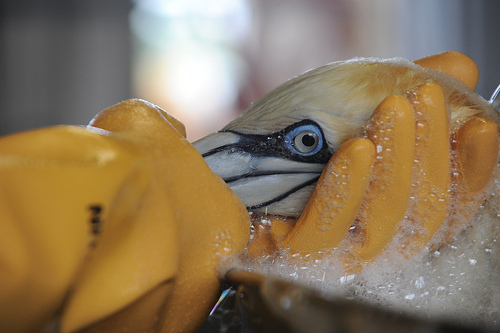 WASHINGTON– Rep. Joe Barton, R-Tex, has plunged the Republican Party into turmoil with his blurted apology to the CEO of BP for what he called President Obama's "shakedown" of the oil giant, securing $20 billion to help victims of the oil catastrophe in the Gulf of Mexico.
With BP CEO Tony Hayward sitting in the witness chair during a June 17 hearing of the House Energy and Commerce Committee, Barton, ranking Republican, said it is a "tragedy" that a "private corporation can be subjected to what I would characterize as a shakedown" by President Obama in setting up the escrow fund.
It was not a slip of the tongue. Barton was reading from his prepared opening statement. But the reaction by his fellow Republicans was instant panic. With one stupid statement, Barton tore aside the Republican's hypocritical mask exposing their real loyalties, not to the stricken people of the Gulf Coast, not to the oil-soaked beaches and wetlands, the dying pelicans and turtles. No, their hearts bleed for their biggest campaign contributors, profit-greedy oil companies.
After a break in the hearing, Barton attempted to take back his blunder, apologizing for the apology and pleading that his comments not be "misconstrued." Reflecting GOP panic over the firestorm, Barton's formal retraction, including an apology to President Obama, was hastily released and circulated by the office of House Minority Leader, John Boehner, R-Ohio.
But the damage was done. David Plouffe, who is currently the mid-term elections consultant for the president's grassroots group, Organizing for America, pointed out that Barton's comments are consistent with other GOP statements on the disaster. Republican Sen. John Cornyn of Texas said he "shares" Barton's concerns. Rep. Michele Bachman, R-Minn, a darling of the tea party, said BP should not allow itself to be "fleeced" to pay for damages inflicted to the Gulf Coast. Rush Limbaugh ranted the escrow account to compensate victims in the Gulf is a "bailout." Rand Paul, the GOP Senate candidate in Kentucky called criticism of BP "un-American."
Said Plouffe, "Let's be clear. This fund is a major victory for the people of the Gulf. It's a key step toward making them whole again. BP has a responsibility to those whose lives and livelihoods have been devastated by the disaster. And BP executives don't deserve an apology-the people of the Gulf do."
Big oil knows who its allies are, Plouffe continued, And if Republicans win majority control of the House in November's midterm elections, "Rep. Barton could be chairman of the House Energy and Commerce Committee—overseeing the regulation of the oil and gas industry," he warned.
Companies like Halliburton, responsible for faulty cementing of the Deepwater Horizon rig "are directing their political committees to deliver thousands of dollars to GOP candidates this cycle," said Plouffe. Barton himself has received more than $100,000 from the oil and gas industry this election cycle.
In fact, Barton has received more campaign contributions from oil and gas companies since 1990 than any other member of the House, $1,448,380. His single biggest donor is BP partner, Anadarko Petroleum, which owns a 25 percent share in the Macondo Prospect, the site where the Deepwater Horizon rig exploded and sank. Anadarko, so far, has given Barton $56,500 in PAC contributions and $90,000 in individual contributions so far this year. Anadarko is so covered with slimy oil from the Gulf gusher that BP sent them a bill to pay for its share of the cleanup, reports Nate Silver on his web site, FiveThirtyEight-Politics Done Right.
Barton joined earlier this week in sponsoring a bill to lift the moratorium on deepwater drilling. In announcing the bill, Barton blasted President Obama for ordering a halt to offshore drilling claiming the president's hidden agenda is to make the moratorium permanent. Barton is a notorious denier of global climate change and a fanatical opponent of pending legislation to reduce greenhouse gas emissions.
The series of GOP gaffes in siding with BP in this disaster may well emerge as a "game-changer" in the midterm elections in which the GOP was counting on major gains, perhaps even recapturing majority control of the House. Now even Republicans in safe districts, including Barton, fear an angry voter backlash.
Barton's Democratic opponent in the heavily Republican district south of Dallas is David Cozad who had about $10,000 in his campaign coffers compared to Barton's $1.7 million. But Barton's money reeks of oil and Texas voters now know it.
More on Joe Barton — from the archives — click here.
Photo: As part of the government's Joint Deepwater Response, volunteers attempt to clean waterfowl drenched in oil. (CC)