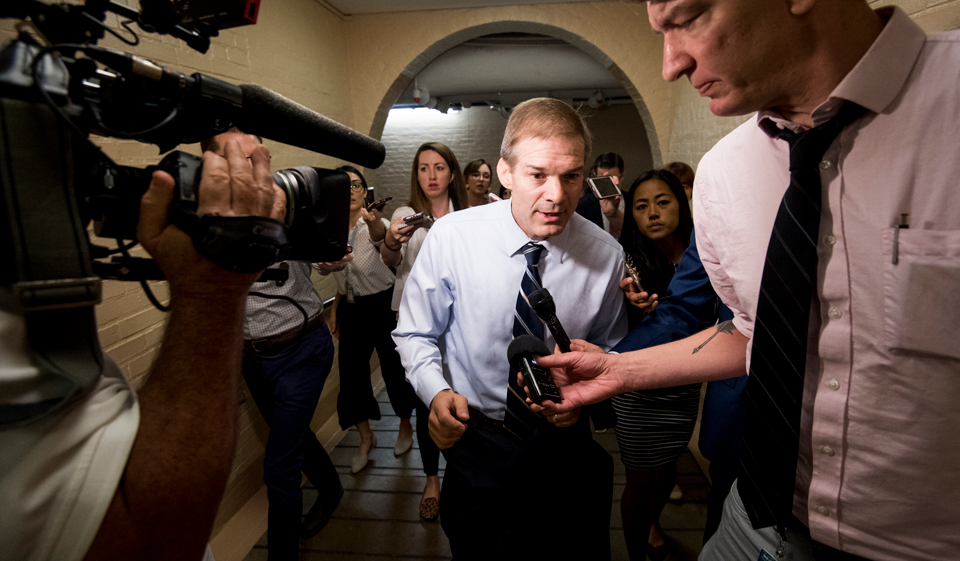 Sexual assault. Scandal. Corruption. Denial.
Since the start of 2018, those words have been synonymous with Republican and Democratic elected officials, the Scumbag-in-Chief Donald Trump, and university athletic departments.
We can now add Rep. Jim Jordan, R-Ohio, and Ohio State University to that ever-growing list of sexual assault deniers.
Last week, several former Ohio State University wrestlers and a former nursing student, went on record detailing legations of sexual misconduct by team doctor Richard Strauss going back to the 1970s.
Ohio State has been conducting investigations into Strauss, who died in 2005 (suicide), for repeated complaints of sexual assault and rape. Strauss is estimated to have sexually assaulted at least 1,500—and as many as 2,000—student athletes between 1978 and 1998.
Young men have described how Strauss fondled them during medical exams, ogled them when they were naked, showered with them multiple times a day for no reason, groped them barehanded during physicals, and encouraged them to go home with him. Former athletes remember him as a toxic, serial groper whom they had nicknamed "Dr. Jelly Paws."
"Is this injury bad enough that I'm going to get molested for it?" recalled '90s All-American wrestler Nick Nutter. He, along with other student athletes, saw the abuse as the price of getting treatment or medicine for their sports-related injuries.
Dave Mulvin, former wrestling team captain, said he voiced concerns in the late 1970s after he was fondled by Strauss during an exam, complaining to another doctor who shrugged it off.
According to ex-wrestler Denyasa Yetts, Strauss would describe his fondling as "just doing his job," but after being groped three separate times during exams, he complained to then-coach Russ Hellickson and former assistant coach Jim Jordan.
"I remember I had a thumb injury and went into Strauss' office and he started pulling down my wrestling shorts," he said. "I'm like, what the f–k are you doing? And I went out and told Russ and Jim what happened. I was not having it. They went in and talked to Strauss."
"For God's sake, Strauss's locker was right next to Jordan's and Jordan even said he'd kill him if he tried anything with him."
Before Jordan entered politics, becoming a conservative champion and potential replacement for House Speaker Paul Ryan, R-Wis., he was a championship college wrestler and wrestling coach at the university from 1986 to 1994. Several wrestlers have gone on record saying Jordan failed to stop the assaults after hearing their allegations.
It's no surprise that once Jordan was implicated in the scandal his denial media spin began. But his denial claims just don't add up, and his public statements contradict each other.
"I never saw, never heard of, never was told about any type of abuse. If I had been, I would have dealt with it," Jordan told Fox News Friday night. Jordan was pressed to further explain why, then, had seven wrestlers insisted that the sexual assault was discussed frequently in the locker room. He said, "Conversations in a locker room are a lot different than people coming up and talking about abuse. No one ever reported any abuse to me."
I don't know about you, but common sense dictates if you overhear talk of sexual abuse or rape regularly then you should investigate, especially if you're a team coach.
Later in that same interview, Jordan doubled back and denied hearing anything.
"So, did you hear it in the locker room?"
"No. No. No—no type of abuse. We did not hear that. And if we had, we would have dealt with it," Jordan replied.
Which one is it Congressman?
After a Fourth of July weekend marked with controversy, Jordan will return to the nation's capital under piercing watchful eyes and pressure from fellow lawmakers.
These damning allegations will, of course, affect his bid for house speaker—how is unclear, but, as we have seen far too often with this new breed of Republican lawmakers, they will circle the wagons and protect themselves at all costs.
Jordan already has several defenders in his corner spinning the allegations as a dark conspiracy—like the Mueller Russia investigation—aimed at hurting Jordan and the "America First" cause.
"How is Jim Jordan supposed to prove that he didn't know something 28 years ago?" Rep. Matt Gaetz, R-Fla., tweeted Friday, July 6. "Could any of us? This is a deliberate attempt to knock the best oversight member of Congress off his game."
"I have always known Jim Jordan to be a man of the utmost character, honor, and integrity," Freedom Caucus Chairman Mark Meadows, R-N.C., told CNN Friday night. "I'm proud to stand by Jim Jordan and support him 100 percent and call on all of my colleagues to do the same."
Yesterday, a watchdog group, Democracy 21, and a former special counsel to President Obama, Norman Eisen, announced they would seek an ethics review of Jordan looking to see if the representative made false statements about the abuse allegations.
Shortly after, six former Ohio State wrestling coaches—Russ Hellickson, Dave Ruckman, Rex, Holman, Ken Chertow, Myron Kharchilava, and Kenny Ramsey Jr.—came to his defense, saying: "The well-being of student-athletes was all of our concern. If we had heard of any abuse, we would have spoken up."
According to reports from the Associated Press, it's not clear whether those ex-coaches, like Jordan, will speak with the independent investigators reviewing the allegations against Strauss.
"This is the same Jim Jordan who as a Congressman has self-righteously demanded investigations of anything and everything under the sun," Rep. Sean Maloney, D-N.Y., tweeted Saturday, July 7. "Well, time's up, Jim. We need to hear these victims and investigate Jim Jordan now."
My advice to Jordan: Either resign now or finish your disgraced term without entertaining the idea of seeking re-election.
Take the same road Rep. Elizabeth Esty, D-Conn., did, announcing she would not seek another term after The Washington Post revealed she let her chief of staff stay on the job for months while knowing he was accused of threatening to kill another staffer whom he had dated.
And before anyone accuses this sportswriter of being too harsh (no one ever said truth was painless), remember how quickly the public called for the resignations of Sen. Al Franken, D-Minn., Rep. John Conyers, D-Mich., Pat Meehan, R-Penn., Rep. Trent Franks, R-Ariz., Blake Farenthold, R-Texas, when their sexual misconduct was brought to light.
This isn't a Democrat versus Republican game. It's about holding sexual predators accountable for their actions and preventing further abuse and trauma at the expense of victims and their families.
These new allegations coming from Ohio State are identical to the Larry Nassar-USA Gymnastics scandal that rocked the collegiate athletics world earlier this year and highlighted an issue that has gone unaddressed for several decades.
Like free stuff? So do we. Here at People's World, we believe strongly in the mission of keeping the labor and democratic movements informed so they are prepared for the struggle. But we need your help. While our content is free for readers (something we are proud of) it takes money — a lot of it — to produce and cover the stories you see in our pages. Only you, our readers and supporters, can keep us going. Only you can make sure we keep the news that matters free of paywalls and advertisements. If you enjoy reading People's World and the stories we bring you, support our work by becoming a $5 monthly sustainer today.