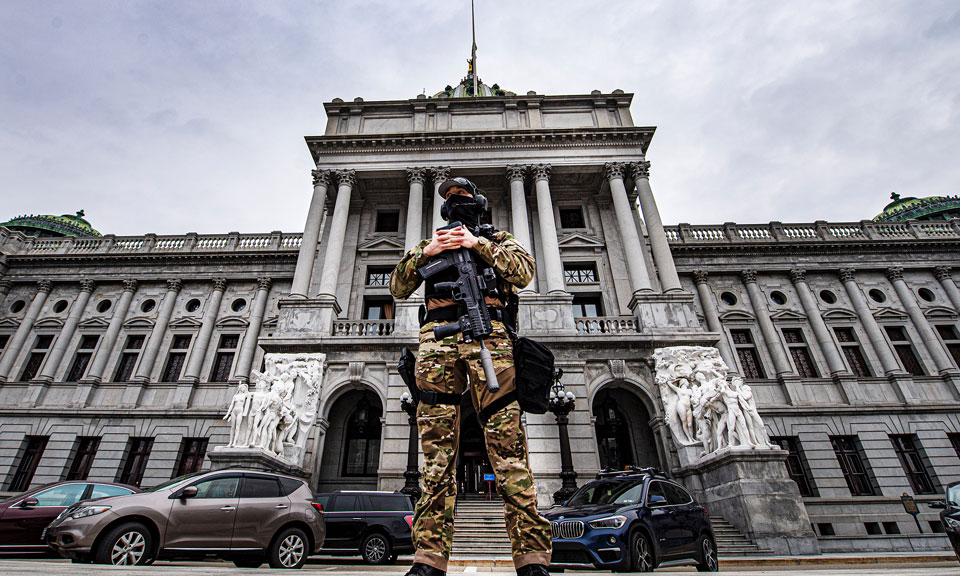 It is beyond any doubt now that Republicans elected to represent the people of their states have returned the favor by putting their constituents in grave danger.
One of the best examples of this is found in Pennsylvania where GOP Rep. Scott Perry and state Sen. Doug Mastriano have lied to the people about the election results and have pushed conspiracy theories in an attempt to build a base of support to quench their thirst for raw political power.
The two have, since the election, lied to their constituents, claiming Trump won Pennsylvania by a huge margin and they have launched all kinds of false stories about where and by whom votes were allegedly stolen. Truth was never even the remotest concern for these two lawmakers.
Many of the pro-Trump rioters who stormed the Capitol came from Pennsylvania and they cited these two lawmakers as the source of information they said motivated them to attack the Congress of the United States that day.
Now the statehouse in Pennsylvania, thanks to these and other lawmakers, is bracing for what could be some of the worse attacks in the coming period, particularly on Inauguration Day, Jan. 20.
For many, it is cruel irony that right-wing terror and attacks on democracy are coming from a state that has traditionally described itself as a place where democracy in America was born. Generations have made the almost sacred pilgrimage to the Liberty Bell in Philadelphia.
Mastriano and Perry, traitors to the people of their own state, have joined traitors on the national level in Congress who have tried to overturn the votes cast by the people of Pennsylvania in the 2020 election.
They are continuing their false claims about the election today, with the deadly Capitol insurrection in the rearview mirror for more than a week now.
Now, thanks to "representatives" like Perry and Mastriano, the authorities in their state are having to mobilize for possible right-wing attacks in the period leading up to Inauguration Day this week. Some 450 National Guard troops are standing guard right now outside the Capitol in Pennsylvania.
"I will not allow what happened at our nation's capital to happen here," said Democratic Gov. Thomas Wolf, who also sent 2,000 members of the state National Guard to protect Washington. Thanks to the likes of Perry and Mastriano, thousands of young Pennsylvania women and men who make up the National Guard are at risk this week protecting against right-wing attacks in their state and in the nation's capital.
Jack Thomas Tomarchio, who served as the chief deputy undersecretary for intelligence under the Bush administration and helped set up domestic intelligence gathering networks nationwide, told NBC that Pennsylvania—where he lives—is particularly under threat because of the number of right-wing militia groups in the state and its central role in the election fraud conspiracy theories. Those theories were pushed by Perry and Mastriano.
Stolen election claims "utter hogwash"
Tomarchio, who called claims that Pennsylvania Democrats had stolen the election "utter hogwash," said the state faces manpower issues in protecting state and federal buildings from being targeted by domestic right-wing extremists.
"Pennsylvania is definitely a high-profile target because it's one of the states these groups were contesting," he said. "At the same time, Pennsylvania has the dubious distinction of having about 28 militia groups, especially in the northern tier of the state. These places harbor a lot of right-wing extremist groups, and so that's another reason why the state has to be really careful."
Rather than do anything to combat the political influence of the right-wing militias the GOP-controlled state legislature has encouraged their growth and influence. Almost a year ago they set out on a path to overturn what was then only a potential Biden-Harris victory in their state by setting up an "Elections Integrity Commission," which they hoped could eventually overturn election results if those results were unfavorable to Trump. Perry and Mastriano were ringleaders in the movement to set up the "integrity" commission.
A day prior to the attempted coup in the Capitol, Pennsylvania Republicans, with Perry and Mastriano again in the lead, refused to seat state Sen. Jim Brewster, a Democrat who won a tight race in the western part of the state by 69 votes. They also removed Lt. Gov. John Fetterman, a Democrat, as presiding officer of the Senate because he attempted to seat Brewster and they helped organize loud and angry mobs outside Fetterman's office.
Brewster has since been seated as the result of a ruling by a federal judge.
Angry about the win for democracy, Perry and Mastriano and other right-wing  Republicans are now attempting to amend Pennsylvania's constitution and change how state Supreme Court judges are elected.
Elections have resulted in judges that overturned every single one of the phony lawsuits filed by Trump and the Republicans. That is something the right-wing Republicans are determined to change.
Currently, members of the state's Supreme Court are elected to their seats in statewide elections for 10-year terms. Republicans want to confine those elections to districts that would be drawn by the state legislature, districts designed to elect right-wing legislators, and, with the changes they want, right-wing judges too.
"I strongly oppose giving the legislature the power to gerrymander our justice system," Gov. Wolf has said. "This constitutional amendment is just another effort by Harrisburg Republicans to prevent the will of the people from being heard by stopping all Pennsylvanians from having a voice in selecting judges for the highest courts in the state."
Mastriano and Perry have long pushed election fraud conspiracy theories in their state.
Concern about their influence goes very deep with some saying they may even be hooked up with right-wing elements in the military.
Mastriano taught at War College
Mastriano was a colonel in the Army and taught at the Army War College, and Perry was a brigadier general in the Pennsylvania National Guard. These kinds of connections beg the question of whether all of the National Guard troops sent to protect the Capitol should be vetted to ensure that they are not part of a broader right-wing conspiracy in the state. The FBI has already found that elements in the military around the country do, in fact, have these connections.
Perry continues his objection to Pennsylvania's electors days after the invasion of the Capitol in Washington, along with seven other Republican members of Pennsylvania's congressional delegation.
Mastriano met with Trump regarding Pennsylvania's election at the White House and held the phony "hearing" with Giuliani and Trump lawyers in Gettysburg to attempt to legitimize the lies being pushed by Trump, himself and others.
Mastriano attended the pro-Trump insurrection in Washington last week, though he was nowhere to be seen during the actual invasion of the Capitol building itself. It is believed that being the coward he is, he fled the scene before things got too hot.
Fetterman and other Democrats say Perry and Mastriano deserve most of the blame for the spreading of lies about election results and the conspiracy theories in Pennsylvania.
"It's stunning," said Fetterman, who expressed concern for his own family's safety. "Last Tuesday there were literally 200 crazy Trump protesters under my office balcony on the front steps of the state Capitol, and then we had the big conflagration in the Senate when they voted to eject me. There was no difference between Harrisburg and D.C. because it easily could've gone the same way in Harrisburg, and they could've stormed the state Capitol."
"What I'm trying to say is, they stoked it, stoked and stoked it, and then Wednesday happened," Fetterman added.
Neither Mastriano nor Perry responded to requests by Peoples World for comment about their leading role in the propagation of lies about the election. NBC says they have never responded to calls from their reporters.
Mastriano is now hypocritically calling on social media for people to "pray for our nation," quite a change of tone from a recent statement he made on radio that Trump supporters "are in a death match with the Democrat Party" over the election results.
Mastriano became a right-wing celebrity due to his outspoken opposition to the state's pandemic precautions. He used his campaign funds to rent buses to transport his supporters to the insurrection in Washington on Jan. 6, according to National Public Radio.
Mastriano has made absurd statements about the demonstrators whose transportation he funded.  "We were there peacefully," he said, "99.9 percent of us, and they should not be blamed for anything."
As with all op-eds published by People's World, this article reflects the opinions of its author.