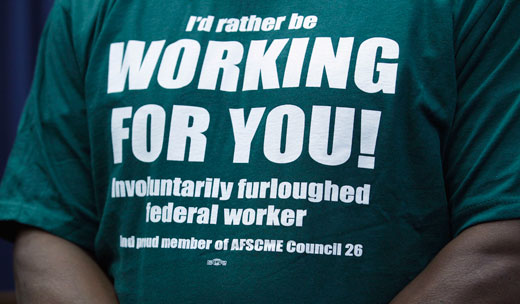 WASHINGTON – Republican congressional opposition to a rule covering union elections among airline and railroad workers led to a partial shutdown of the Federal Aviation Administration and the layoff of 4,000 FAA workers – none of them air traffic controllers – at midnight on July 22.
Instead, work on modernizing the nation's airports, paid for by passenger ticket taxes, was brought to a screeching halt. And since the FAA couldn't collect the tax money, totaling $200 million weekly, the airlines did – and pocketed it.
At issue was the latest short-term bill renewing the FAA and its authority to collect the ticket taxes, run the air traffic control system, and perform other duties. A long-term bill for the agency, which would also let it go ahead with its plans to modernize the air traffic control system, is likewise hung up over union elections.
The House's ruling Republicans attached provisions to both bills to void the National Mediation Board's decision allowing union elections among airline and rail workers to be decided by the majority of those voting, just like all other elections.
The GOP wants to go back to an older standard, where the union wins only if it gets a majority of all those eligible to vote. Non-voters are "no" votes in that case.
Union leaders blasted the GOP. Government Employees President John Gage said the stall could endanger safety. The leaders also vowed to fight for the simple majority rule.
The furloughed workers, represented by American Federation of State, County and Municipal Employees, National Air Traffic Controllers Association, and the Professional Aviation Safety Specialists, "are now faced with an indefinite furlough and the uncertainties that come with sudden job loss," the three unions said in a joint statement. AFGE also represents dozens of the workers.
"AFSCME, NATCA and PASS are deeply concerned about the long-term impact to the men and women who will be unable to earn a living because they are caught in the middle of a congressional battle," they said.
"We asked lawmakers to secure swift passage of a clean extension of FAA programs to ensure FAA employees can continue to provide important services and functions…and prevent delays in FAA modernization. Today, we reemphasize the need for Congress to pass a clean extension that will get men and women back to work to provide for their families. We also urge Congress to work to pass a full FAA reauthorization bill that will move our national airspace system forward."
"We would expect air traffic controllers to be essential employees who would continue to work to ensure the safety of the flying public," said NATCA President Paul Rinaldi. NATCA, he added, represents many of the others, too, including "engineers and architects and FAA airports division personnel" who "perform key safety functions."
Communications Workers President Larry Cohen asked his union's members to email lawmakers demanding an end to the impasse over the FAA bill.
"It's a sad day when extremists would rather shut down the FAA and force the layoff of thousands of workers than allow airline workers to vote in a union election under the same standards used in every other American election," Cohen said.
An exasperated Ed Wytkind, president of the AFL-CIO Transportation Trades Department, said the House GOP is doing the bidding of "a few airline CEOs" who oppose fair elections at their carriers. His department pushed the board, which oversees labor-management relations at airlines and railroads, to enact the new rule.
"Here we go again," Wytkind said. "House Republican leaders are playing political games at the expense of vital services and thousands of good jobs – only this time, they are blocking basic funding for federal aviation programs.
"Republican leaders are holding hostage a simple funding extension of vital air safety programs, forcing furloughs on 4,000 FAA employees, jeopardizing thousands of construction jobs as airport projects are at risk.
"Worst of all, Republican leaders are doing the bidding of a few airline CEOs who refuse to allow this bill to move forward unless it eviscerates fair union election rules. No wonder the public is growing weary of the majority in the House and its tactics."
Though Wytkind did not say so, executives at Delta airlines are leading the business fight against the new election rule. Under the old majority-of-all-workers rule, Delta defeated the Association of Flight Attendants twice in union recognition votes. Under the new rules, it also beat AFA once after red-state virtually non-union Delta devoured blue-state wall-to-wall union Northwest Airlines – because Delta had more workers. Delta also beat the Machinists at several votes at the merged airline.
After the GOP put the repeal of the new election rule in the bigger FAA bill – before inserting it in the short-term bill that stalled on July 25 – IAM Vice President Robert Roach vowed the union would continue to fight for voting rights for workers.
He called the vote "cynical and thoroughly un-American."
Photo: FAA employee at a news conference in Washington July 27, where Democratic congressmen called for FAA reauthorization bill to get FAA employees and construction workers back to work. (Jose Luis Magana/AP)