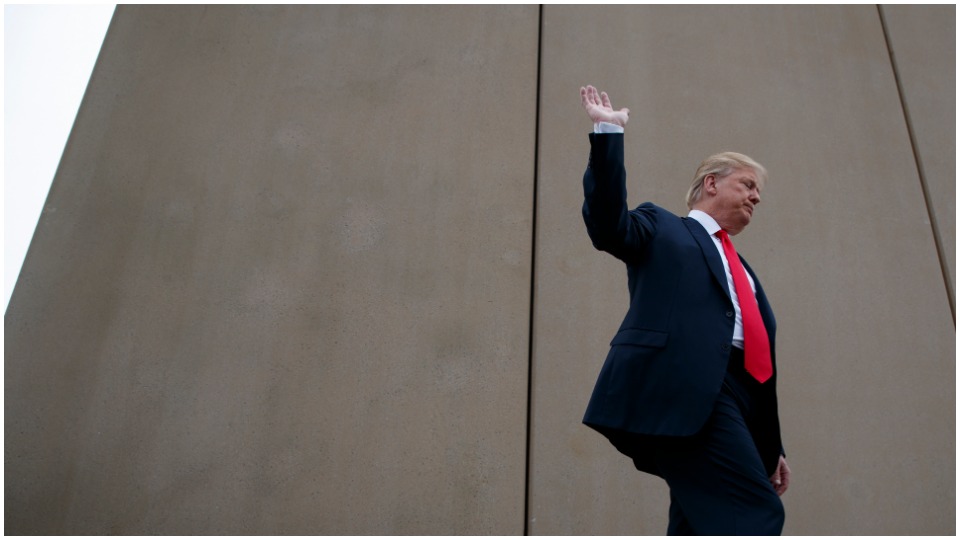 Editor's note: Late on Friday afternoon, after this article was published, President Trump signed a veto overturning the resolution blocking his declaration of a border "emergency."
WASHINGTON—For the second time in a few days, enough Republicans defected to prompt the GOP-run Senate to defy President Donald Trump. This time, lawmakers voted to bounce his ersatz "national emergency," which he is using to get almost $6 billion to build his racist Mexican Wall.
The 59-41 tally, where the winning side was 12 Republicans, all 45 Democrats, and both independents, came just days after senators voted 54-46—including seven GOP defectors—to invoke the War Powers Act against Trump's deployment of U.S. troops in support of the Saudi-led war in Yemen.
In both cases, groups opposing Trump's policies cheered the lawmakers' decisions. And in both cases, they engaged in heavy contact with politicians before the tallies, to ensure the voices of the people, against the war and against the wall, were heard and heeded.
More than a dozen organizations, led by United We Dream, made petitions with 760,000 signatures and made 80,000 calls to lawmakers to get them to oppose Trump's supposed emergency.
"We're proud that a grassroots outcry from every corner of this country helped push senators to publicly condemn Donald Trump's illegal power grab," said United We Dream spokesman Sheldon Aguirre. The Senate vote "showed his emergency declaration for what it is: a dangerous attack on our democracy that proves how low he's willing to sink to demonize communities of color and advance his anti-immigrant agenda." The Democratic-run House previously approved its own anti-emergency joint resolution.
"From the beginning, his national emergency declaration was a racist attack on the very foundation of our democracy, and an assault on the principle of separation of powers. Grassroots activism forced some Republican senators to find their backbones today," the groups, which named themselves the Revoke Trump Emergency Coalition, added.
"But it's clear from the administration's 2020 budget proposal, which includes massive increases in ICE (Immigration and Customs Enforcement) and CBP (Border Patrol) funding and billions more for Trump's harmful and wasteful wall, that the fight is far from over."
In his budget for the fiscal year starting Oct. 1, Trump wants another $8.6 billion for his Mexican Wall. Agents from ICE and/or CBP conduct raids and roundups of Hispanic-named people within the U.S. and carry out Trump's forced wrenching splits of young children away from their parents when families seek asylum at the border.
"We'll keep up the heat until Congress reins Trump in, and until every immigrant in our country is treated with dignity and fairness," the coalition said.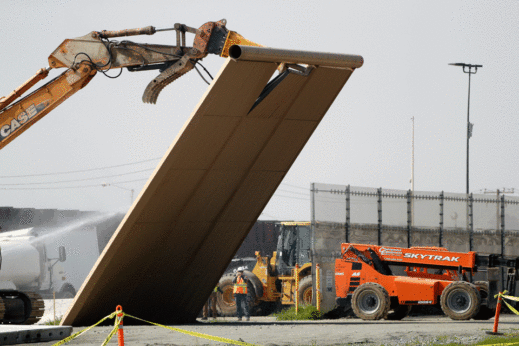 The 12 defecting Republicans in this March 14 tally ranged ideologically from Alaska's Lisa Murkowski—again—to several right-wingers. They also included both GOP senators from deep-red Utah. There would have been 13 defectors, but Sen. Thom Tillis, R-N.C., flipped after Trumpites at home and right-wing D.C. groups warned he'd face a primary challenger next year if he did.
Trump threatened unspecified political consequences for other Republicans who defied him, too, He also tried again to blame Democrats for what he calls "a crisis" at the border. And he vowed to veto the resolution abolishing his national emergency.
Besides United We Dream, other groups in the anti-emergency coalition were Credo, Clean Elections Texas, Daily Kos, EarthJustice, Lawyers For Good Government, People For The American Way, Public Citizen, the Southern Border Communities Coalition, South Asian Americans Leading Together, Stand Up America, T'ruah: The Rabbinic Call for Human Rights, and Win Without War.
Win Without War also helped lead the campaign to invoke the War Powers Act against Trump's support of the Saudi-led war in Yemen.
Just like in the War Powers vote, judges may ultimately decide the "emergency" issue. Twenty-one states, led by California, have sued to stop the emergency, stating Trump unconstitutionally usurps the Congress's "power of the purse" for an illegal purpose.
"This is an absolute assault by the president on Congress's Article I authority under the constitution. Their power of the purse authority is being trampled upon," former Rep. Charlie Dent, R-Pa., told CNN. "So I am really surprised that more [Republicans] haven't been jumping up and down screaming bloody murder over this assault on their own congressional authority. Some must be very worried about their primaries. That's the only explanation."