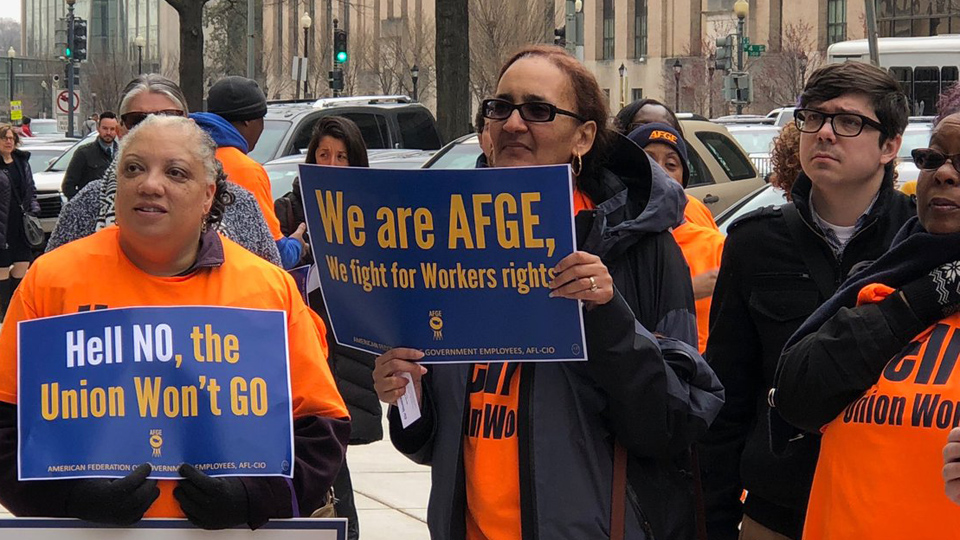 WASHINGTON—Warning the anti-union "contract" Trump administration Education Secretary Elizabeth "Betsy" DeVos is trying to impose on her workers – and it's anti-union hate in general — could spread to other feds, Government Employees (AFGE) members and union allies demonstrated against the pact outside agency headquarters in D.C.
"This administration won't stop until every union has been busted and every union contract has been ripped up," AFGE Secretary-Treasurer Joe Flynn warned during the lunchtime speeches on March 28, as he and other speakers were flanked by the Teamsters-supplied giant inflatable rat.
The 8-page "contract" DeVos promulgated the week before, after her team refused to even discuss ground rules for bargaining with AFGE Council 252, yanks almost everything the union has won for the workers since the real contract was first negotiated in 1981, speakers added.
That includes the right to bargain over working conditions, the right of Council 252 officers and stewards to represent workers, the right to do so on paid time – not their own – and even such things as adequate office space and supplies in Education Department headquarters.
Speakers were echoed by repeated chants from the crowd of "Hell no, the union is not going to go." "It's not collective, it's not bargained, and it's not anything we agreed to," said Claudette Young, president of Council 252, an AFGE sector representing the agency's predominantly minority workforce.
Other speakers, including Rep. Don Beyer, D-Va., warned DeVos' "contract" is one part of the wider war the GOP Trump administration is waging against unions in general and federal worker unions in particular.
"She doesn't understand how federal labor relations work, but we shouldn't be surprised," Beyer said of DeVos. "Her vendetta against public education has now transformed into gutting public workers." As a GOP big giver in her home state of Michigan, DeVos was known for the same policies she now champions for Trump: Gutting public schools in favor of charters and vouchers, privatization and trashing teachers unions.
"What DeVos and her management are doing is not unique to the Department of Education," said Flynn. "We've seen it at the Department of Veterans Affairs, where they're working to gut civil service protections and collective bargaining rights."
"We've seen it at the EPA, where Administrator Scott Pruitt is pushing staff and budget cuts which prevent the EPA workers from doing their jobs. We've seen it at the Bureau of Prisons, where staffing shortages and budget cuts put our corrections officers at risk."
"Are you ready to get out of your seats?" he called, aiming his words at other federal workers in nearby buildings who could watch the protest from their windows. "Yes!" the AFGE members and their allies from other unions responded. "Are you ready to get into the streets?" "Yes!" "Are you ready to turn up the heat?" "Yes!" "Are you ready to give 'em hell?" "Yes!"