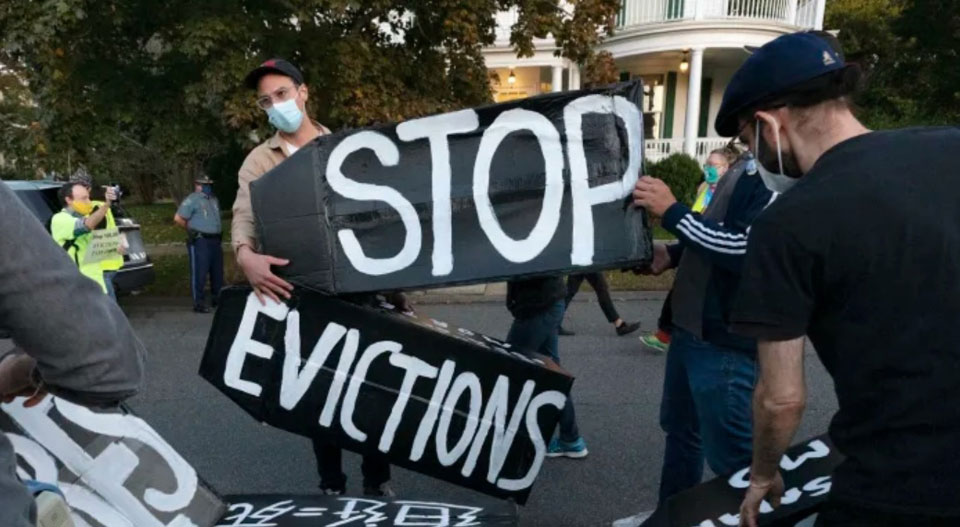 WASHINGTON—Unless somebody—specifically President Biden and Congress—does something fast, millions of renters from coast to coast are going to have their roofs fall in on their heads starting on August 1. Literally.
That's because the oft-extended nationwide moratorium on evictions, imposed when the coronavirus pandemic hit in March 2020 and cost millions of people their jobs—and thus they couldn't pay their rent—ends at midnight on July 31.
"With at least six million renter households still behind on rent as the expiration of the eviction moratorium nears, the Biden administration must work quickly and aggressively to avert an historic wave of evictions this summer and fall," the National Low Income Housing Coalition warns.
Biden wants an extension
Several progressive lawmakers are pushing an emergency immediate extension. Biden wants one through the end of September. But, as might be expected, the Republicans oppose an extension and corporate interests would benefit from the evictions.
The depression the coronavirus caused is over, say some within the head-in-the-sand GOP, which can block just about everything in the evenly split Senate. At a House panel hearing on the coronavirus's impact, Minority Whip Steve Scalise, R-La., declared the moratorium hurts "mom and pop" landlords.
But Jim Baker, the executive director of a non-profit housing group, testified corporate landlords—chains and developers—would be the big winners when the eviction moratorium ends. His examples: Corporate landlords filed for 74% of all evictions in May in DeKalb County, Ga. (Atlanta), 62% in Maricopa County, Ariz. (Phoenix), and 53% in Hillsborough County, Fla. (Tampa).
As for the federal Department of Housing and Urban Development, its advice on its website is to contact local legal aid and look up local protective laws.
The problem is simple: When the pandemic hit, and hundreds of thousands of businesses closed to battle community spread of the virus, millions of workers, most of them low-income and disproportionate numbers of them women of color, lost their jobs.
Many of those jobs have yet to come back. Some never will. Joblessness, once above 20%, is now 6.5% or so, officially, and about double that once you count all the people who are—or were—getting federal unemployment checks. But the checks are running out, too, again thanks to the GOP.
To halt evictions, CDC imposed the moratorium and Congress later extended it. It's not rent forgiveness, since the unpaid amounts will be tacked onto tenants' bills whenever the eviction freeze ends. But at least it kept people in their homes at the height (so far) of the pandemic. That peak hit last winter.
Some states, notably California, the nation's most-populous, stepped into the breach with their own eviction halts. Evictions are banned in the Golden State through Sept. 30. But now the federal rent moratorium is ending.
"Communities with lower vaccination rates and higher Covid-19 (coronavirus) cases tend to be the same as those with renters at heightened risk of eviction when the moratorium expires," the low-income housing group said in a statement the last time, in mid-June, renters neared the brink.
"Allowing the moratorium to expire before vaccination rates increase in marginalized communities could lead to increased spread of, and deaths from, Covid-19.
"While Congress, the Biden administration, and state and local governments are working diligently to provide emergency rental assistance to renters at risk of losing their homes, ongoing roadblocks and new challenges prevented far too many renters from accessing these resources," it adds.
Pushing immediate extension
That understates the case. Three lawmakers pushing for an immediate extension of the moratorium before the clock hits midnight on July 31 say the situation is much worse. Rental aid Congress approved, in the Cares Act and following coronavirus aid legislation, totals $46 billion, Reps. Cori Bush, D-Mo., Ayanna Pressley, D-Mass., and Jimmy Gomez, D-Calif., report. Bush, herself, once was homeless.
The amount that's actually reached tenants? Only $3 billion of the $46 billion set aside for them. As with unused coronavirus mitigation and relief funds, the GOP stands ready to snatch the tenant relief money to pay for other legislation. Their approach is to take money away from anywhere as long as the wealthy are untouched. They have consistently opposed higher taxes on the rich and any efforts to empower the IRS to do more to collect unpaid taxes by wealthy Americans.
The other issue, of course, is that there really is no unused money. All the crises for which the funds were allocated are continuing, both the pandemic and in this case the evictions crisis. Using that mischaracterized "unused" money destroys the purpose of the allocations in the first place.
"As someone who has lived in her car with my two infants while I was working a full-time job, I know the daily trauma and stress that comes with the perpetual instability of not having a safe place to live," Rep. Bush said on July 28. In addition to pushing to extend the moratorium, she introduced an "Unhoused Bill of Rights and make the desperately needed investments to guarantee housing, health care, and a robust social safety net for our unhoused neighbors."
But her measure, and other pro-renter aid bills in the Senate, have one thing in common: They're long-term, not with the urgency of now. So Bush, Pressley, and Gomez, plus 40 other reps, want Biden to move, now. "This pandemic is not behind us, and our federal housing policies should reflect that stark reality," they wrote him.
"With the United States facing the most severe eviction crisis in its history, our local and state governments need more time to distribute critical rental assistance to help keep a roof over the heads of our constituents. We urge President Biden to explore every option available to keep the federal eviction moratorium in place for as long as it takes to distribute relief to families most in need during this national emergency."
Biden's willing to go for a temporary emergency extension of the eviction moratorium through the end of September. But Congress must OK it, because the Supreme Court recently ruled, 5-4, that CDC exceeded its legal authority by imposing the moratorium in the first place.
"Given the recent spread of the Delta variant, including among those Americans both most likely to face evictions and lacking vaccinations, President Biden would have strongly supported a decision by the CDC to further extend this eviction moratorium to protect renters at this moment of heightened vulnerability," White House Press Secretary Jen Psaki said in a statement on July 28.  "Unfortunately, the Supreme Court has made clear that this option is no longer available."
There is one other option, her deputy, Karine Jean-Pierre, told reporters the next day: The Housing and Urban Development Department's $52 billion in emergency rental assistance for renters via states, cities, and Native American tribes. "We're going to make sure we get the word out so people know the rental assistance is out there and to support grantees in ramping up their efforts," Jean-Pierre said.