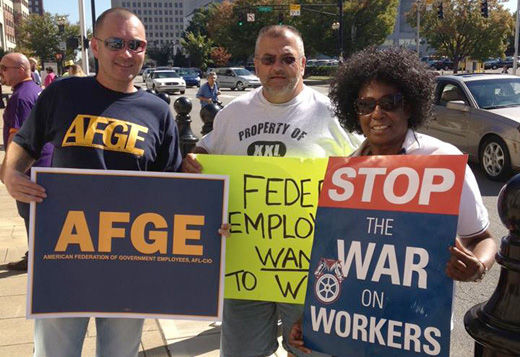 WASHINGTON – The federal government shutdown for the first half of October, imposed by tea party Republicans who refused to fund the government unless they could kill the Affordable Care Act, pushed the nation's jobless rate up that month by 0.1percent to 7.3 percent, the Bureau of Labor Statistics reported.
Private businesses claimed to create 204,000 new jobs last month, a separate BLS survey showed. Still, there were 11.272 million unemployed during the survey week, the first week of October, BLS said. That's 17,000 more than the month before.
The data also show the limits of the BLS survey, since it did not fully count the 800,000 federal workers idled that week in what AFGE President J. David Cox, whose union represents most of them, calls "a lockout."
The tea party wing of the Republican-run House forced the shutdown/lockout by refusing to pass a money bill to keep the government going, unless it defunded, deleted or trashed the Affordable Care Act. Democratic President Barack Obama and his allies held firm against the demand. The GOP eventually lost, on Oct. 16.
BLS still counted the jobless feds as employed, since, it claims, they got partial paychecks during the survey period. But it noted the number of people on temporary layoff rose by 448,000 last month, due to the shutdown. Some 13.4 percent of all jobless workers were on temporary layoff in October, up from 9.7 percent in September.
"Individuals are classified as employed, unemployed, or not in the labor force based on answers to questions about their activities during the survey week. Workers who indicate they were not working during the entire week and expected to be recalled to their jobs should be classified as unemployed on temporary layoff," BLS explained.
That's where BLS data put 448,000 of the idled feds. But it also reported a rise in the number of federal workers classified as "employed but absent from work." They should have been on temporary layoff, too, but gave wrong answers to survey queries.
And in another possible indication of the shutdown's impact, the number of people not in the workforce shot up by 932,000 in one month, to 91.54 million.
Economic Policy Institute analyst Heidi Shierholz hailed the reported gain of 204,000 private jobs in October, but with a big caveat: Most of the drop in the overall jobless rate since its 10% peak four years ago is because people dropped out.
"At a time like this it's useful to take a step back and take stock of the larger picture," which is grim, she said. "We need 8 million jobs just to get back to the pre-recession unemployment rate" of 5 percent. "At the average rate of growth for the last 12 months, that won't happen for five years." Some 6.1 million workers have dropped out. If they were still seeking jobs, the unemployment rate would be 10.8 percent, she said.
In the private sector, factories added 19,000 jobs in October, rising to 11.99 million. Thirty percent of the rise was in cars and parts and 20 percent was in food processing plants. There were 956,000 unemployed factory workers (6.2 percent).
Construction added 11,000 jobs in October, after an 18,000-job rise in September. BLS said construction employed 5.83 million workers in October, but still had 733,000 jobless construction workers (9 percent) then. Construction union leaders say that rate understates joblessness in their sector.
Service-producing firms claimed to create 177,000 jobs in October, increasing to 95.99 million. As usual, low-paying sectors led the way: Retail trade (+44,400 jobs), health care (+15,000) and bars and restaurants (+29,300). Not counting the shutdown, the feds shed 12,000 workers in one month, and 94,000 over the last year, BLS said.
Photo: AFGE Facebook page. AFGE 6th District, Local 1438, Council 241, KY AFL-CIO, Jobs for Justice, and other constituent groups and community supporters made a stand outside of Sen. Mitch McConnell's office in downtown Louisville, Ky., in solidarity to stop the shutdown, stop the sequester, and stop the attacks on working families!