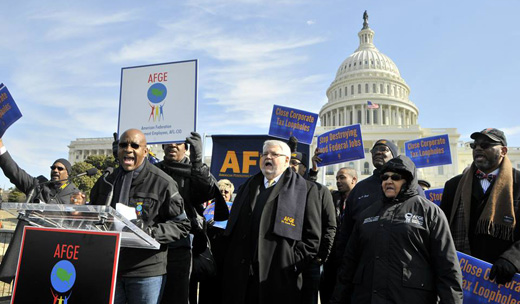 WASHINGTON (PAI) – Waving signs ranging from "America deserves a raise" to "Stop destroying good federal jobs," hundreds of AFGE members marched on Capitol Hill on Feb. 11, campaigning for national and union causes.
The parade, from the union's legislative conference to the Capitol's West Front, preceded worker lobbying. The 285,000-member union has a long list of issues — especially tax fairness (more taxes on the rich) — that it advocates to help the U.S. "get out of this swamp," as AFGE President J. David Cox told the marchers.
The whole point, he added, is to create "shared prosperity, not austerity."
For the last several years, AFGE and other federal worker unions have been fending off GOP-inspired budget cuts that slash not just the programs the workers run, but their pay, in the form of increased pension contributions without future payments, coupled with a 3-year federal pay freeze.
Now they plan to go on the offense, and the march and lobbying lawmakers is a part of that effort.
Specific AFGE goals include closing regional pay gaps between federal workers and their equivalent private counterparts, eliminating the two lower tiers in what is now a 3-tier pension system, preserving federal payment for "lost time" that AFGE shop stewards must use to handle grievances or participate in bargaining, killing a GOP scheme to ban automatic dues deductions, increasing insourcing of federal jobs, and "capping taxpayer-funded contractor compensation."
"We have a common struggle and a fight against privatization" of public services, added new Postal Workers President Mark Dimondstein, a guest speaker at the rally.
National issues that unionists advocated included raising the minimum wage, paid family and parental leave, and tax fairness, such as a financial transfers tax on stock and other transactions, and elimination of so-called "carried interest." That "lets hedge fund managers pay taxes at lower rates than their secretaries," Cox says.
Marchers had another message for those lawmakers who turn a deaf ear to their causes, or the country's: The workers will remember in November. "We're telling them to 'Stop it!'" union Vice President Augusta Thomas said. "Start taking money from the rich and stop making us poorer than we already are. We gotta fight and we gotta go to the polls and get these sons-of-bitches out of there."
Photo: "Rally for Shared Prosperity, Not Austerity," AFGE Facebook page.