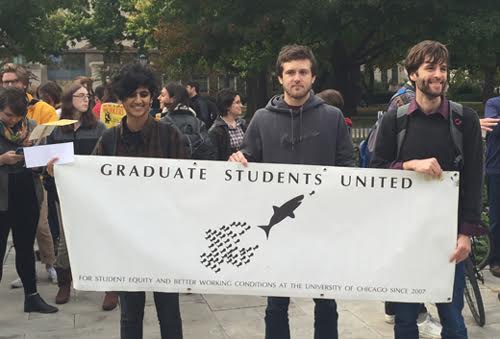 CHICAGO – Thursday afternoon, graduate students at the University of Chicago took part in a rally in solidarity with dozens of other private university campuses around the issue of unionization. They used the hashtag "#weareworkers."
Thanks to a partisan 2004 NLRB decision, graduate students at private universities are considered students only and not workers eligible for collective bargaining despite their obvious contributions in areas of research and social service. While their public university counterparts in many states have made significant strides toward legal equality with administration, the graduate students at U. of C., Brown, City University of New York and more are stuck at square one.
Public university graduate workers also held solidarity actions on campuses to support the #weareworkers movement as well as to bolster the labor movement on their own campuses.
Union solidarity contingents in attendance at U. of C.'s rally included SEIU and Teamsters, as well as the American Association of University Professors and American Federation of Teachers.
The graduate students held a speak-out in the main quad that drew over 50 attendees. They marched toward the administration building where they unfurled a large banner onto which they scribed their hopes for the future addressed to U. of C. administration.
Jazmine Salas, a second-year Masters student at the School of Social Work, spoke to People's World about the hectic, draining, and financially precarious life of a non-union graduate student.
"We are required to do field work twice a week, about twenty hours a week of unpaid labor to social service agencies. This makes it difficult for students who are low income or who come from working class backgrounds like myself because its hard to then have to work with twenty hours a week already gone. Currently I can only work one day out of the week not counting the weekends."
Another issue is that social service agencies will shop around for free labor in the form of interns rather than hire employees, further reducing the chances for employment post-graduate school.
"We have taken this to the administration and they are really reluctant to provide any support. Knowing that the Social Work school does have the freedom to structure the fieldwork however they wish, hearing that they're so hesitant to change things for the betterment of their students is just really frustrating," said Salas.
Alejandra Azuero is a second-year Anthropology graduate student from Colombia who found that rumors of the depoliticized nature of University of Chicago were not exactly true.
"It's been a political awakening of sorts. As a non-American in the U.S., getting involved with the union has made me feel both like a stakeholder and someone who ought to take ownership of her time in the U.S."
The union has also allowed those participating to consciously address their place in the community and to confront the "complicated and often disturbing politics." Located in the south side of Chicago, Alejandra characterizes U. of C. as "an impinging institution" referring to the areas around the school facing gentrification.
"It is a way not of resolving the contradictions outright, but a way of living amongst them without ignoring them."
The students say they plan to continue to rally and build coalition until their status as skilled laborers is recognized.
Photo: Patrick J. Foote/PW