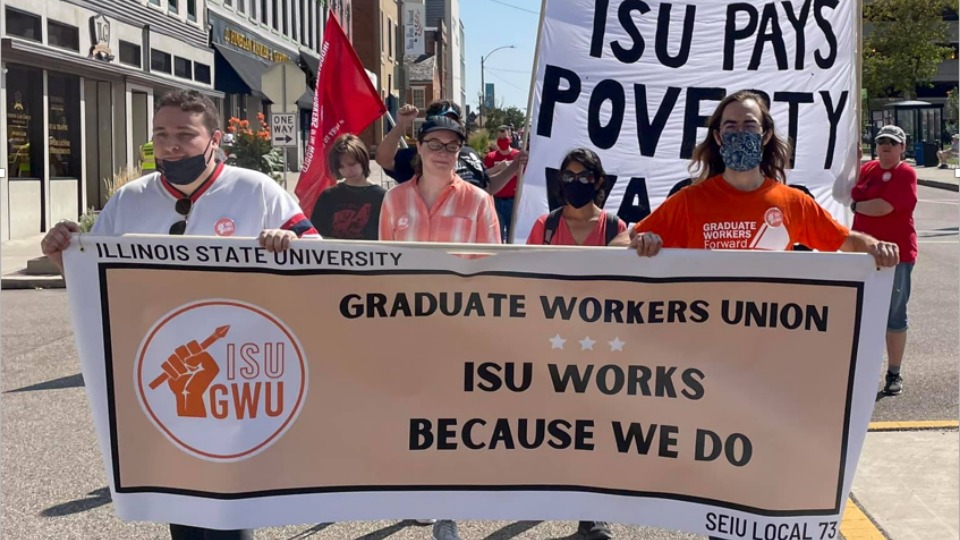 NORMAL, Ill.—Every August brings a new fall semester to Illinois State University (ISU). The incoming freshman class unloads their cars and packs into the dorms. Returning students look forward to seeing their friends and colleagues. Professors and instructors prepare and finalize their syllabi for the upcoming 16-week semester. Staff scramble to ensure university systems and services remain accessible and operational among the huge influx of questions and requests.
For the Graduate Workers Union (GWU) with SEIU 73, it means another year without a contract. It means going to the food bank they had to establish for themselves due to low pay. It means more negotiations with an adversarial university that refuses to budge on any economic issue that would greatly alleviate their hardships.
Since People's World last covered the Graduate Workers Union at ISU, a number of actions have happened. In March 2021, GWU members held a "Wellness Week" teach-in inside of Hovey Hall, ISU's administrative building, expressing once again how little they are paid, what has brought them to this point, and how workers could get involved. Weeks after that, the Academic Senate, the democratic governing body of the university, voted down a proposed College of Engineering in solidarity with GWU. The new college had been proposed by ISU's then-President Larry Dietz.
A month later, the grad workers held a vote on strike authorization, with 98% responding yes. While GWU did not strike, the late April vote—in conjunction with the rejection of an engineering college by the Academic Senate—drastically changed the conversation. The anti-union site the university published last year was updated with further information. While published under the guise of transparency, the site actually serves as a tool to co-opt and change grad worker narratives in an attempt to discredit what the workers already know and feel.
Statements like "financial support" are proffered to take away from stipend demands, suggesting the workers are far better off than what they are while placing the university in a benevolent light. As union members say, "Tuition waivers don't pay rent." Other statements include reducing their role as university workers—as employees—to students only, or absolving the university administration of responsibility by stating "departments have discretion to pay above these minimums" when those unlivable minimums are set by the winder university.
Of course, the summer lull came as the 2021 Spring Semester came to a close. A number of union members graduated as they prepared for the coming fall that has, so far, been largely in person. That did not stop GWU from hosting events and advocating on behalf of grad workers during their three-month reprieve. They held events, met within their respective committees, spoke with the wider Bloomington-Normal community, and anticipated a large membership drive.
This August, GWU came back with a new and loud campaign: "ISU Pays Poverty Wages!" Their big reveal was a banner drop on Thursday, Sept. 2, at Festival ISU. The yearly event draws hundreds, if not thousands, of undergraduate students, workers, and community members throughout the day. Following Festival ISU's success, GWU and the banner participated in Bloomington's Labor Day parade, marching through town, backed by local IWW members marching in solidarity.
Soon after, GWU's Fall 2021 flyer was published listing events leading up to the pending strike vote on Oct. 4. Their following event Sept. 15, a teach-in on the quad, was a success, drawing in hundreds of students, staff, and faculty as they walked across campus. While their Sept. 21 picket was moved to the 23rd due to weather, it did not deter some organizers. Making their way into the yearly State of the University Address, GWU members dropped the banner once again. While the address was streamed online, the feed was cut during Q&A.
According to GWU members there, when the topic of economic equity and fair wages was presented, a non-answer was given by new President Terri Goss Kinzy. Those same members were approached after the event with positive feedback, sympathy, and support from a number of administrators, faculty, students, and staff, as others also noticed the question on economic equity not fully addressed.
That is not to say GWU has not struggled to get their message out. According to GWU members, messages have been sent out to university staff to ensure posted GWU flyers on non-designated surfaces were taken down. This includes places like the open university quad, building doors, and open tables. University staff were observed taking down union flyers, as were university administrators after the State of the University Address.
GWU did not blame the individual university workers for listening to what the bosses said they had to do. They do wish, however, for further solidarity to be built up and shown over the coming weeks and months. As trade unionism often compartmentalizes workers, keeping them isolated from shared struggles, GWU workers hope some of these barriers can be overcome following the old slogan, "An Injury to One is an Injury to All!"
The Sept. 23 picket drew in student crowds and community members. Standing atop a pedestal leading into Hovey Hall, grad workers spoke about their conditions, undergraduate students expressed why they support the union, and staff spoke on solidarity and the need for others to speak up and act in support of the union. Bloomington-Normal Trades and Labor Vice President Adam Heenan also spoke on the need for solidarity from the community and other trades.
Following up, GWU announced a third picket for Sept 29. This event drew an even larger crowd from students and staff. ISU AFSCME Council 31, clerical, grounds, building, and healthcare workers stood out in solidarity, as they are also working through new contract negotiations.
After rounds of speeches, Steven Lazaroff, one of the union's primary organizers, called the crowd closer to Hovey's stairs. Sayanti Mondal, a Ph.D. grad worker in English, announced a hunger strike to further exemplify ISU's poverty and starvation wages. Steven went on to speak of the long line of hunger strikes that have demanded change—including the Civil Rights movements of the 20th century, the hunger strikes of the IRA in both 1923 and 1980, and of Palestinians facing apartheid and Kashmiris today. Taking the announcement, they marched through Hovey Hall and ended outside at the other end chanting "ISU pays poverty wages!"
With increased pressure, the university finally moved on their previously "non-negotiable" points. They have offered a 25% increase to the minimum stipend, a 10% reduction in fees, a fair grievance procedure, expanded non-discrimination protections, parking equity, removal of some of the no-strike clause language, and more. GWU is now hosting a vote; yes to approve the new two-year contract, or no to strike. Voting ends Oct. 10.
Those interested in following the Graduate Workers Union can find them on Facebook, Twitter, and Instagram.