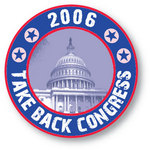 Issues of corruption, environmental preservation and meeting the needs of ordinary people are at the heart of the three-way struggle being waged in Northern California's 11th Congressional District, extending from the Central Valley into the San Francisco Bay area.
There, seven-term incumbent Rep. Richard Pombo — a Republican with strong ties to disgraced former House Majority Leader Tom DeLay and an abysmal record on environmental and labor issues — is being challenged in the June 6 primary by former Republican Congressman Pete McCloskey. An additional Republican primary candidate is farmer and grocer Tom Benigno.
Candidates in the Democratic primary include wind power expert Jerry McNerney –endorsed by the Democratic Party — as well as commercial airline pilot Steve Filson, backed by several members of Congress and other elected officials, and union electrician Steve Thomas.
"The 11th CD is at the top of the list of California congressional races, and there are indications it is near the top nationally," said Bryan Blum, political director of the California Labor Federation. "Democrats clearly see the 11th as an opportunity to pick up a Republican seat."
The California Labor Federation has not only endorsed McNerney, but also backs McCloskey in the Republican primary. "When he was in Congress, McCloskey had a much better voting record than your typical Republican, and 1,000 percent better than Pombo," Blum said.
While Pombo has upheld far-right positions on many issues, including support for the Iraq war and the anti-immigrant HR 4437, opponents especially point to his involvement in current corruption scandals and his destructive agenda as chair of the House Resources Committee, which drafts many key environmental laws and supervises 700 million acres of public land.
Sandra Carter, who heads the San Joaquin-Calaveras Counties Central Labor Council, added another issue, Social Security. "For years I have been lobbying in regard to Social Security, and not to take Social Security money and put it into Wall Street," she said. "But it's about every union issue. It could be health care, it could be Social Security. We just don't see the interest from Mr. Pombo in saving jobs, ending outsourcing, union members and others being able to retain a career to pension."
Carter said people have already been coming from other areas to volunteer. "This is a marked district and people feel if you need to make a change anywhere, then you can start here," she said.
Earlier this year, Public Citizen listed Pombo among six members of Congress, headed by DeLay, in its "Ethics Hall of Shame." On its web site, CleanUpWashington.org, Public Citizen pointed out that Pombo ranks eighth among members of Congress in contributions received from admitted felon and former Washington lobbyist Jack Abramoff.
Environmental organizations note that as Resources Committee chair, Pombo has sought to allow sale of parts of several national parks and scenic rivers to private developers and mining companies, to open coastal areas to offshore oil and gas drilling, and to allow drilling for oil in the Arctic National Wildlife refuge. His efforts to decimate the Endangered Species Act have included ending protection of critical habitat for endangered wildlife and exempting pesticide use from the Act's requirements.
Pombo's challengers reflect a very different orientation.
Republican former Congressman Pete McCloskey, now 78, is running in the primary because, he says, Pombo's voting record and close association with DeLay and Abramoff made him "an embarrassment to the Republican Party." McCloskey, who co-founded Earth Day and helped write the Endangered Species Act, strongly objects to Pombo's drive to undo environmental regulations.
Often called a "maverick" Republican, McCloskey represented the San Francisco peninsula area for 15 years following his election to Congress in 1967. In 1972 he ran against President Richard Nixon on an anti-Vietnam War platform, and in 1973, called for Nixon's impeachment. A Korean War vet with multiple medals, McCloskey says he now shares the position of fellow veteran Rep. John Murtha (D-Pa.) that U.S. troops should be brought home quickly.
Democratic Party primary candidate Jerry McNerney, a nationally recognized wind energy consultant, got his start in politics as a write-in candidate in the 2004 Democratic primary. McNerney went on to rack up nearly 104,000 votes — the most to date for a Pombo challenger — in November. The California Democratic Party endorsed him at its recent convention.