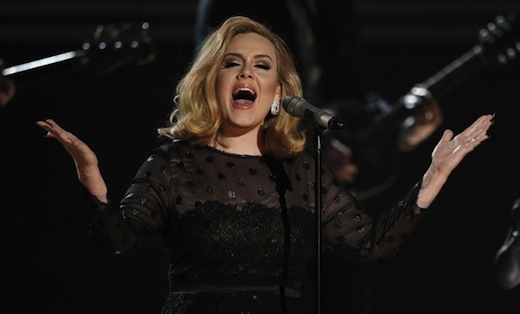 Why bother writing about an over-produced awards show that celebrates a multi-billion dollar industry, multi-millionaire performers, and a world that may have more in common with the 1% than the 99%?
Because, millions of people love music and the Grammys, and many of the artists come from the 99%, even if some of them now have 1% incomes.
Or, because, as Bruno Mars said, "get off your rich (behinds) and let's have some fun."
I was anticipating lots of fun, listening intently for progressive political or social commentary, but didn't hear much from the show. Twitter, on the other hand, provided lots.
Bruce Springsteen provided subtle politics with his show-opening song, "We Take Care of Our Own," which is now on Barack Obama's reelection campaign playlist.
But the optimistic realism of the song, soon gave way to another reality: the shocking death of 48-year-old pop icon Whitney Houston. The Grammys' usual glitz and glamour were dimmed a few times during tributes to the world-renowned singer, whose battle with drug addiction took a toll on her and her powerful voice.
The show's emcee, L.L. Cool J, offered a prayer, Jennifer Hudson sang one of Houston's signature songs "I Will Always Love You," and stars condoled Houston's death.
The religious opening was certainly offset by Nicki Minaj's quasi-sacrilegious performance of "Roman Holiday." It was an eye-popping production, which made Madonna's "Like a Virgin" and Sinead O'Connor's ripping up the Pope's photograph seem tame.
Democratic political activist Donna Brazile tweeted, "Nicki's performance was beyond surreal. Scary. On my knees now asking the Lord to forgive me for watching it."
Speaking of surreal – and scary – the amount of airtime heaped on Chris Brown, who won Best R&B Album, was odd. Seemed like it was a deliberate move by some well-connected agent or record label who has a lot of money riding on Brown and needed to rehabilitate his image after he was convicted of assaulting then-girlfriend and singer-superstar Rihanna in 2009.
But judging from at least one Twitter trending topic, #womanbeater, it may take more than a television broadcast to revive Brown's wounded career.
While there was prayer for Houston, the Grammys heaped praise on British soul singer Adele. She tied Beyonce winning the most awards for a female vocalist, six, including Best Song, record, and album.
Adele, modest and straightforward, is a daughter of the British working class, and – like the working-class lads from Liverpool almost 50 years ago – topped the charts simultaneously last year with two singles from her album "21."
Worth noting is Adele's attitude towards body image. She doesn't buy into the Hollywood/mass media pressure on girls and women to be super skinny, a welcome role model for girls who are bombarded with corporate-produced images of womanhood.
While overt progressive political statements were thin in the Staples Center, outside some Grammy winners took to the street demonstrating against the unilateral and secretive cuts of 31 Grammy categories, including Latin jazz, contemporary jazz, Native American, zydeco, Cajun, classical, Hawaiian, polka, regional Mexican, and world music.
Latin jazz artists and others submitted petitions in protest and rallied outside Staples Center. They said the National Academy of Recording Arts and Sciences did not notify the membership of the cuts and did it in secret. The categories for the most part, represent many artists of color, and smaller independent labels. The academy is sending a wrong message, especially at a time when the country is growing in racial and ethnic diversity. It also seems like a move highly motivated by profit factors, and not artistry.
Recording Academy President Neil Portnow offered nothing progressive in his long and boring speech. It was aimed at remaking the image of Big Music, and a case for the return, in some form, of SOPA and PIPA , which lawmakers took off the table after receiving millions of protest messages by Wikipedia, Reddit, Google, and other websites, protesting the draconian anti-free speech measures in the legislation.
Etta James was remembered in a duet performance of "A Sunday Kind of Love" by Alicia Keys and Bonnie Raitt, but fans were upset when her photograph was missing from the "in memorium" segment.
Soul Train founder (and TV-music innovator) Don Cornelius was also conspicuously missing from "in memorium," although the academy included Steve Jobs for digital music innovation. After the segment, LL Cool J, perhaps noting the absence of Cornelius, smoothly added his name and memory, while introducing Foo Fighters and Deadmau5.
Gil Scott-Heron was given a lifetime achievement award posthumously, but reportedly left out of the photographs as well.
Glen Campbell, who gave an energetic performance of "Rhinestone Cowboy," received accolades during the music showcase. Campbell has Alzheimer's, yet is on tour filling venues, and along with his wife Kim, talking about living with the disease.
Photo: Adele performs at the 54th Annual Grammy Awards show Feb. 12. (AP/Matt Sayles)