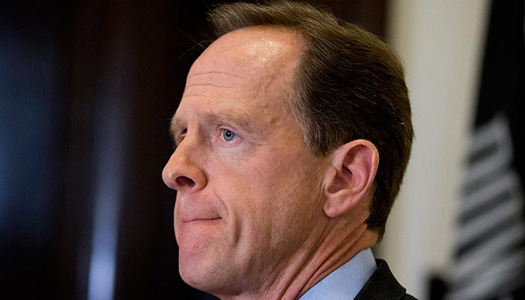 Two thousand low income grassroots community activists, black, white and Latino, filled the streets of downtown Pittsburgh July 8 chanting, singing and demanding social and economic justice. They marched in a city that is located in the western part of what is generally considered a "swing" state in the 2016 elections.
The two hour march was conducted by delegates to the first national People's Convention of the Center for Popular Democracy.
The marchers held brief rallies at locations between the David Lawrence Convention Center and the office of right wing U.S. Senator Pat Toomey.
"UPMC: You can't hide, we can see your greedy side!," they chanted in front of the headquarters of the University of Pittsburgh Medical Center. As Allegheny County's largest employer, UPMC is notorious for paying low wages to health care workers, while giving a $6 million salary to its CEO and paying no taxes.
"Obama, Obama, don't deport my mama" was the chant at the rally at the Federal Court House demanding an end to mass deportations and the resulting break-up of families.
At the county court house the marchers demanded an end to mass incarceration, police violence and the pervasive racism in the U.S. criminal justice system.
At the Federal Reserve Bank they demanded representation of working people on the bank's board and low interest rates on mortgages and other loans.
As they crossed a bridge over train tracks along the Monongahela River, they demanded an end to the passage of "bomb trains" carrying oil and other fuels through the city as well as action to prevent the growing threat of climate disaster.
Finally, at Toomey's office, they denounced the Senator's efforts to deregulate banks, promote fracking and oppose measures to stop climate change.
The marchers had been fired up by the opening session of the two-day convention, which was continually punctuated by chants and protest songs and inspired by speeches of CPD leaders as well as activists from its network of nearly 50 local partners across the country. Much on everyone's minds were the previous day's shootings of police and demonstrators in Dallas as well as the recent police killings of Black civilians in Baton Rouge and Minnesota.
"We cannot turn our eyes away," said CPD Co-Executive Director Ana Maria Archila, "from the fact that the state is killing a Black person every 28 hours in America, as the delegates responded: "Black lives-They matter here!"
"We don't want to kill each other," said Steve Kelly, a janitor and member of the Service Employees International Union, "We want to live together, have a decent wage and affordable housing."
"The people united will never be defeated," the delegates chanted in response.
"This is a very emotional morning," said Fred Redmond, International Vice President of the United Steelworkers. "I see myself and my family in these situations. I see my brothers in the police departments. I want them to return home safely after work.
"We are in a crisis moment," he continued. "Our society is broken. Together we can, we must, we will change this world."
Prior to leaving for the march, the delegates watched a slide show presentation describing the economic inequalities of the capitalist system, which, it said, is maintained by pillars of racism, sexism and other forms of discrimination and division.
"We are here to tell the one percent that the 99% are here and we're taking over," the presenter stated to loud cheers, the waving of streamers and the cranking of noise makers at each table.
"We are up against a system, not just bad people and bad policies."
In an interview with this reporter, Andrew Friedman, another of the group's three co-executive directors, said the CPD seeks to build grassroots movements as well as broader sustained campaigns, including the fight for a $15 minimum wage, through its network of mostly Black and Latino-member partner organizations. It also encourages participation in progressive electoral politics.
"We plan to knock on three million doors in this presidential election," he said. "We plan to do voter registration and mobilization as well as promote ballot initiatives and build a lasting infrastructure at the grassroots." He said the literature distributed would "certainly be anti-Trump" and "more or less" pro-Hillary Clinton. "We are not affiliated with any political party, but we partner with groups like the Working Families Party, where it exists, and seek to move the Democratic Party to the left."
Aside from breakout sessions with testimony from participants in local struggles, the convention held a rooftop party. Half of the delegates were Latino and all sessions were conducted in both English and Spanish.
The second day was highlighted with powerful speeches by Rep. Keith Ellison D, Minn., and Rev.William Barber, leader of the Moral Monday movement and president of the North Carolina NAACP.
Ellison pointed to the statement of Minnesota Gov, Mark Dayton that the police killing of Philander Castile during a traffic stop would not have occurred if Castile had been white. Ellison said that statement demonstrated the growing influence of the Black Lives Matter Movement.
Rev. Barber has begun a national "Moral Revival" speaking tour. He said that the violence rocking the country is "Shakespearean" and that, while most police seek to perform their duties honorably, there must be intense screening of anyone hired to be an officer "so as to disqualify anyone who is a bigot."
"We must end the proliferation of guns," he said. "We must tell dogs like Mr. Trump that more guns will not protect us."
He said Fox News "spews a culture of violence and racism" and denounced white evangelicals," who "spend more time being white than being evangelical."
He also blasted right-wing politicians, going back to GOP President Ronald Reagan who use code words and dog whistle politics "to 'Blackenize' an issue and get people to vote against their own interest."
Calling for a "Moral Revolution of values, he warned against separating race and class and said the same groups backing one form of injustice also promote every other form.
"If they are cynical enough to come together, we must be smart enough to come together as well."
"It's time for fusion politics."
Photo: Marchers stopped at the office of Sen. Toomey (pictured), denouncing the Senator's efforts to deregulate banks, promote fracking, and oppose measures to stop climate change. | Manuel Balce Ceneta/AP