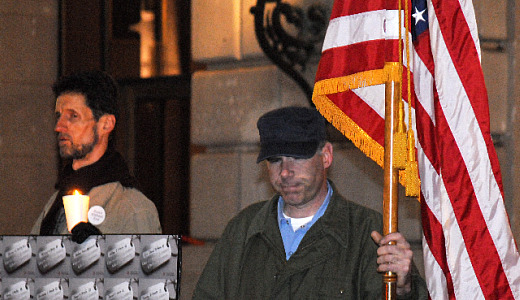 SAN FRANCISCO – The week beginning Feb. 22 featured commemorations, vigils and protests as our nation hit the 1,000 mark in American military deaths from the war and occupation in Afghanistan. Tellingly, in the more than eight years of the war, almost one-third of the thousand deaths, 317, took place last year, and fatalities this year are on a pace to be even more. Simply put, troop surge equals death surge.
In the San Francisco Bay Area, Feb. 23 saw the American Friends Service Committee (AFSC – the Quakers) ally with the local chapter of Veterans For Peace to hold a vigil in front of the Veterans Memorial Building on Van Ness Avenue at McAllister in the city. The names of all 1,000 U.S. dead were read, along with the names of 123 Afghan civilians.
"For Afghans the exact numbers of casualties are unknown," said Sandra Schwartz, AFSC executive director and coordinator of the vigil. "Civilians are increasingly caught in the crossfire. Surveys from the United Nations show that last year marked the highest number of civilian deaths and the highest number of children being killed."
Quakers, veterans and others held large placards covered with postcards – each with the name of a deceased soldier written on a "dog tag." The reverse side held an appeal to local Congresswoman Nancy Pelosi to oppose more funding for the ever-expanding war, pointing out that by the end of 2010 troop levels are on track to double to 100,000.
See TV Channel 2 coverage of the vigil.
Other local events included a Feb. 24 noon CodePink action at a Marine recruiter station in Berkeley. Also that day, Courage to Resist, a vets-based GI resistance group, held a 2 p.m. event at the United Methodist Church in Oakland.
Photo: Judith Sandoval