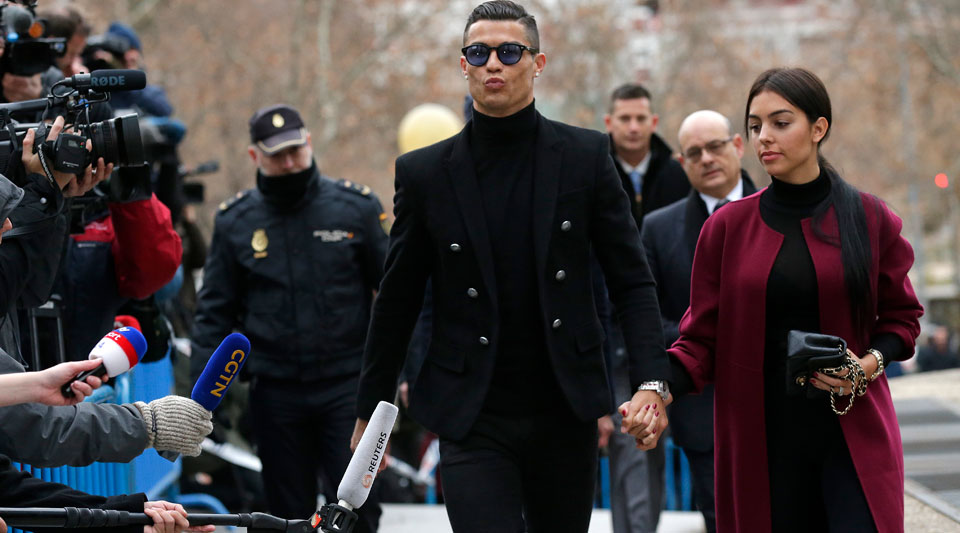 With a cocky duck-face grin, designer sunglasses, suit, and wristwatch, Cristiano Ronaldo, the "world's best soccer player," is the poster child of greed and materialism.
It's fitting then that such an image was captured as he walked into a Madrid courthouse, ready to plead guilty to tax fraud and evasion.
After nearly four years of investigation, Ronaldo agreed to a fine of close to 19 million euros ($21.6 million) but will not serve time in prison, as he was given a two-year suspended sentence. Judges in Spain have the option to suspend sentences of two years or less for first-time offenders.
Ronaldo agreed to the plea deal with Spain's state prosecutor and tax authorities last year.
The investigation began in 2015, and state prosecutors, after two years, accused Ronaldo of four counts of tax fraud from 2011-14 totaling 14.7 million euros ($16.7 million).
"The accused took advantage of a company structure created in 2010 to hide from the tax authorities income generated in Spain from his image rights, which is a 'voluntary' and 'conscious' breach of his fiscal obligations in Spain," said a 2017 statement from Madrid's regional prosecutor.
The use of shell companies have become a common tax avoidance strategy by the super wealthy, and was exposed in detail by the 11.5 million files found within the 2016 Panama Papers.
The accusations didn't involve his Real Madrid Football Club (FC) salary, his club from 2009 to 2018 before he joined the Italian team, Juventus FC in a four-year deal with a 120 million-euro ($131 million) payout.
Once ink was put to paper, Ronaldo, accompanied by girlfriend Georgia Rodriguez, left the courthouse and made their way past hundreds of reporters, stopping occasionally to sign autographs. When asked about his appearance, Ronaldo replied:
"It's done."
Ronaldo is also facing rape allegations from an incident on June 12, 2009. Recently, he has been asked by police to provide a DNA sample as the investigation into the sexual assault moves forward.
Ronaldo joins the growing list of soccer players who are or have been investigated by Spain's tax authorities, including Lionel Messi, Jose Mourinho, Javier Mascherano, Marcelo, Luka Modric, Alexis Sanchez, Ricardo Carvalho, Angel Di Maria, Radamel Falcao, and Fabio Coentrao.