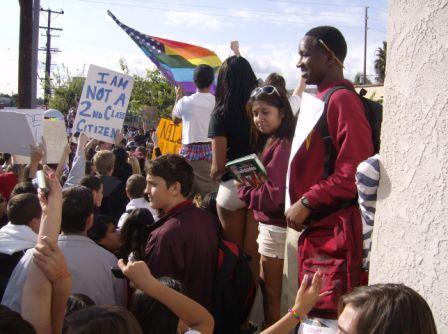 LONG BEACH, Calif. — Pride was out in force in Long Beach for a counter-protest against an antigay hate group on February 19. Seven representatives of the extreme fundamentalist Westboro Baptist Church set up a picket in front of Wilson High School to protest President Obama's appointment of Kevin Jennings to the U.S. Department of Education. Jennings was appointed assistant deputy secretary of the Office of Safe and Drug-Free Schools back in May 2009. Jennings is also the founder of the Gay, Lesbian, Straight Education Network (GLSEN). According to a rambling, incoherent entry on the WBC's website, godhatesfags.com, Jennings and Obama have "doomed America," and that Jennings was "determined to sodomize" all of the children he could "get his…hands on."
The fanatical group's pitiful picket was quickly overwhelmed by 1,000+ counter protestors who showed up to let the WBCers know that their bigotry is not welcome in Long Beach. The counter-protest was a youth-dominated, multi-racial, multi-class mix of individuals and organizations brought together by the local Gay Straight Alliance.
The students of Wilson High were dismissed from school during the protest. Many joined the counter-protest. At one point, the supporters of LGBT equal rights, carrying signs with slogans like "God Made Gay," "No Place for Hate," and "Love is Not a Sin," surged across the street and quickly surrounded the hapless hate group. Others engaged in absurdist street theater, mocking the demonstration by carrying placards with meaningless slogans like, "Annex the Moon" and "Free Pizza." Police made no effort to interfere with the nonviolent confrontation, instead focusing on keeping the street clear for traffic. The chastened WBCers made their fast getaway under chants of "Go Home!" and "Long Beach!"
The Westboro Baptist Church, centered in Topeka, Kansas, periodically sends protest contingencies to Long Beach because it is a city with a large LGBT population. The group also scheduled pickets the same weekend at other sites in Long Beach, including synagogues, a Jewish center, and the U.S. Naval Weapons Station.
Photo: Youths surround a small group of antigay protestors in front of Wilson High School. Chris Elliott/PW