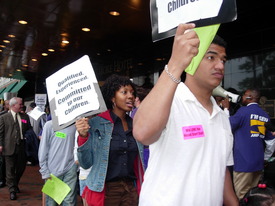 PROVIDENCE, R.I. — "We built Head Start," said Barbara Lewis. "We are Head Start. We just lost our jobs."
She was among a spirited crowd of more than 200 Head Start workers, parents, union leaders, politicians and other supporters who marched yesterday outside the downtown Biltmore Hotel here, where the nonprofit agency that just fired 200 workers was holding a plush anniversary celebration.
Last fall, the Head Start workers here voted overwhelmingly to be represented by SEIU 1199NE, the New England Health Care Employees Union. But Children's Friend and Service, a social service agency that is taking over administration of the city's Head Start program this month, has refused to talk with the workers or their union, and instead handed out pink slips yesterday. The agency has outraged workers by suggesting they can reapply for their jobs.
"These guys are trying to get out of recognizing the workers' choice by not bringing them back," said 1199 organizer Chas Walker. He said the agency had known since January it was a finalist to take over the program, yet insisted at the time that talks were "premature." Now it is taking the attitude that "workers are disposable," Walker said. "We think they're breaking the law."
"They're trying to get people to work for less money, with no rights and no say on the job," said Stan Israel, who heads up 1199's Rhode Island division.
The marchers chanted, shook rattles and carried signs reading, "Qualified, experienced and committed to our children" and "We are Head Start."
As he walked the picket line outside the Biltmore, City Councilman Miguel Luna noted that most of the workers live in the city, and said, "It's a really bad beginning for Children's Friend and Service to have a bad relationship with people who are residents, who live in the neighborhood." The Providence City Council last week voted unanimously to support the workers. They have also received support from area mayors and the state's entire congressional delegation.
CFS was awarded a $7 million-a-year U.S. Department of Health and Human Services contract to run the program after problems were uncovered with the previous operator. The problems were at the administrative level, not with the workers, Luna noted. "They should negotiate with the union." Unions, he said, "create good, stable jobs, and to me that's important."
Lewis, 71, a Providence resident, has worked for Head Start for 25 years, as a certified nursing assistant, teacher assistant, family worker and receptionist. Head Start's federal standards, she noted, call for priority in employment to be given to people who are parents of Head Start children, and for parental involvement in decision-making. Lewis is a step-grandmother, foster parent, grandmother and great-grandmother who takes pride in her decades of work with children and families.
"When a family has a problem, you have a problem. When they cry, you cry. When they laugh, you laugh," she said. "When you see a happy child, you feel happy. It's like a family. It's a beautiful feeling. That keeps me going."
"We love our teachers and all of our staff," parent Andrea Spitznagel said. "The work that they do with our children is amazing — and it's shameful how they are being treated. We hoped we didn't have to be out here today, but until they listen we'll just have to keep raising our voices."
The protest, organized with Rhode Island Jobs with Justice, drew a host of leaders from the state AFL-CIO, AFSCME and other unions along with several city councilmembers and other officials. The atmosphere of community support was evident as labor leaders exchanged hugs with police officers on duty outside the hotel.
Councilman Luis Aponte said the workers and their supporters would continue to press their fight. Addressing himself to the gala attendees inside the hotel, he said, "As they are doing their lobster bisque and their apple martinis," they're seeing that "we're not going anywhere."
"We made a real statement down here tonight," 1199's Stan Israel told the workers as the march wound up. "They better understand, we're going to fight it out."
suewebb @ pww.org