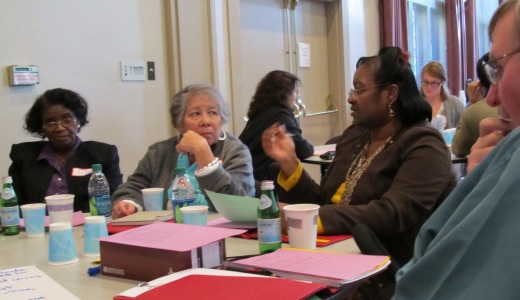 OAKLAND, Calif. – The Affordable Care Act (ACA), the national law signed last year to extend health coverage to tens of millions now without coverage, will especially help communities of color and documented immigrants get needed care, health policy experts told a Nov. 9 conference here.
At the California Pan-Ethnic Health Network's conference, "Seizing the Opportunity: Achieving Equity in Health Reform," speakers told an audience of care providers, advocates and those receiving care that while the law won't be fully effective until 2014, it is already helping many formerly uninsured people.
They also pointed out the ways California is leading the 50 states in preparing to bring the ACA fully to life.
The gathering followed a mid-September Health Equity Summit that brought together members of Congress with public health leaders, community members and health organizations.
Speakers said nearly three-quarters of California's four million people with no health coverage are people of color, with Latinos making up nearly 60 percent of the total uninsured.
Vanessa Cajina of the Western Center on Law and Poverty noted under new state legislation, childless adults with incomes up to 133 percent of the federal poverty level – about $14,600 for a single person – will for the first time be eligible for Medi-Cal (California's Medicaid). Former foster youth will be covered up to age 26.
The application process will be simplified, she said, with applicants completing a single form and being referred to the most generous program for which they are eligible. The foundation has already been laid for a health exchange to help people in the individual insurance market find the best coverage for their needs.
California's preparations for implementing the ACA are "already ahead [of other states] and we need to remain the pace-car," Cajina said.
Among laws already signed or in the legislative process include: requiring insurers to offer child-only plans and preventing them from rejecting children with pre-existing conditions, requiring dependent coverage to age 26 and eliminating co-pays for preventive care.
Also, a simplified income standard for Medi-Cal, a new affordable health plan for those with incomes under 200 percent of the federal poverty level, better consumer assistance, a requirement that insurers provide maternity benefits, and that they meet federal standards saying 80-85 percent of premium dollars must be spent on patient care.
Linda Leu of Health Access stressed the special need of communities of color for culturally and linguistically appropriate services. She said the state health exchange that's under development needs to be independent and not dominated by insurance companies.
Alex Briscoe, who directs Alameda County's Health Care Services Agency, said over 47 million Americans now live in poverty – "the most in the history of our civilization, and it is now more difficult to get out of poverty than it's ever been in our country's history."
As an example of the disparities affecting people of color, he said African Americans in the county now live on average 9.4 years less than their white counterparts.
"Good health isn't about that shiny hospital or how fast the ambulance can get you there," Briscoe said. "It's about employment, good schools, a sense of really belonging, quality education, these things we call the social determinants of health.'"
He urged the audience to take up the challenge of making decisions not only about healthcare but also about "justice, social mobility, and the reinvention of public institutions that serve as the safety net."
A big topic in the discussion period was coverage for undocumented immigrants, who are excluded from coverage under the national Affordable Care Act. Briscoe said Alameda County funds health care for the undocumented through a special county sales tax.
While we live in this "weird culture" concerning immigration, he said, "It's vital to insist that a safety net is a safety net."
Photo: Marilyn Bechtel/PW.