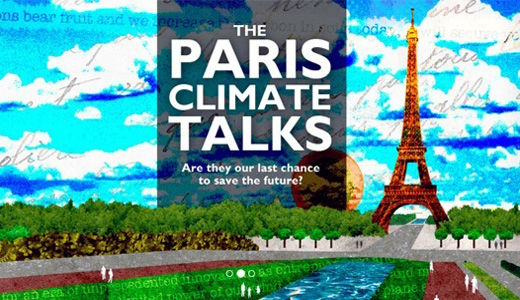 All eyes will be on Paris from Nov. 30 to Dec. 11, when the City of Lights shines upon a hugely significant, potentially historic event – the 2015 United Nations Climate Change Conference, or COP 21. It will take place in Le Bourget, a suburb just minutes outside of France's capital, with major world leaders including President Obama in attendance. Its objective? To achieve a legally binding, international agreement on climate. The chances of it happening? Yet to be determined, but fingers have been crossed worldwide as the potential for real, positive change arises once more.
COP 21 is so nicknamed because it is the 21st session of the Conference of the Parties to the United Nations Framework Convention on Climate Change (UNFCCC). Some quick info for those not in the know: the Conference of the Parties is the governing body of the convention, composed of all the states that are party to the Kyoto Protocol, an international treaty that came into effect on February 16, 2005, and which commits its member states to the reduction of greenhouse gas (GHG) emissions, based on the fact that climate change is a real and present threat to the world. So what, then, is the UNFCCC? It's a multilateral environmental agreement that was opened for signature at the 1992 Earth Summit in Rio de Janeiro, Brazil, and which came into force on March 21, 1994. It aims to stabilize GHG emissions to a level that would prevent extreme interference with the climate.
To those ends, COP 21 will try to achieve a universal accord on this matter, which, if successful, would be a first after over two decades of UN negotiations. Specifically, the goal is to limit global temperature increase to 2 °C above pre-industrial levels. Politically, the attending parties will strive to close the widening gap between what science is telling us about the changing climate and the hitherto insufficient actions that countries have taken to remedy the ensuing problems. And environmentally, there is a push associated with this event to change the narrative on green issues, on an international scale.
The projected audience will include government leaders from all over the world, regional and local politicians, NGOs, education representatives, companies, and, of course, press. That press will include the People's World, which will provide on the scene coverage, for which it is currently raising money via a new campaign on Indiegogo.
Environmental groups including the Sierra Club, the Blue-Green Alliance, 350.org, the Lima-Paris Action Agenda, the Climate Action Network, Avaaz, and the World Wildlife Fund (WWF) will be there. And the goings-on will extend far beyond the conference alone, with civil societies taking place throughout Paris and all over France, composed of local citizens, students, activists, organized labor, government workers, health care workers, scientists and conservationists, economists, industry experts, and journalists.
It is impossible to predict whether the desired agreement will be actualized at this convention, but there is an expectancy, nonetheless, amongst the public and activist groups, for the Paris talks to result in some firm commitments made. The WWF developed a graphic that outlined many of these expectations, including: protection for forests and ecosystems; clear short and mid-term greenhouse gas reduction targets, anchored by strong and uniform international guidelines; long-term targets for phasing out fossil fuels and phasing in 100 percent renewable energy; and the ratification of amendments relating to the second commitment period of the Kyoto Protocol.
The talks will not only be important in and of themselves, but also because they are foregrounded by real people's movements across the world and bolstered by growing scientific knowledge and industrial and technological change. The one constant when it comes to environmental issues is that everything – from labor and health to war and poverty – is connected, and COP 21 shall epitomize that axiom.
Counterbalancing the progress made through these movements and developments, however, has been the political and legislative opposition in the U.S. foisted upon the populace by right-wing climate deniers, who have been inhibiting any and all efforts made by the Obama administration to combat global warming. This antagonism is also perceptible on an international scale, through corporations – especially those associated with fossil fuels – that disrupt livelihoods, buy elections, and leave ravaged ecosystems and burning, oil-stained landscapes in their wake.
Unfortunately, and while on the topic of destruction, one cannot speak of Paris and the climate conference without speaking also of the recent ISIS-orchestrated terrorist attacks that left at least 129 dead and 350 wounded. In the wake of this tragedy, security at COP 21 will be ramped up, and most major demonstrations – including two climate marches that were intended to bookend the conference – have been cancelled. This is not to say that the people have withdrawn out of fear, but rather, that due to the high political caliber of COP 21's composition, measures of precaution are being taken wherever possible. As for the French people, they have proven resilient in the face of these terrorist acts, and for them it's largely been business as usual in Paris. Indeed, one can bet that myriad smaller demonstrations will still take place throughout the country, and the People's World will try and capture the spirit of that activism while there.
Meanwhile, there's plenty of activism taking place right here in the U.S. in anticipation of the event, with thousands of nurses and environmentalists converging in downtown Los Angeles on Dec. 3 to demand global reduction in greenhouse gas pollution. Dr. Paul Song, from California's Courage Campaign, remarked, "As an oncologist, I am profoundly aware of the health impacts of a changing climate. The UN climate summit could be humanity's last chance to meaningfully avoid irreversible climate disruption on a global scale."
Ultimately, what one should realize going into the climate talks is that this conference has the potential to be the beginning of a progressive and paradigm-shifting process. It is one that begins with interpolitical collaboration and international cooperation, and which continues with working people and citizens using the thrust of that initiative to propel a worldwide movement. And, by the time COP 21 concludes, we can hope that it will end by taking the fight against climate change to a transformative, universal level.
Photo: EcoWatch