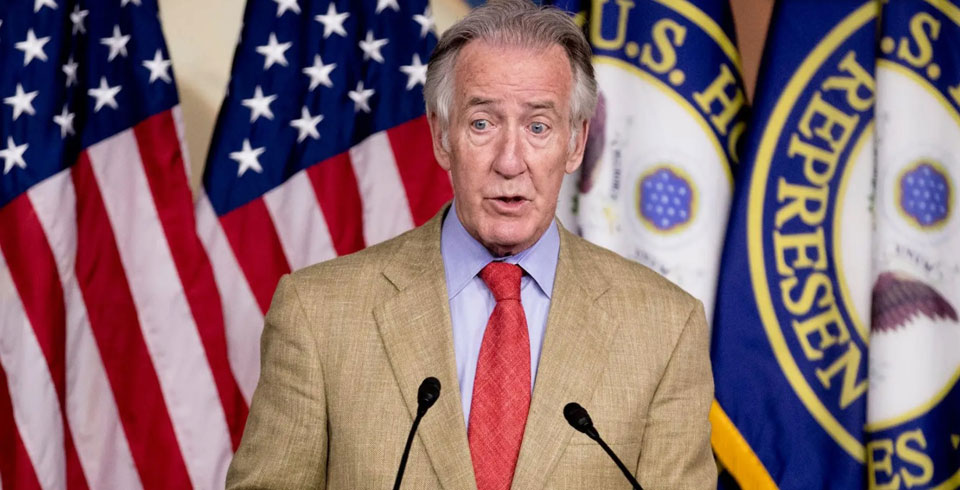 WASHINGTON —National Nurses United's long campaign for safe staffing in U.S. health care picked up heavyweight congressional supporters in early September. Reps. Richard Neal, D-Mass., and Frank Pallone, D-N.J., want to mandate safe staffing in nursing homes.
The backing of the two lawmakers is important. Neal chairs the House Ways and Means Committee. It writes Medicare and Medicaid legislation, and the two programs account for huge shares of nursing home operators' income.
Pallone chairs the Energy and Commerce Committee, which writes most House health care legislation. They join Senate Finance Committee Chair Ron Wyden, D-Ore., whose panel handles Medicare and Medicaid, and Senate Aging Committee Chairman Bob Casey, D-Pa.
Their Nursing Home Improvement And Accountability Act is also important. While NNU, the nation's largest union of registered nurses, has concentrated on—and often been successful at—mandating safe staffing ratios of nurses to hospital patients in several states and many individual institutions, the new measure would extend safe staffing to nursing homes.
They need it. The coronavirus pandemic has killed 135,000-plus people in nursing homes, mostly patients, among a total U.S. death toll approaching 650,000, the two said. And they cited a non-partisan congressional study showing 71% of the nation's 15,295 nursing homes have not been surveyed for quality and consistency of care since the plague began.
"Nursing homes have been at the epicenter of the pandemic, making an already vulnerable population even more susceptible to illness, insufficient care, and, for far too many, neglect," Neal said in a statement as he introduced the measure.
"As variants continue to devastate our seniors, the quality of care, inadequacies in staffing, and level of oversight over nursing homes must be addressed. By making significant, but commonsense improvements to federal nursing home policy, this legislation will keep residents safer and begin to restore public trust. Patients and families deserve accountability, transparency, and continued oversight."
"Americans deserve to know their loved ones will be safe and well-cared for while staying in long-term care homes," added Pallone. "The pandemic was a wake-up call we must do more to protect people in nursing homes. This legislation will increase oversight of nursing homes and provide the resources necessary to improve the quality of care across the nation."
He also said the measure would "help prepare long-term care facilities for future public health emergencies, and provide a much-needed raise for long-term care workers." He didn't say how much the raise would be. Long-term care nursing home workers, most of them women, of color, immigrants, or both, are among the most-exploited U.S. workers.
The bill would require nursing homes "to meet minimum staffing standards, ensure an RN is available 24 hours a day, require homes to hire a full-time infection control and prevention specialist," and provide more money through Medicaid to support the improvements and raise pay, a fact sheet says.
"The bill also takes a number of steps to increase transparency and accountability by improving data collection, providing better information to residents and their families," and financing state surveys and monitoring of nursing homes, it adds.