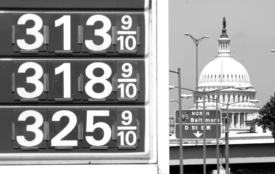 WASHINGTON — Hustling to contain voter outrage over gas prices ratcheting up over $3 a gallon in an election year, President George W. Bush ordered the Justice Department to investigate price fixing. He also suspended environmental rules to allow Big Oil to sell polluting gasoline.
Oil industry experts scoffed at the notion that Bush, himself an oil millionaire, will curb profits raked in by his Texas oil buddies. It now looms over the Nov. 7 elections, with panicked Republicans distancing themselves from the oil-soaked Bush-Cheney regime.
"There has never been an administration more closely tied to the oil companies than this one," said Tim Hamilton, a petroleum industry consultant and author of a just-released report, "Why Gasoline Prices are Headed for $3.50 at the Pump."
The Bush-Cheney administration, he added, is a "public relations firm for the oil industry. The debate over our energy policy needs to be held in public, not in one of Cheney's secret groups."
He was referring to the notorious White House Energy Policy Task Force, which authored an energy bill that lavishes $170 billion in taxpayer subsidies on big oil and gas corporations over the next decade while giving them a green light to jack up gas prices. The Republican-majority House and Senate approved it and Bush signed it last Aug. 8.
House Minority Leader Nancy Pelosi (D-Calif.) said, "We have two oilmen in the White House. The logical follow-up from that is $3-a-gallon gasoline." She blasted the GOP for blocking an increase in the minimum wage while working people struggled last winter to pay for home heating oil.
"Where have you been, Mr. President?" Pelosi asked. "You take a trip outside of Washington, see the fact that the public is outraged, come home and make a speech. Let's see that matched in your budget … in your policy. Let's see you separating yourself from your patron, big oil."
Exxon Mobil reported $10 billion in profits for the first quarter of this year. Company CEO Lee R. Raymond recently retired with a pension totaling $400 million. Raymond earned $686 million over the years 1993-2005, or $144,573 each day.
Last year Exxon reported $36 billion in profits, likely this year to exceed $40 billion if the Bush administration and Congress permit the swindling to continue. "These oil companies are like Jesse James, not wanting to admit they've robbed a bank," Hamilton said.
Sen. Byron Dorgan (D-N.D.) vowed to reintroduce his "excess profits tax" on oil profits, branding Raymond's retirement package a "shameful display of greed."
"There can be no more compelling evidence that the price gouging and market manipulation which has produced record oil prices is out of control," Dorgan said.
Dorgan's press secretary, Barry Piatt, told the World Dorgan's bill received 35 votes last November when the senator attached it to another bill. "But the senator is convinced it will be different this time. No one, even in their wildest imagination, could foresee $3-a-gallon gasoline."
Hamilton is the head of an association of 400 service station owners in Washington state. Speaking with the World by phone, he debunked oil corporation propaganda blaming $75-a-barrel crude for sky-high gasoline prices. Increases in crude oil prices "accounted for only 12 cents per gallon" of the gasoline price surge, his report charges. "Approximately 42 cents … of the 60 cent increase in gasoline prices is attributable to increased refinery and marketing profit margins for the oil companies."
His report exposes industry-wide manipulation, creating fake shortages, to drive gasoline prices higher. Commissioned by the California-based Foundation for Taxpayer and Consumer Rights, the report says, "California gasoline will cost consumers approximately $546 million more in April 2006 than in April of last year."
Big Oil is running full-page ads shifting blame to OPEC, Hurricane Katrina, or hard-pressed service station owners who net about 6 cents from each gallon of gas they sell.
"They say we are being blackmailed by OPEC but I say we are being blackmailed by Houston," Hamilton said. "A lot of elected officials from states like Texas and Alaska have never seen gasoline prices too high. 'What's good for Big Oil is good for America,' they say. But Big Oil has taken billions out of consumer pockets and Bush knows we, the dealers, are going broke."
Back in 2000, Big Oil emptied their storage tanks in the Midwest, exporting 280 million gallons overseas to drive gasoline prices as high as $2.50 per gallon. Hamilton wrote a report exposing it.
"The price spike was extremely harmful to the consumers and the economy of the Midwest ($374.4 million in direct and $1.1 billion in overall impact in Illinois alone) during a 90 day period," the report charged. "If actions are not taken by elected officials, consumers in the Midwest can expect to pay $3.6 billion more annually for gasoline."
Global Exchange, a San Francisco-based peace and environmental group, called for a boycott of Exxon Mobil. "Purchase gas at Citgo, whose profits are being used to improve the lives of the people of Venezuela," the group urged. The Sierra Club, the Wilderness Society and other environmental groups called for a boycott of Exxon Mobil last July to protest the corporation's sabotage of the Kyoto Accord on reduction of greenhouse emissions.