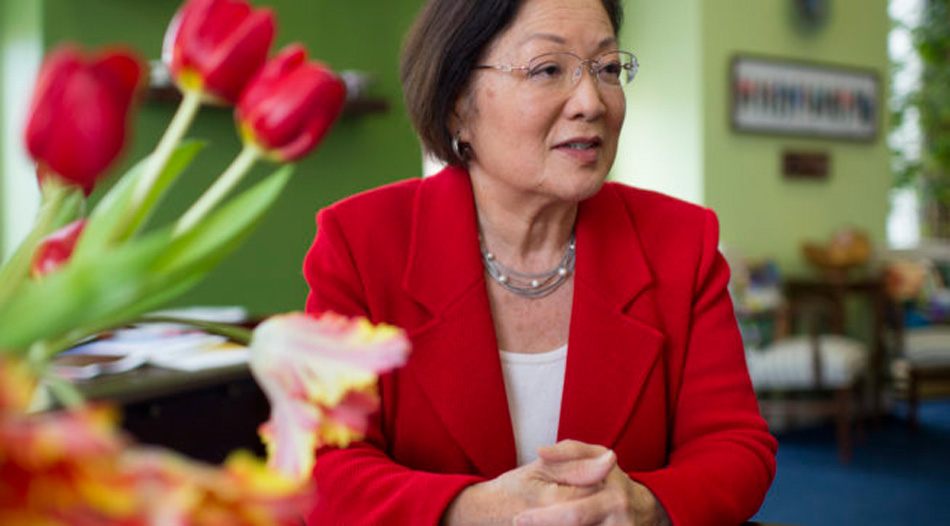 WASHINGTON—John McCain wasn't the only senator battling cancer to vote on health care at the end of July. Hawaii Democrat Mazie Hirono was, too.
And her kidney cancer may be just as bad as his brain tumor.
The veteran Republican from Arizona provided the key 51st vote, three times, which doomed the GOP's attempts to allegedly "replace" the seven-year-old Affordable Care Act (ACA), including one "replacement" that would have substituted absolutely nothing at all. That would have thrown 32 million people off health insurance and vastly raised the premiums for millions more, the non-partisan Congressional Budget Office calculated.
By contrast, Hirono was a reliable vote that Democratic leaders – and the millions of people who took to the streets to defend the ACA – never had to worry about. She always voted against the GOP schemes.
There were a few differences, however:
McCain is internationally known, a longtime senator whose cancer diagnosis was both shocking and well-publicized. Hirono, a low-key lawmaker serving her first Senate term, did not reveal her cancer to the world until the debate, though she told her colleagues weeks before.
McCain flew back to D.C. from Arizona for the key health care votes, and provided the essential third GOP votes to defeat GOP leader Mitch McConnell's attempted "repeal and replace" measures. He joined all 46 Democrats, including Hirono, both independents, Alaska Republican Lisa Murkowski and Maine Republican Susan Collins in killing the legislation.
Hirono was there all week, for every vote. She even spoke at a Capitol Hill rally against the Republican legislation. Had she been absent, the Democrats would have been short one senator – mustering 45, not 46 – plus both independents, making McCain's tally even more critical.
Still, Hirono had a key point to make during her late-night, somewhat emotional speech against McConnell's measures, which would have stripped health care from millions. Hirono tried to change the health care bills to preserve coverage for people with pre-existing conditions — people, she said, like herself. The GOP didn't even bring it up.
The 69-year-old native of Japan, whose mother brought her and her late sister to Hawaii when Hirono was eight years old, had already told her colleagues about her illness, and received an outpouring of affection from them.
"It is hard for me to talk about this. I think you can tell. Give me a moment," she said.
"We came here with nothing," Hirono continued. Her mother "had low-paying jobs. There was no health coverage.
"Growing up as a young girl in Hawaii, my greatest fear was that my mother would get sick, and if she got sick, how were we going to pay for her care, and how would she go to work? If she didn't go to work, there would be no pay, there would be no money.
"I know what it is like to run out of money at the end of the month. That was my life as an immigrant here.
"Now, here I am, a U.S. Senator. I am fighting kidney cancer, and I am just so grateful that I had health insurance so I could concentrate on the care I needed rather than how the heck I was going to afford the care that is going to probably save my life," she said, referring to the fact that — unlike the rest of the U.S., lawmakers have taxpayer-paid full-scale health care coverage.
"Guess what? When I was diagnosed with kidney cancer and facing my first surgery, I heard from so many of my colleagues, including so many of my colleagues on the other side of the aisle, who wrote to me wonderful notes sharing with me their own experience with major illness in their families or with their loved ones. You showed me your care. You showed me your compassion. Where is that tonight?"
"Why are we here tonight voting on a bill that would eliminate healthcare coverage that could save lives for 16 million people?" she asked. "Why are we here voting on a bill that would probably mean that people like me, millions in this country, who are now in the ranks of those receiving care with preexisting conditions will not get the healthcare we need?
"Where is the care you showed me when I was diagnosed with my illness? I find it hard to believe we can sit here and vote on a bill that is going to hurt millions and millions of people in our country. We are better than that."
After asking McCain to vote his conscience on the legislation — which he later did — Hirono pleaded with her colleagues to "show the compassion to everybody in this country that you showed me. We all should be voting to send this bill to committee" for revision. Instead, senators, none of whom answered her, did better than that: They buried, at least for now, the GOP health care rewrite.