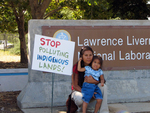 LIVERMORE, Calif. — Demonstrations across the country this week remembered the victims of the U.S. atomic bombings of Hiroshima and Nagasaki on Aug. 6 and 9, 1945.
Organizers said over 80 events coordinated by United for Peace and Justice were planned for 60 cities in 24 states, including those at major nuclear weapons sites here and in Los Alamos, N.M.; Oak Ridge, Tenn.; and Pittsburgh.
In Livermore, over 250 people rallied and marched to the gates of Lawrence Livermore National Laboratory Aug. 6 to urge elimination of nuclear weapons.
"This year we face the greatest likelihood I can remember, that the promise made to the victims at Hiroshima — 'Rest in peace, for the crime shall not be repeated' — may be about to be broken," Daniel Ellsberg told the crowd. Ellsberg, who during the Vietnam War leaked the Pentagon Papers to The New York Times, cited the Bush administration's reported contingency plans to use nuclear weapons against Iran.
A-bomb survivor Keiji Tsuchiya gave a gripping account of the devastation wrought by that first nuclear explosion. Tsuchiya, who as a teenage soldier performed rescue work in the city, described the bomb's blinding flash, and graphically depicted the agony of the dying and the horror the rescuers experienced as they pulled thousands of charred bodies from the wreckage.
"Now more than ever," he said, "we must join together and abolish nuclear weapons forever."
Besides abolishing nuclear weapons, "starting with our own," and ending the Iraq war, "we're here to demand a comprehensive, immediate cease-fire in Lebanon, Israel and Gaza," said Jacqueline Cabasso, executive director of the Western States Legal Foundation. Cabasso also warned of possible attacks on Iran, Syria and North Korea.
Indigenous rights, including opposition to the use of Native American lands for nuclear weapons activities such as the Nevada Test Site and the proposed Yucca Mountain nuclear waste dump, were high on the list of demands.
Marching with her husband and toddler daughter was Morning Star Gali, a member of the Pit River Nation. "I've been doing this since I was the age my daughter is now," Gali said. "As indigenous people, it is important for us to speak out against the continuing genocide around the world." Gali, who is active with the Sacred Sites Coalition, said she and others planned to bring many indigenous people to the Aug. 9 Nagasaki bombing commemorations, which focus on the Bechtel Corp.'s role in the U.S. nuclear weapons program.
Rebecca Faith participated together with others from Oakland's First Congregational Church. Using nuclear weapons is "so horrendously, spiritually wrong," Faith said. She hoped the actions would "make an impact on the U.S." to stop researching, stockpiling and threatening others with nuclear weapons.
Cabasso and others, including Rep. Barbara Lee, who sent a statement, warned of the Bush administration's plans for new warheads and delivery systems, including both smaller nukes and giant "bunker busters."
Marylia Kelley, executive director of Tri-Valley Communities Against a Radioactive Environment, emphasized the University of California-operated Livermore lab's role in those plans. She said the lab poses safety and environmental threats to millions of area residents.
Lab public affairs officer David Schwoegler called protesters' differences with lab staff "a matter of tactics." Saying the lab and protesters agree that nuclear weapons should never be used, Schwoegler suggested demonstrators take their message to policymakers in Washington, since "everything said here today was said to people who can't do anything about it."
Near Pittsburgh, meanwhile, some 120 activists marched on the Bettis Atomic Power Laboratory in West Mifflin, Pa. — another National Nuclear Security Administration site — causing the facility to be shut down for the day. Organizers said the first-ever march to Bettis was part of three days of education and action to expose U.S. nuclear hypocrisy and confront Bechtel Corp., which has a $4.2 billion contract to operate Bettis.
mbechtel@pww.org