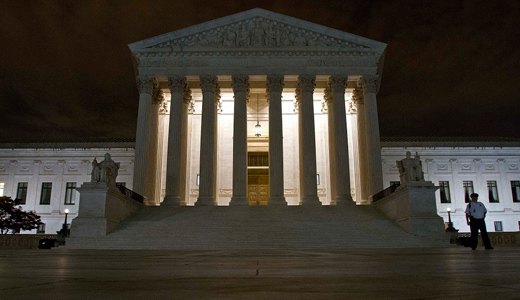 WASHINGTON (PAI) – A Dec. 22 decision by a federal judge in Washington, D.C., throwing out the Obama Labor Department's new rules ordering third-party employers of home health care workers to pay the workers the minimum wage and overtime, again emphasizes that men and women in black robes can in the blink of an eye yank away what workers win in the executive branch, on Capitol Hill or at the bargaining table.
In this case, U.S. District Judge Richard Leon voided the administration's attempt to counter a seven year-old U.S. Supreme Court decision denying the minimum wage and overtime pay to those workers. DOL spokesman Carl Fillichio said the agency may appeal Leon's ruling. Third-party agencies employ 90 percent of all home health care workers, Leon noted.
In the Supreme Court case, which the Service Employees brought, the GOP-named majority ruled home health care workers are the legal equivalent of babysitters, and don't have to be paid the minimum wage or overtime, no matter how many hours they work caring for the elderly or the disabled. Legislation to overturn that case has gone nowhere since.
So DOL wrote new rules, which would have begun on Jan. 1, to cover the workers. The lobbies for the home health care firms sued to kill the rules – and won.
Leon called DOL's rules "a thinly veiled effort to do through regulation what could not be done through legislation." He denounced the Labor Department's "arrogance" and its "attempt to seize unprecedented authority to impose overtime and minimum wage regulations in defiance" of 40 years of law.
Leon's ruling symbolizes how the federal courts often decide workers' lives and pay – or will be called on to do so in coming months. Other notable cases include:
Can transferring a worker to another job, voluntarily or involuntarily, be "an adverse action" punishing the worker?
The Kalamazoo County, Mich., road commission is asking the U.S. Supreme Court to decide that issue. Lower federal courts have split on it.
The road commission says even "under certain circumstances, a voluntary or requested transfer may still give rise to an adverse employment action." It noted the ruling from the federal appeals court that covers Michigan "also defined the post-transfer circumstances that would suffice to prove that the transfer was adverse: Conditions that are 'objectively intolerable to a reasonable person.'"
But other courts decided the issue differently, and the road commission wants the justices to sort things out. "Given the intense need of public employers for certainty on this
issue, the court should not allow this split to percolate any longer," the commission said.
A for-profit education firm can get away with "puffing" its stock to investors, including unions.
That's what the 9th U.S. Circuit Court of Appeals in San Francisco ruled on Dec.16 in a case pitting the Oregon public workers' pension funds, the union-owned Amalgamated Bank and the Mine Workers against the Apollo Group, Inc., one of the growing crop of for-profit "public school" operators whom local governments have hired nationwide.
Speaking for a three-judge panel, Judge Milan Smith Jr. threw out the unionists' class-action securities fraud case against Apollo and its officers, upholding a lower court decision.
The unionists "alleged the defendants made false and misleading statements of material fact regarding Apollo's enrollment and revenue growth, financial condition, organizational values, and business focus," Smith noted. "They also alleged that, during the class period, certain individual defendants traded on inside information related to the false and misleading statements." But "heightened standards" for what challengers must show in order to get class-action status – called standards for pleading – "apply to all elements of a securities fraud action, including loss causation," Smith said. The unions failed to meet that high bar, he ruled.
"Material misrepresentations" by Apollo and its officers "were not objectively false statements, but rather were examples of lawful 'business puffing,'" Smith added. And he said the unionists failed to prove Apollo's puffing caused the subsequent losses in its stock, which hurt the pension funds.
Federal labor law's "pre-emption" of state laws still lets private owners toss unions out of spaces – like shopping centers – for trespass. Another 9th Circuit panel backed private owners of the Brea, Calif., mall on that issue on Nov. 8.
In 2010, the Carpenters and their Local 803 planned informational picketing of Urban Outfitters because it was using non-union contractors to renovate its Brea store. The mall sued to stop the picketing, but under state trespass and nuisance laws. The Carpenters said federal labor law pre-empts the state laws. Appellate Judge Jay Bybee's decision said it didn't.
Bybee declared the 1959 Landrum-Griffin Act-passed, though he did not say so, by the congressional GOP – leaves room for private shopping center owners to invoke state laws against unions. "Federal law does not so thoroughly occupy the field that it always preempts such claims," he wrote. Landrum-Griffin "did not conflict with the plaintiff mall owner's trespass and nuisance claims because the claims touched interests deeply rooted in local feeling and responsibility," Bybee added.
The Brea Mall "sought only to enforce time, place, and manner restrictions against union protesters," he wrote. The judges sent the case back down for a new trial involving state laws.
The Carpenters, who joined with other unions to leave the AFL-CIO in 2005 to form Change To Win, and then left CTW to become independent years later, had a terrible time in federal courts in the last several months. Not only did they lose this case, but on Oct. 28, another 9th Circuit panel, led by Judge Diarmuid O'Scannlain, ruled for the AFL-CIO Metal Trades, Maritime Trades and Building Trades departments in two Carpenters lawsuits against them. The Carpenters charged the departments broke racketeering and conspiracy laws and the Landrum-Griffin Act.
The Carpenters alleged the departments conspired to bar Carpenters from being active at joint job sites, as part of a campaign to get the union to rejoin the AFL-CIO and pay dues to the Building Trades. O'Scannlain said the Carpenters failed to prove every allegation.
Does a coal mine company have to report an on-the-job injury if its subcontractor does so?
The Mine Safety and Health Administration says "yes." The Dickenson-Russell Coal Company, owner of Roaring Fork #4 Mine in southwestern Virginia's coal country, says "no." The whole mess will come before the 4th U.S. Circuit Court of Appeals in Richmond, Va.
In 2009, Dickenson contracted with Bates Contracting and Construction, a temp agency, to supply miners for Roaring Fork. That May, one Bates-supplied miner suffered an injured elbow while drilling roof supports when part of the roof fell in. "Bates reported the injury to MSHA, but Dickenson, which had a self-described 'policy and procedure' against reporting injuries suffered by independent contractor employees, did not," the Labor Department's brief says. MSHA fined Dickenson for failure to report the injury on MSHA injury logs.
Letting Dickenson win would let mine operators shuck their job safety responsibilities nationwide, DOL says. "Although there may be multiple 'operators' at a single mine, the entity that 'owns' the mine has the principal (legal) responsibility for miner safety and health," its brief says. And DOL pointed out its rules require "each" mine operator to report injuries – and the plain dictionary definition of each thus includes subcontractors. "For these reasons, this court has been wary of "allowing a mine owner to 'exonerate itself from its statutory responsibility for the safety and health of miners" by subcontracting the work," DOL said.
Does labor law protect interns?
The Labor Department has been going after employers who exploit their interns. Now one notorious right-wing firm – Fox – is battling DOL on the issue in the 2nd U.S. Circuit Court of Appeals in Manhattan.
A group of interns at Fox Searchlight Pictures filed a class-action complaint, saying Fox broke the law by not paying them minimum wages or overtime. They said the Fair Labor Standards Act, which governs those issues, should cover them. Lower courts and DOL agree.
Except for short-term trainees, who learn for their own sake with no promise of future employment, an "employee" under FLSA includes interns, the department told the judges. So interns must be paid at least the minimum wage and overtime when they qualify for it.
Eric Glatt, Alexander Footman and their fellow interns "undoubtedly received some benefit from the internship, such as job and resume references and a general understanding of
how a production office works," DOL admitted. But it called those benefits "incidental to the actual work performed and common to any job." Meanwhile, "Fox Searchlight, on the other hand, unquestionably benefited from the interns' work, which its employees otherwise would have had to perform," giving Fox virtually wage-free labor. "Therefore, the district court correctly concluded the interns did not receive the benefit of the internship experience."
Letting Fox win would harm tens of thousands of interns, students and similar workers, DOL said. Fox's "use of intangible benefits…is an amorphous standard that could easily be utilized to place more student learners, trainees, and interns, who would otherwise qualify as employees, outside" minimum wage and overtime law protection, DOL told appellate judges.
Can a company deny needed – and legally required – bargaining information to the union by invoking an arbitration clause first? The Endo Painting Company of Hawaii says "yes," but the NLRB says "no," in its brief filed with the 9th Circuit.
Endo first tried to get away from its responsibilities to the Painters Union – under a joint contract covering many Hawaiian firms and building trades unions – by saying the requested information, such as payroll and tax withholding records, didn't exist. The NLRB said that was ridiculous and ordered Endo to produce the data so the Painters could use it for grievances to determine if Endo broke labor laws and the joint contract. Now, Endo is trying to stall everything by saying arbitration must come before grievances. The NLRB says that's illegal, too. "Longstanding and judicially approved board policy establishes the board does not defer to arbitration disputes over information requests" from unions, its brief says.
Can the NLRB throw the financial book at a flagrant labor law breaker even before the end of the dispute?
The board, in a case involving Fallbrook Hospital in California and National Nurses United, says in its brief the answer is "yes." The U.S. Court of Appeals for D.C. scheduled oral argument on the case for Jan. 8.
Fallbrook didn't contest the labor law-breaking charges the NLRB filed against it after eight fruitless bargaining sessions in 2014. The key issue in the talks was patient safety, but Fallbrook just plain refused to do anything at all. Its attorneys repeatedly walked out of the talks, it illegally fired two union nurses and it stonewalled even basic information requests.
"From the outset, Fallbrook engaged in relentless avoidance tactics without a sincere desire to reach agreement," the NLRB brief says. "Tactics included an unyielding refusal to provide any proposals or any counter-proposals until the union submitted all of its proposals, abrupt and unexplained departures from bargaining sessions, and an unfounded declaration the parties were at impasse over the union's use of certain forms, which Fallbrook never even attempted to bargain. Additionally, Fallbrook refused to provide relevant information requested by the union and steadfastly refused to bargain over the discharge" of the nurses.
All this misconduct led the NLRB's administrative law judge to throw the financial book at Fallbrook even before the two sides headed to court: The ALJ ordered Fallbrook to pay all of the union's attorneys' fees and expenses. The D.C. judges must decide "whether the board properly exercised its broad remedial discretion in ordering Fallbrook to reimburse the union for its negotiating expenses where Fallbrook's violations during contract negotiations needlessly expended the union's time and resources."
Photo: Supreme Court and lower court rulings show that in court, workers can lose what they have won at the bargaining table or through legislative or executive action. AP