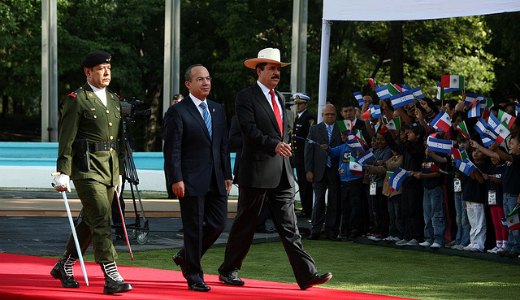 As on other Sept. 15 Independence Day celebrations since President Manuel "Mel" Zelaya was removed at gunpoint on June 28, 2009, the National Front for Popular Resistance (FNRP) organized anti-government marches and demonstrations in Tegucigalpa and elsewhere in Honduras. Again, hundreds of thousands participated in this country of 7.5 million. Two days later, at a so called "Seeds for Liberation" meeting, 3,000 FNRP delegates gathered to approve a new political party charged with running a presidential candidate in elections set for the November 2013.
The FNRP is thus upping the ante against the country's Nationalist and Liberal two-party duopoly whose leaders belong to a small but wealthy group of families allied to the military, and friendly with U.S. diplomatic and military representatives.
The FNRP claims the agreement President Lobo, Colombian President Juan Manuel Santos, President Hugo Chavez of Venezuela and Zelaya signed in May 2011 to allow Zelaya's return from exile has been abandoned. Specifically, says the FNRP, the Lobo government has failed to make good on its commitment to protect human rights and tolerate movement toward a constituent assembly.
The FNRP march ended at a rally where ex-president and FNRP National Coordinator Mel Zelaya was the speaking star. "Justice for all, all power to the people," he called out. "These are the words with which Compañero Emo left this world," he said, referring to Emo Sadloo, a FNRP leader shot to death on Sept. 7. He blamed the "bloody Honduran oligarchy" for executing independence leader Francisco Morazán in 1842, for staging the anti-Zelaya coup in 2009 and for creating conditions of poverty and repression. But, he concluded: "The oligarchs can never kill all of us, we're too many."
Honduras presently is saddled with 80 percent poverty and 50 percent unemployment. Last year 425 women died violent deaths, and the number of malnourished children exceeded 350,000. One observer counts 95 political murders and 6,000 political detentions since the coup. In twenty months of Porfirio Lobo's presidency, not only have paramilitaries murdered 39 small farmers protesting land takeovers in Lower Aguan by bio-fuel moguls, but 16 journalists have also been killed. Public employees are unpaid, teachers are being dismissed, unemployment is up, public hospitals lack supplies, and the government is falling behind on paying expenses. Additionally, U.S. military bases are expanding, and Colombian police and army personnel are training public security forces.
Speaking to a reporter, FNRP national sub-coordinator Juan Barahona outlined the process of forming a FNRP political arm, a project in the works despite an earlier National Assembly decision to stay aloof from electoral politics. The new party, called the Broad Front of Popular Resistance (FARP), is projected as "a real option for taking political power via the electoral route." The next step would be "convocation of a constituent assembly and creation of a new constitution."
The mass meeting Sept. 17 began with honor paid to recent FNRP martyrs. Delegates approved statutes for the new party and a statement of basic principals. According to the latter, the FARP "urgently demands transformation of the present social and economic system through democratic construction of a society with equality and justice" The FARP envisions "free human beings who own the products of their work." The statement calls for unity within "ideological diversity," an end to "patriarchal oppression" against women, internationalism, and "equitable division of income and property."
Signatures will be presented to the Supreme Electoral Tribunal on October 3 to set the new party in motion. The requirement this time is for 50,000 names, a far cry from the 1.4 million signatures the FNRP secured last year for a petition favoring a constituent assembly.
Schism has emerged. The conservative El Heraldo newspaper cites jostling between a "Popular Bloc" headed by FNRP Sub-coordinator Juan Barahona and a so-called "June 28 Group" which objects to the "Bloqueros'" supposed socialist leanings. The latter group, with Liberal Party roots, is headed by ex President Mel Zelaya's brother Carlos. Reports circulate that Bishop Luis Alfonso Santos, known for opposing the 2009 coup, is considering a presidential run under the auspices of the June 28 Group.
Labor leader and FARP organizer José Luis Baquedano admitted to the press that "some contradictions" exist. But, "They don't turn us into enemies. They will strengthen the Broad Front." "We all have a role to play," he said.
Photo: Zelaya in Mexico before his overthrow. Federal Government of Mexico // CC 2.0