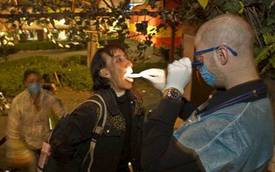 "I can't honestly say that my hospital is ready to protect the health and safety of our workers during a potential pandemic."
The words were those of a top level administrator at one of the largest suburban hospitals in the New York City area, who spoke with the World, May 4, on condition of anonymity.
"If we were to have a full-fledged pandemic on our hands, and this hospital's level of preparation was at its current level, I would say the workers here would be better off staying home," she said, adding, "We don't even have a written plan in place and I haven't seen any kind of effort to list employees who, by virtue of exposure, for example, might be at more risk than others."
The administrator said that, as of today, there has not been a single training session for the many workers who are not doctors or nurses. That includes everyone from the occupational therapists and physical therapists to the nurses' aides, the janitorial and the kitchen staff."
In Chicago, meanwhile, a worker at a Catholic hospital told the World, "Last Monday they came into the break room and told us to try on plastic masks fitted with goggles and a breathing tube. Then they sprayed us with something and asked us if we could taste anything. I told them I could taste the spray. They said, 'The masks are no good, then,' and they packed them away. Since then, we've heard nothing."
The worker said he had received no swine flu training and he was unaware of any training having been provided to co-workers. He said that workers had "talked about staying home if it got bad" but that they didn't have enough sick days and were "afraid of losing our jobs."
Conditions at the two hospitals seem to confirm findings in a report released April 16 by the United American Nurses.
The report warned that the nation's health care workers, who it called "the first line of defense against the diseases," are at risk because many of the nation's health care facilities are not prepared to deal with a pandemic. The report, which surveyed 104 hospitals in 14 states, found that while health care facilities have made some progress in preparing for an influenza pandemic, much more needs to be done.
The report found that more than one third of the respondents believe their workplace is either not ready or only slightly ready to address the health and safety needs necessary to protect health care workers during a pandemic.
Forty three percent of respondents believe that most or some of their fellow workers will stay home.
One-third of the facilities had no written plan for responding to pandemic flu and only 54 percent of facilities have identified health care workers who will be at some risk of occupational exposure to the pandemic flu virus.
Only 43 percent of the facilities have provided pandemic flu training to their workers. The report describes such training as "one of the fundamental elements of protecting workers from occupational hazards."
Apparently, the drive for profits in the health care industry is diverting the attention of at least hospital boards of directors to other matters. The New York area administrator told the World that her hospital's CEO, always vigilant when it comes to finances, had, at a board meeting last week, articulated the "hope that increased use of the emergency room due to the flu situation will offset losses we incurred because of the lack of snow and ice this year."
The California Nurses Association/National Nurses Organizing Committee says the poor pandemic flu planning results from years of neglect of the public safety net and the erosion of the health care infrastructure caused by that neglect.
Deborah Burger, RN, president of the nurses union, said, "From SARS to avian flu to the current escalating outbreaks of swine influenza, it is clear we are risking a major catastrophe unless we act to restore the safety net, and devote the resources we need to protect the public."
The nurses union has put out its own pandemic flu response plan that includes recruitment and mobilization of teams of scientists to create a vaccine for the virus and a freeze on any reductions in public health programs at federal, state and local levels. The plan calls for the lifting of any freezes on public health finding currently in place.
The union also calls for a moratorium on any closures of emergency rooms, layoffs of direct health care personnel and reductions of hospital beds.