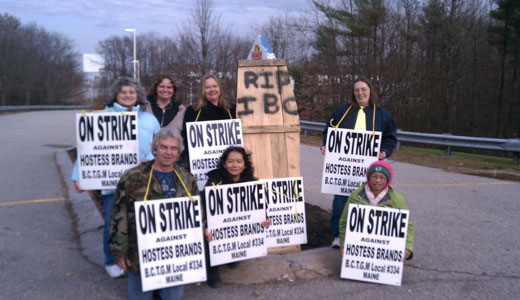 CHICAGO – Hostess Brands Inc., in an attempt to break a strike by its bakers, has announced what it calls the permanent closure of three of its bakeries.
The company, which makes the iconic products Twinkies, Ding Dongs, and Wonder Bread, said Nov. 12 that the strike is affecting production and delivery and it was therefore laying off 627 workers at bakeries in Seattle, St. Louis, and Cincinatti.
Workers at Hostess, which runs 36 bakeries nationwide, began a strike Nov. 9 in reaction to imposition by the company of the terms of a contract they had rejected in September. The contract they voted down cut wages and benefits by as much as 32 percent.
"Hostess Brands is making a mockery of the labor relations system that has been in place for nearly 100 years," said Frank Hurt, president of the Bakery, Confectionery, Tobacco Workers and Grain Millers union on the day workers walked off the job. "Our members are not just striking for themselves, but for all unionized workers across North America who are covered by collective bargaining agreements."
A representative for the union could not be reached early today for comment on the closures announced by the company Nov. 12.
The strike that began Nov. 9 involves thousands of members of the union who say that the company violated their contracts already in July of 2011 when Hostess ceased making required contributions to their pension plans.
The union says that by withholding what it owed to the pension plans the company has been able to pocket $160 million, money the union notes has been earned, under the terms of the contract, by the workers.
Hostess filed for Chapter 11 bankruptcy protection in January, its second time in bankruptcy court in eight years.
Since the first bankruptcy in 2004 union workers at Hostess have made major wage and benefit concessions, including the shutting down of 21 plants and the laying off of thousands of workers.
The company promised workers at the time of the first bankruptcy that the money it saved from their concessions and the plant closings would make the company strong and competitive.
The union says that instead, the profits earned by Hostess have gone to higher executive bonuses and to payments to hedge funds that own Hostess.
Hurt said when the strike began that it (the strike) was "the only way in which the union membership could say 'no' to Hostess and the Wall Street hedge funds that own the company. We stand in full and uncompromising support of our striking members."
The company is threatening to close even more facilities if workers continue to fight for their rights.
"We deeply regret this decision, but we have repeatedly explained that we will close facilities that are no longer able to produce and deliver products because of a work stoppage – and that we will close the entire company if widespread strikes cripple our business," Hostess CEO Gregory Rayburn said today.
Photo: BCTGM Facebook page