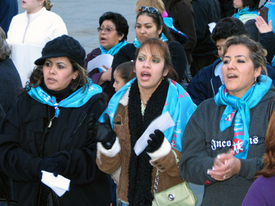 SAN JOSE, Calif. — The walls of the meeting room were lined with photos of dozens of women, their warm and friendly faces contrasting sharply with the close-ups of their swollen, work-scarred hands, mounted below.
The occasion was a Jan. 17 hearing to help build public awareness of the impact on the lives and health of hundreds of room attendants — mostly women, many immigrants — as area hotels compete to make their guest rooms more and more elaborate.
Present to hear the workers' stories were religious and community leaders from the Interfaith Council on Religion, Race, Economic and Social Justice.
An hour-by-hour account of a room attendant's day — cleaning 16 rooms, all with double beds, many of them "check-outs" — was given by Anamaria Rodriguez, who came from Mexico two decades ago and now is married with four young children. Rodriguez spoke of stripping and remaking beds with ever-heavier mattresses, more complicated coverings and more numerous pillows; polishing the bathroom, the furniture and the mirrors spotless; and much more.
At the end of the day, she said, "I am tired, sore and worried about how I still have to pick up my kids, go home, give them all baths and help them with their homework, and fix dinner."
"By Friday," said Divina Roe, originally from the Philippines, "I had the worst pain in my back. That night I felt very weak and tired." Scheduled to work on a Saturday, Roe said, she had to call in sick. "When I get home from work and I've cooked the dinner, I want to lie down and rest. But my daughter wants to play. She says, 'Mommy, wake up, wake up!' I feel bad that the most time I have with her is when I get home from work, but I need to rest and get ready for work the next day."
Her words were echoed after the hearing by Raquel Alvarez, a former room attendant now working with Unite Here Local 19, to which most area hotel room cleaners belong. When she was pregnant with her now 2-year-old daughter, "it was very difficult to finish my rooms," she said. "When my daughter was born, I couldn't even hold her bottle. I was always tired, in pain, taking medicine, and didn't want to play with her."
Research done by the Labor Occupational Health Program at UC Berkeley, presented by Alicia Salvatore, confirmed their accounts. Among the findings: room attendants have a 75 percent greater chance of occupational injury than other hotel workers.
Over the years, as business has boomed and hotels have sprung up in San Jose and the surrounding area, now known as Silicon Valley, competition between them has become fierce, with more luxurious beds and many more amenities, Local 19 President Enrique Fernandez told the hearing. "All the while," he said, "companies have come to expect the same quantity of work from their workers."
While guests welcome the changes and corporate profits are rising, Fernandez said, "the toll on workers has been and continues to be life-changing. A public hearing like this will help educate people, and will help generate the support we need to send a message to local hotel companies."
In a telephone interview, Fernandez said the campaign involves nearly 400 room cleaners, with support from the rest of the area's 3,000 union hotel workers, other unions, the South Bay Labor Council and community organizations. He especially cited the role of the Interfaith Council, which he called "an amazing array of religious and community leaders involved in social justice."
Thank you for telling your stories," the Rev. Peggy White, a Lutheran pastor and Interfaith Council member, told the workers after their testimony. "Because you've been invisible, we don't realize what you do. You have opened my eyes. I want people in my church to hear your story and to stand with you."
mbechtel @ pww.org