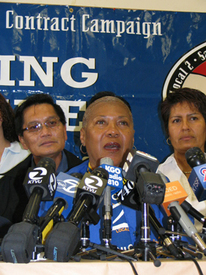 SAN FRANCISCO — Celebration was in the air as union members gathered with Unite Here Local 2 President Mike Casey at the local's headquarters Sept. 13 to announce a tentative agreement in their two-year contract struggle with 13 of the city's largest hotels. A ratification vote is set for Sept. 22.
Rank-and-file negotiating team members told what the agreement means to them. Switchboard operator Aurolyn Rush said the agreement means being able to afford her cancer medication. Delia Medina said it means curbs on the backbreaking workloads she experiences as a room cleaner. Room service server Rafael Leiva said it means money "to invest in my kids."
Citing gains in health care benefits, wages and pensions, workload protections and other improvements, Casey said the contract's most important achievements are workers' rights to remain union and keep their jobs when a hotel changes hands, and recognition of union status at new hotels when a majority of workers sign union authorization cards.
"The incredible transition in this industry with mergers and acquisitions has created a great deal of instability," Casey said. "Now we have very strong language providing for guaranteed job security for our members when a hotel sells or changes hands."
All seven hotel corporations involved in the talks also agreed that when new hotels are built or acquired in San Francisco and San Mateo County, they will recognize the union when a majority of workers sign authorization cards. Casey said that as part of the hotel workers' national campaign, Starwood and Hilton Corps. have agreed to the same provision in several other cities.
The five-year contract covering some 4,000 workers is retroactive to August 2004. Provisions include full funding of current health benefits, with no increase in co-payments. The prescription drug cap is doubled to $4,000 per year. An employer attempt to create a two-tier benefit system was defeated. Hotel contributions to the pension fund increase to $208 per month, up from $123. Wages of non-tipped workers increase by $1 an hour in each year going forward. Tipped workers' wages grow by 50 cents an hour each year, with retroactive lump sum payments for the past two years. Room cleaners gained workload protections.
The agreement marked the end of a two-year process that started when Local 2 workers struck four of the hotels in 2004, several weeks after the previous contract expired. The other hotels responded by locking out their workers. With Mayor Gavin Newsom interceding on the side of the union, and key health care providers pledging continued care for workers, the hotels abandoned the lockout that year.
After talks dragged on, last month workers voted by 93 percent to authorize another strike.
A boycott which the union says cost the hotels over $100 million will be lifted when the contract is ratified.
Casey said the union will now call on 18 other major hotels and additional worksites employing another 5,000 union workers to sign onto the same basic agreement.
In Chicago, workers at the Hilton Chicago, Drake, Palmer House Hilton and Hilton O'Hare Airport hotels earlier this month ratified a new contract raising room attendants' wages nearly 21 percent, cutting their workloads and recognizing card-check neutrality at new area Hiltons. Unite Here Local 1 President Henry Tamarin called the pact "a significant step forward" for union workers. Tentative agreements have been reached with Starwood and Hyatt there.