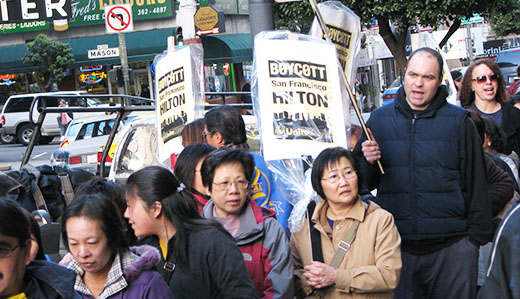 SAN FRANCISCO – "What time is it? Checkout time!" "Don't check in, check out!"
As their chants echoed off downtown buildings for blocks around, hundreds of hotel workers reminded guests and passers-by March 2 that their union is urging a customer boycott of the prestigious Hilton San Francisco Union Square hotel as part of its contract campaign with giant hotel corporations.
Unite Here Local 2, representing some 9,000 workers in San Francisco hotels, has been in negotiations since last August with hotel corporations also including Marriott, Starwood, Hyatt and InterContinental. So far, none have been willing to meet the workers' call for a contract with modest increases to sustain their health care and retirement benefits for a one-year period.
Local 2 points out that its proposals would mean just a 1.5 percent increase in labor costs during that time, and also notes that the giant hotel chains have maintained their profitability despite the economic downturn.
"The most important thing to us, is that we don't want the corporations using the economy as an excuse to take away our health care, our pensions, our wages and job security," Ringo Mak, for 20 years a food server at the Hilton, told the World.
The Hilton has laid off many of his fellow servers, Mak said. Though his seniority enabled him to keep his job, he had to move to another department. Now, he said, shifts that were six hours have been cut to three. With fewer workers on the job, workloads are heavier, and servers are called on at the last minute to work extra hours.
"The hotels are making money," Mak said, "though not as much as before. They want to protect their profits but they don't care about their workers."
Local 2 President Mike Casey said the union's call for a customer boycott of seven major hotels – among them the Union Square Hilton, the Grand Hyatt, the W and the Westin St. Francis – has been very effective in driving business away.
Though no talks are going on now, Casey said, the union has won some important workplace issues and grievances.
While the hotels seem "not very motivated" now, he added, that's apt to change when they see workers coming together around similar contract expiration dates. Besides San Francisco, workers in Chicago and Los Angeles are now working with expired contracts, while Toronto, Minneapolis, Washington DC and other hotel contracts are expiring during 2010.
Sacramento hotel workers are also urging a customer boycott of the Hilton there. Dozens of Unite Here Local 49 members picketed, chanted and sang in a drenching rain March 3, as passing cars honked their solidarity.
Meanwhile, across the bay, area unions are campaigning in support of 59 maintenance, food and beverage workers at Pleasanton's Castlewood Country Club after management locked them out last week. The workers, represented by Unite Here Local 2850, have been in contract talks since September.
The country club proposes to cut off health benefits for about a quarter of the workers, and seeks to raise workers' costs for family health care to $739 per month. Maintenance workers there average $12.50 an hour. Company negotiators have said they don't think the company should have to provide additional compensation because a worker decided to get married and have children.
The union says its proposal would actually decrease the company's labor costs in the first year of a new contract. The workers have belonged to Local 2850 for over 30 years, and had cooperative relations with the club until a new management and board took over last year.
Gail Ryall contributed to this article.