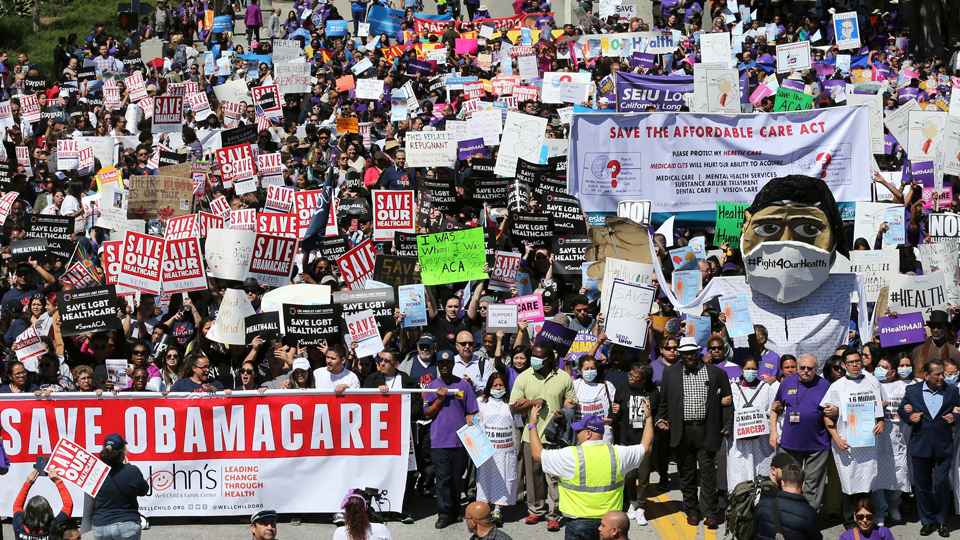 WASHINGTON — House Democrats are going to court to defend the Affordable Care Act, because the GOP Trump administration won't.
By a 235-192 margin, lawmakers voted to file a brief in the case challenging the constitutionality of the ACA. Only three Republicans Tom Reed and John Katko of New York and Brian Fitzpatrick of Pennsylvania, joined all 232 voting Democrats to vote to uphold the act in federal court.
Ruling on a lawsuit by 19 GOP state attorneys general last year, a federal district judge in Fort Worth, Texas, ruled the ACA is unconstitutional because the GOP's $1.5 trillion tax cut for businesses and the rich also repealed its individual mandate – the "tax" that underlies it.
Ordinarily, an administration's Justice Department steps in to defend federal laws in lower courts, appellate courts and the Supreme Court. But in keeping with its hatred of the ACA and of its prime sponsor, then-President Barack Obama (because of his race, Steelworkers President Leo Gerard once said) the Republicans didn't.
Instead, DOJ shut up and the former GOP-run House voted more than 60 times to repeal the landmark health care coverage law, even before the judge in Fort Worth overturned it. Another 19 state attorneys general, led by California's Xavier Becerra, challenged the judge's anti-ACA ruling by appealing it to the Fifth Circuit Court of Appeals in New Orleans.
Now, the House is going to defend the law in the New Orleans court, too.
"If the decision stands, 17 million Americans will lose their health insurance. This includes many of my patients, children, and people with preexisting conditions," said new Rep. Kim Schrier, D-Wash., (right) a pediatrician, in her first-ever House floor speech.
Schrier took over a GOP-held seat as part of the November landslide that returned the House to Democratic control. Her predecessor, moderate Republican Dave Reichert, retired.
"Having seen families struggle to pay ever higher insurance premiums and deductibles every year, I understand we need improvements in our system. The answer is to shore up the ACA, not dismantle it," she continued. "As the lone woman doctor in Congress and as a patient with type 1 diabetes, I look forward to leading that conversation."
"The first step is to preserve the protections that we have now. That is why I am so pleased the House will intervene in this court case."
Rep. Donna Shalala, D-Fla., (left) an ex- Health and Human Services Secretary who also won a formerly Republican seat, led the debate for intervening in the court case.
"This case is a backhanded way to do what Republicans could not do legislatively: Repeal the ACA and take away comprehensive health insurance from millions of Americans," Shalala said.
"I represent a district that has the highest number of people — more than 100,000 — enrolled in the ACA. Whether you get your health insurance from your employer, from Medicare, from Medicaid, or from the marketplace, you have something to lose if this disastrous court case is upheld."
"Not only will insurance companies again be able to deny coverage to people with preexisting conditions, young people will no longer be able to stay on their parents' insurance until they are 26. Preventive services like flu shots and annual checkups will not necessarily be covered without cost.
"Women may, once again, face buying insurance that doesn't cover maternity care…Our seniors should not have to choose between paying exorbitant costs for prescription drugs and buying food or paying rent.
"We simply want to stand in court and defend the valuable protections in the Affordable Care Act."
The House's new controlling Democrats are also planning other ways to defend the ACA, The Hill reports. Democratic committee chairs whose panels oversee and write health care laws plan hearings and legislation to both close its holes and to stop the Trump government's administrative dismantling of the law. Judiciary Committee Chairman Jerry Nadler, D-N.Y., calls Trump's anti-ACA acts "sabotage."