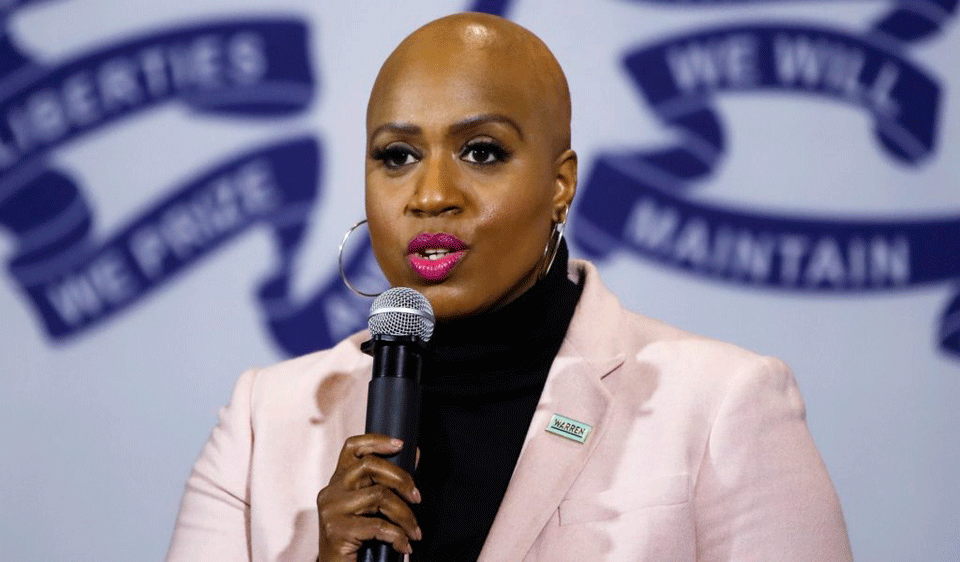 WASHINGTON—The mammoth, and often controversial, House money bill for federal labor, health and education spending adds billions of dollars for schools and health programs, but could also set off several social issue uproars when it hits the House floor later this month.
The measure doles out and increases funds for the departments of Labor, Health and Human Services and Education, especially money to battle the coronavirus pandemic. It also beefs up the National Labor Relations Board and job safety and health agencies, while banning two GOP Trump regime anti-worker rules, a close reading shows.
The Democratic-run House Appropriations Labor-HHS-Education Subcommittee approved the measure on July 7. The full committee and the entire House will tackle it later this month. It allots $196.5 billion for the fiscal year starting Oct. 1, plus $24.5 billion more for this fiscal year for emergency spending on public health programs, due to the pandemic, which is again sweeping the country. Trump wanted to cut the main bill by $20 billion, with no extra dollars.
"We must work together to deliver the people in this country to the dawn of recovery, not abandon them to an economic collapse," due to pandemic-caused business closures and bankruptcies, subcommittee Chair Rep. Rosa DeLauro, D-Conn., explained at the start of the panel's work session that day.
While being pro-worker, the legislation throws some "social issue" bones to the radical and religious right, including the granddaddy of all such schemes: The Hyde Amendment's 44-year ban on using federal Medicaid funds for abortions, except in cases of rape, incest or to protect the life or health of the mother.
Storm on the horizon
The Hyde Amendment may set off a storm after lawmakers return to Capitol Hill the week of July 12. Rep. Ayanna Pressley, D-Mass., wants to knock it out. She flatly calls it racist and aimed at Black and brown women. Before the ban, Medicaid paid for some 330,000 abortions per year, Wikipedia says.
"Let me be clear: Discriminatory abortion bans like the Hyde amendment are blatantly racist and perpetuate systems of oppression and white supremacy that target people of color–especially Black people–and their bodily autonomy," said Pressley, one of four progressive first-term female lawmakers of color, collectively "The Squad," whom GOP President Donald Trump vilifies.
"This first-ever pro-choice majority in the House of Representatives has a mandate and a responsibility to stand up for reproductive rights and justice for all, not just those who can afford it. This is a racial justice issue," Pressley added, a reference to the large number of pro-choice progressive Democratic women elected in 2018.
"The Hyde Amendment has no place in any congressional legislation—especially bills meant to expand sexual and reproductive care and invest in global health," added Alexis McGill-Johnson, president of Planned Parenthood's Action Fund, its political arm.
"It's part of a long tradition of legislative and state-sanctioned attacks that effectively bar people with low incomes from accessing health care. This targeted restriction, which disproportionately hurts Black and Latinx communities, is a symptom of the same systemic racism that has driven millions to protest over the past several months," she added.
Another controversy could erupt over the measure's detailed language to, in so many words, ensure Planned Parenthood clinics again can get federal funds for family planning, regardless of whether their workers perform abortions.
After Trump banned the cash to those clinics, Planned Parenthood decided to go ahead without any federal money, thus reducing its services, especially to the poor and in the South. The money bill not only restores its eligibility for funding, but makes the group eligible for retroactive money to cover funds it lost.
Another social issue "bone" thrown to the right wing in the bill bans spending for advocacy of "any requirement or restriction on any legal consumer product, including its sale or marketing, including but not limited to the advocacy or promotion of gun control."
But the Centers for Disease Control would get $25 million, double this year's figure, to investigate gun violence as a public health hazard. Until the Democrats took over the House last year, Congress banned CDC from such probes at all.
And Section 301 of the Education Department's area of the bill declares: "No funds appropriated in this act may be used to prevent the implementation of programs of voluntary prayer and meditation in the public schools."
Cuts funds for anti-labor measures
While the measure keeps the Hyde Amendment, it eliminates NLRB money to enforce two Trump regime anti-worker rules. One rule bans what the GOP scorns as "micro-unions," units within one firm. Officially, the rule covers "representation cases."
And lawmakers eliminate money for enforcing the NLRB GOP majority's edict to let joint employers—think McDonald's headquarters and your local McDonald's franchise—off the hook in breaking or obeying labor law and collective bargaining rights.
Pro-worker groups worked hard for the Obama-era NLRB's joint employer decision making both HQs and local franchises responsible. Trump's GOP board majority tossed it in the rule, setting their view in stone—but not if the board can't enforce it.
The NLRB itself would get a 10% increase, to $277.8 million in the fiscal year starting Oct. 1, along with a mandate to restore its full-time staff to fiscal 2019 levels. And $1 million is earmarked to have the NLRB produce, within 30 days, plans to let union representation elections go all-electronic, another response to the coronavirus pandemic.
Gives where Trump would take
The bottom-line dollar measure of the entire legislation for the fiscal year that starts Oct. 1 is allotting $196.5 billion in "discretionary" spending—money Congress controls—for everything from aid to schools that teach poor kids to the Occupational Safety and Health Administration (OSHA) to "rebuilding this nation's aged public health infrastructure" to both battle the coronavirus and prepare for the next pandemic. Trump wanted a $20 billion cut.
The bill's extra $24.25 billion for the current fiscal year is in emergency spending to help state and local health departments, public health labs, and global health organizations battle the coronavirus. The virus is  spreading rapidly in India and Latin America—both areas with strong ties to communities in the U.S.
"Labor-H and its programs are at the center of the health crisis and the economic crisis, both of which have exposed serious disparities," panel chair Rep. Rosa DeLauro, D-Conn., said in opening the panel's markup (work session) on the measure.
"The virus continues to spike. 2.9 million cases. Tens of thousands of new cases are reported each day. And 130,000 people have died."
The next day, the caseload closed in on three million—more people than live in the city of Chicago–deaths passed 130,000, and 46 states hit record daily highs in numbers of new people testing positive for the virus. Georgia joined Florida and Texas as  the third Southern state with more than 100,000 cases. Self-quarantines have cost the city of Houston 300 Fire Fighters, too.
Biggest crisis in a century
"The coronavirus is the biggest public health crisis we have experienced in the last century. Yet, a few days ago, the president said 99% of cases were, quote, 'totally harmless.'" DeLauro continued. "To be frank, the administration's response to the coronavirus pandemic has been inconsistent, incoherent, and above all, dangerous."
Besides the NLRB provisions, other labor-oriented sections include:
–$1.08 billion to retrain workers who lost their jobs to unfair foreign trade. Those programs are funded a year in advance, so $860 million of that would be doled out in fiscal 2022, which starts Oct. 1, 2021. And $50 million of the total is earmarked for retraining at community colleges.
The measure also bans money for a favorite Trump scheme: Letting non-union cut-rate construction contractors get federal cash to train apprentices, often minimally. North America's Building Trades Unions fought hard against the Trump plan, while, union-haters at the Associated Builders and Contractors pushed it. Overall, apprenticeship programs would get $185 million. Trump wanted $15 million more, to dole out more cash to right-wing ABC members.
The bill includes $593.8 million for OSHA, a significant increase over this year's funding, plus another $379.8 million for the Mine Safety and Health Administration.
In another indication the panel's majority Democrats don't trust Trump to enforce worker health and safety laws, the measure provides only $3.5 million out of OSHA's overall figure for the agency's Voluntary Protection Programs. That's a favorite Trump-GOP scheme where OSHA inspectors give advice to bosses on how to protect workers—and also exempt those firms from actual inspections, enforcement and fines, unless a worker dies on the job.
The bill provides $95.9 million for migrant and seasonal farm worker programs, with 70% earmarked for employment and training of some of the nation's most-exploited and lowest-paid workers. Eligible workers are those with families earning up to 150% of the U.S. poverty line. Lawmakers also banned discouraging farm workers from using other social services, such as food stamps.
It also provides $3.422 billion to help overwhelmed states run their unemployment insurance operations. Hit by a revenue crash and skyrocketing demand—due to anti-coronavirus closures and layoffs—the states are running out of money and would have to layoff even more workers who help the jobless get benefits.
Bolsters jobless benefits
The bill also allots "such sums as may be necessary" for the state jobless benefits themselves, as those piles of cash, created through past employer and employee contributions, are dwindling, as joblessness stays in double digits.
Some $246.3 million, an increase, is provided for DOL's Wage and Hour Division, which goes after wage theft, such as firms refusing to pay the minimum wage or denying workers overtime pay. By contrast, the legislation also cuts 10% from the DOL Office of Labor-Management Standards. That GOP-created office rides herd on unions and their spending, forcing disclosure of every penny from paychecks to paper clips. It would get $42.2 million in the coming fiscal year.
Also included is at least $40.97 million for "special benefit payments" for disabled coal miners through the end of the fiscal year on next Sept. 30, plus another $14 million to cover those payments in October-December 2021. The federally chartered United Mine Workers trust funds covering retired disabled miners' pensions and health benefits, plus benefits for their survivors, are running out of money, as coal usage shrinks and as coal firms went broke after the 2008-09 Great Recession.