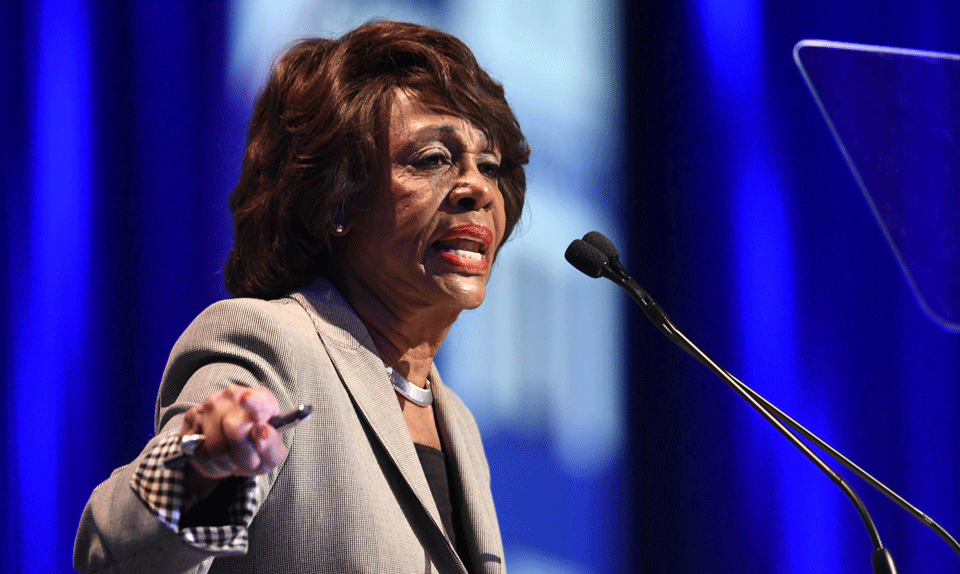 WASHINGTON—GOP President Donald Trump's regime wants to let banks redline communities of color. The Democratic-run U.S. House doesn't—and with backing from organized labor, civil rights, and community groups, the Dems won a 230-178 straight party-line vote on the issue.
Technically, what was on the table on June 29 was a joint resolution, HJRes 90, to kill a rule from the Office of the Comptroller of the Currency, one of three federal agencies that regulate the financial services industry.
In practical terms, as several lawmakers said, it's a key civil rights bill.
OCC, the GOP, and the Trump government said they were "updating" rules that are supposed to ban banks from redlining neighborhoods. Banks and other lenders have long used redlining to impose and enforce residential segregation of people of color. Neither the Democrats nor the AFL-CIO nor its allies believed that Republican-Wall Street "only an update" claim.
The Community Reinvestment Act, which the OCC enforces, was enacted in 1977 to, among other goals, outlaw redlining by shining sunlight on it via mandated reports on lending patterns and bank branching, by neighborhood. Banks lobbied hard against it even then.
House Republicans claimed they, too, oppose redlining, a practice whose details and practices were first really revealed in a major investigation on Chicago's South Side in 1961, debate showed. But when push came to shove on the U.S. House floor, the AFL-CIO, 150 more organizations and the Democrats didn't believe the GOP. Every Dem voted "yes" to repeal OCC's rule. Every Republican voted "no."
All warned that unless OCC's rule is stopped, redlining would return.
And they all said weakening the CRA and bringing back redlining in a time of a coronavirus pandemic, high joblessness and daily protests over systematic U.S. racism is just plain wrong—and wrong to do right now.
"The OCC's final rule" will "reduce incentives for banks to lend to low-and-moderate income (LMI) families and invest and serve LMI communities: Homebuyers and homeowners, small businesses, community development projects that primarily benefit and serve LMI people," says the letter the AFL-CIO and the other groups signed.
OCC's rule also expands the number of banks that will have no review of how they open and close branches and provide key bank services in LMI and underserved neighborhoods, what are now called "banking deserts" in other debates.
"These harmful changes could not come at a worse time. The ongoing COVID–19 pandemic and widespread social unrest gripping the nation has hit LMI and communities of color the hardest and brought gaping disparities to the forefront," the letter continued.
The Trump OCC's changes "would do little to address the pressing national priorities of reducing the racial wealth gap, of better serving those traditionally underserved by the nation's financial system or stimulating an economic recovery from COVID–19 that is equitable."
Rep. Ayanna Pressley, D-Mass., a first-term lawmaker who represents Boston, and who is Black, was even blunter about the financiers' role in redlining during the House floor debate on June 25, four days before the vote.
"There is no separating the history of banking from the history of racism in this country," she declared.
"Wall Street, our nation's financial capital, is named after a structure erected by enslaved people and then served as a site where they were bought and sold."
"Today, we have predatory lenders set up in Black communities, where systems of oppression ensure a steady stream of customers," Pressley explained. Those are "communities banks have decided are simply not worth their time or their business.
"The Community Reinvestment Act reflects, and is a direct response to this history, and aims to reverse course," she said. It's time, Pressley added, to "acknowledge decades of divestment from our communities and support this crucial civil rights legislation."
The Trump OCC's rule is "effectively turning the Community Reinvestment Act into the community disinvestment act," House Financial Services Committee Chair, Rep. Maxine Waters, D-Calif., told her colleagues. Waters, from Los Angeles, is also Black and the lead sponsor of HJRes90.
"Congress must block any effort by the Trump administration to weaken our civil rights laws and send a strong message to federal regulators that they should be doing all they can during this pandemic to help, not hurt, low- and moderate-income communities, especially communities of color."
The disapproval resolution faces a Trump veto threat. Even if it passes the GOP-run Senate—where Majority Leader Mitch McConnell, R-Ky., has buried almost 500 pieces of House-passed progressive legislation—Trump's Office of Management and Budget wants him to veto it and thus keep the OCC rule.
"The administration disagrees with the resolution's premise the OCC's CRA regulations weaken requirements to lend to low-income borrowers and communities," Trump's OMB said.