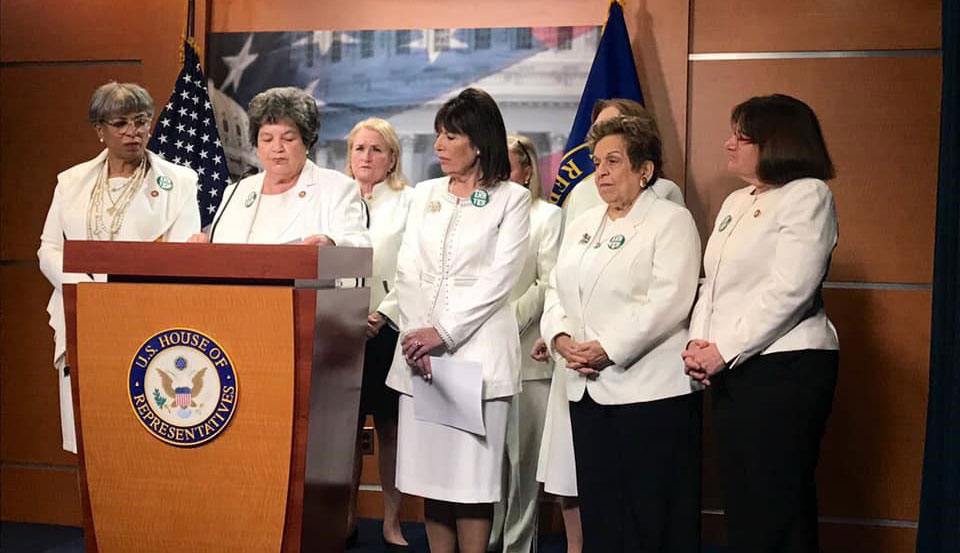 WASHINGTON—With strong union support, and overcoming virulent corporate and right-wing opposition to equal pay for equal work, the Democratic-run House approved the Paycheck Fairness Act late on April 15. The 217-210 vote included only one Republican "yes."
The legislation, pushed for 25 years by veteran Rep. Rosa DeLauro, D-Conn., would strengthen the 1963 Equal Pay Act by making it tougher for firms to prove how "business necessity" lets them discriminate against woman workers, compared to men with equal credentials and experience, for equal jobs.
HR7 also would ban firms from silencing worker discussions about pay. And it would order collection of pay data by gender in "bands"—to protect individual privacy—letting workers compare pay, firm by firm. That would reveal pay discrimination patterns in individual companies. The measure would also make it easier for workers to sue violators.
The Equal Pay Act's ultimate fate is uncertain. After the House passed it on a bipartisan vote in 2019, then-Senate Majority Leader Mitch McConnell, R-Ky., buried it, not even allowing a hearing. This time, corporate and right-wing opposition could prompt a GOP filibuster.
The foes include not just the usual suspects, such as the Chamber of Commerce and the National Restaurant Association, but right-wing ideologues such as the National Federation Of Independent Business and National Right To Life. They, and the GOP, say DeLauro's bill would enrich trial lawyers, a favorite right-wing, business and GOP bugaboo.
Democratic President Joe Biden strongly and publicly endorsed the Equal Pay Act on Equal Pay Day last month. A key spokeswoman, U.S. women's soccer team star Megan Rapinoe, told reporters then that "if I can suffer pay discrimination, anyone can."
The women's soccer team, which has dominated the world since Olympic and World Cup play began in 1991, is vastly underpaid compared to the men, who have been abject failures since the 1930s. The women are pursuing pay equity in federal courts in Los Angeles.
"Every year on Equal Pay Day—the day that symbolizes how far into the year the average woman needs to work in order to catch up to what their male counterparts made in the previous year—I hope we never have to recognize this day again," DeLauro said. But every year for decades, women's rights groups have had to mark the pay gap.
"Wage discrimination takes place not just on the soccer field or the silver screen, but in the board room, the factory floor, and in countless other workplaces across the country. That is why we are fighting for equal pay for equal work—for all women," added DeLauro.
As we look to build back better"—Biden's goal—"we have the opportunity to address these serious inequities further exposed by the coronavirus pandemic. The Covid-19 pandemic has been devastating for women, especially women of color. That is why it is so important we continue to push for the Paycheck Fairness Act."
Rep. Lois Frankel, D-Fla., in sentences short and to the point, summed up what the Paycheck Fairness Act would do for working women:
She had some questions
"I have some important questions and simple answers," she began.
"First, do rent and food cost less for women than men? The answer is no. Do women work less hard than men? Absolutely not. Do children depend on the financial support of their mothers? That answer is yes. So should women make less money than men for doing equal work? Obviously not.
"Yet, for many reasons, women are paid an average of just 82 cents for every dollar paid to men–it is even lower for women of color–causing struggling families and eventually lower Social Security benefits and retirement savings for our grandmothers. No wonder it is women and their children who are the majority of poor in this country.
"As we emerge from a pandemic that has hit women workers the hardest, isn't it time for an economy that compensates women fairly for their work? Of course, it is."
After listing other measures to help working women—including raising the minimum wage since "two-thirds of minimum-wage workers are women"—Frankel concluded: "Isn't it time, Madam Speaker, that our mothers, daughters, and sisters get paid fairly for their hard day's work? Of course. That is my final question and final answer for today."
"While belonging to a union is the surest way to guarantee equal pay on the job—unionized women earn some 27% more than do their non-union counterparts—the Paycheck Fairness Act would provide new effective tools to close the wage gap," AFL-CIO Legislative Director Bill Samuel wrote lawmakers.
Besides requiring firms "to demonstrate that wage gaps between men and women doing the same work truly result from factors unrelated to gender," it bars business from demanding prior salary history—another way they discriminate, "since they can then use past lower pay for women to justify offering them less," he noted. And it "brings Equal Pay Act remedies and class action procedures into conformance with those available for other civil rights claims."
Lawmakers were also supposed to vote on another union-pushed, strongly pro-worker bill, HR1195, to order the Occupational Safety and Health Administration to write a rule within two years forcing firms to craft and implement programs—with consultation and consent from employees–to protect workers from violence on the job. That vote was postponed to April 16.
National Nurses United has pushed that cause for years. The AFL-CIO backs it, too. The delay prompted NNU to alert people to immediately call their lawmakers at 202-891-4745 to urge a "yes" vote. The union said it was running up against determined corporate opposition.
"HR1195 will finally place the responsibility of nurse and patient safety where it belongs—with employers—to provide a safe workplace for nurses and other health care workers. The occupational health and safety standard focuses on what employers can and should do to prevent workplace violence before it happens," NNU said. "Health care and social service workers have a five times greater likelihood of experiencing a workplace violence-related injury than workers overall," Jean Ross, RN, an NNU co-president, explained.
"This is unacceptable at any time, but especially during this pandemic when nurses are risking their lives caring for their patients. The federal government needs to mandate a standard employers must abide by to prevent workplace violence before it happens."
"Workplace violence is the third leading cause of job death, and results in more than 30,000 serious lost-time injuries each year," the AFL-CIO's Samuel added in a separate endorsement letter to lawmakers.
Face some of the greatest threats
"Nurses, medical assistants, emergency responders, and social workers face some of the greatest threats, suffering more than 72% of all workplace assaults. Women workers particularly are at risk, suffering two out of every three serious workplace violence injuries.
"An OSHA standard under HR1195 would protect these workers by requiring employers in the health care and social service sectors to develop and implement a workplace violence prevention plan, tailored to specific workplaces and worker populations," he added.
"Common sense prevention measures include alarm devices, lighting, security, and surveillance and monitoring systems to reduce the risk of violent assaults and injuries," his letter adds. NNU has previously testified that health care firms—hospitals in particular—refuse to make those moves voluntarily because doing so would cut into profits.