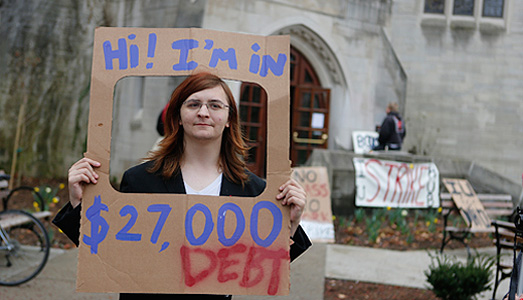 HOUSTON – Debt. Soaring tuition. Low wages. Joblessness. These were topics of a panel at the University of Houston (Downtown), Sept. 24, organized by Students Before Profits and the Texas State Employees Union. But the panelists did not compile a long list of problems. They provided ways to organize and change the situation.
More than 60 students joined the lively debate with panelists: Myko Gedutis of TSEU, Will Tomlinson of SBP, Poppy Northcutt, chair of Texas National Organization for Women, and students Daniella Brown and Emmanuel Rodriguez.
Students shared their stories of having to work low-wage jobs and pay for college at the same time. High tuition costs required them to work a lot to pay for their education. If you have a family to support, have bills to pay, and have to pay $20K for a degree (and sometimes over $60K), it is unlikely that you will be able to devote full time to your studies,
Brown said she cannot afford university tuition and barely can afford community college. Even with the slightly lower fees at community college, she still has to find the money to pay for health insurance and make ends meet. Brown connected the struggle for universal health care and other forms of social welfare to the fight to improve public education. She noted that it would be significantly easier to be a student if she didn't have to worry about paying high health insurance costs or could get a government grant so that she can support herself while studying. She also remarked that in many countries, such as Germany, education and health care are free, so a young person can apply herself to learning and not worry about the costs. She was forced to take a loan and is worried because her debt is gradually rising.
Rodriguez said he is enrolled in a government program that pays for his tuition at community college. While he praised the virtues of this program, he nonetheless stated that there is no funding for him to study for a B.A., an M.A., or a Ph.D. at the university. He wants to see students organize to expand government programs so that they will also fund a four-year degree. His main worry is the complete lack of job opportunities for college graduates, for many college graduates finish their studies and have trouble finding work. He is worried that even though he won't have debt, he won't be able to find a job with his associate of Arts degree from a two-year institution. He advocated for a government job-creation program ensuring that every college graduate will be able to find work after graduation.
After the students spoke, Tomlinson gave a presentation on the sources of increasing tuition. He showed that the tuition in Texas has increased astronomically since 1987: At Texas Tech, it increased over 350 percent; at UT-Texas, the increase was 550 percent; and at the University of Houston (Downtown), it increased over 250 percent. One of the main reasons for this increase is budget cuts: Texas has cut funding for public intuitions by 22.7 percent since 2008.
Texas is notorious for deregulation, which makes it easier for the state to increase tuition. It is clear that the extreme right in Texas, led by Gov. Rick Perry and his puppets, has no interest in education. All they care about is putting money into the pockets of the ultra-rich, while poor and middle-income people suffer the blows, Tomlinson said. SBP organizes around legislative reforms that can benefit students, such as the struggle to end tuition deregulation, helping the TSEU to organize a union at UH and UHD, and to support election campaigns of progressive candidates who can help students and young working people advance their interests, he said.
Gedutis made the connections between union and worker rights and students' interests. One of the union's demands is tuition regulation and is using its lobbying power to win legislative reforms in this arena. Increased tuition does not mean an increased wage for teachers or IT-workers, he said, but only more bonuses and privileges for the administration and top university officials.
A living wage for all university workers, particularly adjunct instructors who make very little, is another goal of the union's organizing and legislative agenda. Gedutis said better paid teachers also make better teachers. A teacher with eight classes in a semester, who has to work an extra job, will not have time to prepare new lecture material each semester and help students to learn; as a result, the quality of their teaching declines, he pointed out.
The Texas feminist pioneer, Poppy Northcutt, finished the program with a rousing talk starting with the importance of voting. She listed some candidates that students could vote for to advance their struggle. She tied the struggle for education to other issues, such as the defense of reproductive rights and the campaign for universal healthcare. She noted that without access to abortion, young women might not be able to go to school if they have to be mothers and raise a child. She emphasized that young working women are affected most by right-wing extremism, and that voting for progressives can help make campuses a more woman-friendly environment. She discussed the high volume of rape on college campuses, and the necessity of both women and men to organize together to combat sexual violence. Her speech was greeted by thunderous applause, and she received a lot of questions.
Many commented on how heartening it was to see students standing up against corporate power and the extreme right, demanding radical changes in their lives.
Photo: Indiana University senior holds a sign that represents the average debt a college student has after graduating, during an IU protest, April 11, 2013, in Bloomington, Ind. (Jeremy Hogan/Bloomington Herald-Times/AP)