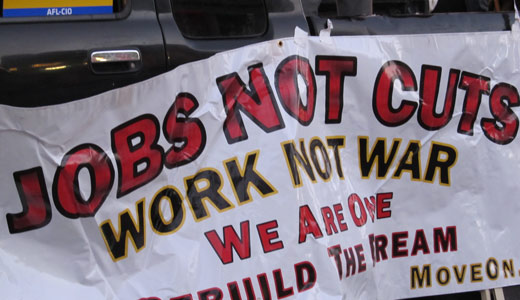 SAN FRANCISCO – She stood silhouetted against the backdrop of a holiday-lit City Hall. But she wasn't speaking of holiday celebrations.
"We are standing in solidarity today with millions of Americans across this country demanding basic economic fairness," AFSCME spokesperson Brenda Wood told the crowd in front of her. "We are fighting for our jobs and our communities and we won't back down."
The crowd responded, "We won't back down!"
Wood was addressing hundreds of protesters gathered in Civic Center Plaza here, to insist that the rich must pay their fair share and that Social Security, Medicare and Medicaid be strengthened, not cut, in any moves to cope with the deficit.
The gathering, on Dec. 10 – International Human Rights Day – was among over 100 such actions around the country, organized by the AFL-CIO, MoveOn and others.
In Oakland, U.S. Representative Barbara Lee said as she stood at the Social Security office door: "Here we are in the wealthiest country in the world, talking about going off a fiscal cliff. I call it a human cliff. These are proposals that have been created in attempts to balance the budget on the backs of our most vulnerable: our poor, our senior citizens, low-income individuals, our children, working men and women, our disabled."
Lee told the crowd, "We have a resistance movement in Congress," and pledged to carry on the fight.
Democratic Assemblywoman Nancy Skinner warned that unemployment checks arriving during Christmas week could be the last some workers would receive. "That is wrong!" she said.
When Californians passed Prop. 30 to increase taxes on the wealthiest to fund education, Skinner said, "All of us said that is appropriate. We are the most populous state in the union. Congress, get the message: stop being Scrooge, do the right thing!"
Similar actions were taking place across the U.S.
In Boston, 400 people rallied in historic Faneuil Hall, with U.S. Reps. John Tierney and Michael Capuano, both Democrats. The two pledged to their constituents that they would not vote for a deal that would harm the middle and working class.
In Charleston, W.Va., demonstrators went to the office of Democratic Senator Joe Manchin and signed a giant petition in the capitol lobby, calling on him to vote against any benefit cuts to Social Security, Medicare and Medicaid.
In Cape Girardeau, Mo., members of the Communications Workers of America, Electrical Workers, Laborers, United Steelworkers and Machinists joined with retirees and community partners at Republican Rep. Jo Ann Emerson's office.
In Langhorne, Penn., street theater – the Grinch stealing benefits – and singing of modified carols marked the visit by union and community protesters to the office of Republican Rep. Mike Fitzpatrick.
Photo: Marilyn Bechtel/PW