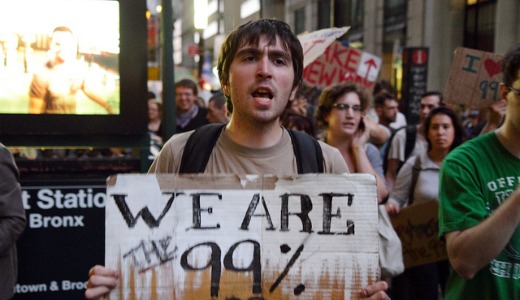 NEW YORK – Close to a thousand chanting, singing and sign-waving activists took to the sidewalks of what is probably the richest neighborhood in the world to demand that the richest 1 percent pay their fair share of taxes.
Hundreds of Occupy Wall Street participants marched from 59th Street and Fifth Avenue to the nineties on Park Avenue, passing through some of the wealthiest neighborhoods in this city. The first stop was to News Corporation CEO Rupert Murdoch.
It was a beautiful Indian summer day, and this march, participants said, proved once again that these demonstrators are a cross section of the mosaic that makes up our city and country. The sparse coverage at the beginning of this movement by the mainstream media has now become an everyday event in the newspapers and on television news.
Marchers made their way to David Koch territory and on to hedge fund manager John Paulson's residence. Police kept them to the sidewalks. There were no confrontations with the police, although at the corner of 90th and Park the crowd overflowed into the street.
Some of the unions that participated were TWU – which has endorsed the OWS movement – SEIU, Teamsters and NY Nurses Association. They joined with community and church groups. Jews for Racial and Economic Justice, New York Civic Participation Project and Professional Staff Congress were also there. The marchers were majority youth and thanks to the unions and community groups, there was a good racial mix.
A member of Make the Road, one of the sponsoring organizations said, "We all need to have a decent life. They wouldn't even miss the small amount we are asking these people to give. We would feel good as a community and so would they."
As Democratic Gov. Cuomo cuts 3,500 city workers and cuts $3 billion to education, he refuses to continue the millionaire's tax. Flyers were plentiful, saying continue the millionaires tax that brings in several billion dollars every year, money that is desperately needed at this time in our city.
At the last stop of real estate developer Howard Milstein, the youth marching band, which kept the march going had everybody singing and dancing to a New Orleans version of "Which Side Are You On?"
Photo: Paul Stein // CC 2.0