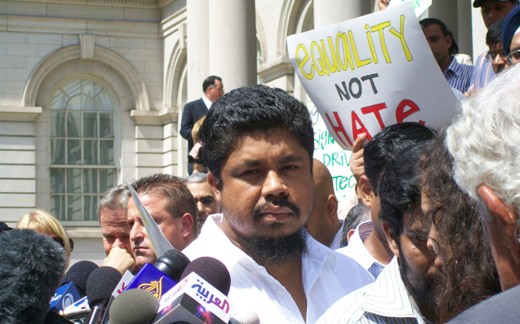 NEW YORK – What started off as a local controversy over the construction of an Islamic community center not far from Ground Zero has, at the behest of extremist right-wing politicians and radio hosts, turned into a national hysteria that many warned would erupt into violence.
Now, that violence has materialized, taking its earliest form August 26, when taxi driver Ahmed Sharif, a father of four, was stabbed in the throat by passenger Michael Enright, apparently for the sole reason of being a Muslim.
The driver, who was able to escape, described the confrontation at an August 27 press conference quickly organized by his union, the Taxi Workers Alliance, a local affiliate of the AFL-CIO Central Labor Council.
Sharif picked up Enright in midtown Manhattan in the early evening. Because of the place and time, he left the safety partition, which separates driver and passenger, open. After what seemed to be friendly discussion, the passenger asked Sharif if he was a Muslim. When Sharif answered in the affirmative, Enright, after saying, "Consider this a checkpoint," pushed the knife into Sharif's throat. Luckily, Sharif found a nearby police officer who called for help and arrested the attacker.
Revulsion at the incident has been widespread. According to TWA Executive Director Bhairavi Desai, "We have been getting phone calls and messages from not only New Yorkers but from people throughout this country, saying to us we stand with you against hate, this incident is not what America is about, we are a better people, and that taxi drivers and Muslim Americans deserve better."
Many say though some sort of public debate around the proposed Islamic center was inevitable, extremist right-wing forces have been trying to provoke a culture war-to their own advantage.
"The Republicans are using this as a tool to try to win the House and Senate," City Council member Robert Jackson, D-Manhattan, told the World.
Still, Jackson gave credit to his often times adversary, New York Mayor Michael Bloomberg, who has come out as a supporter of the Islamic center and met with Sharif the morning of the rally. Jackson said Bloomberg "has been emphatic in his position. I think he represents the entire city in that respect."
Bill Henning, president of Communication Workers of America Local 1180, told the World the shrill tone of the debate over the center was because "opportunistic politicians are looking to motivate their right-wing base to come out in November. That's what this is all about. It's a cynical ploy on their part, but it has real consequences because it appeals to unstable elements in our society."
Aside from the issue of hate crimes and discrimination against Muslims, the issue has once again brought to the fore the question of job safety for taxi drivers. Earlier this year, the legislature passed a law that would make assaulting taxi drivers a felony on par with those who assault police officers and transit workers.
However, Governor David Paterson has stalled on signing the bill into law.
"The governor stands in the way," Desai said, wondering aloud whether or not a sign, as would have been mandated by law, in the back seat warning passengers that assaulting a taxi driver would carry a mandatory jail sentence could have possibly deterred Enright.
Photo: Taxi driver Ahmed Sharif speaks at an August 26 press conference in New York City. (Dan Margolis/PW)