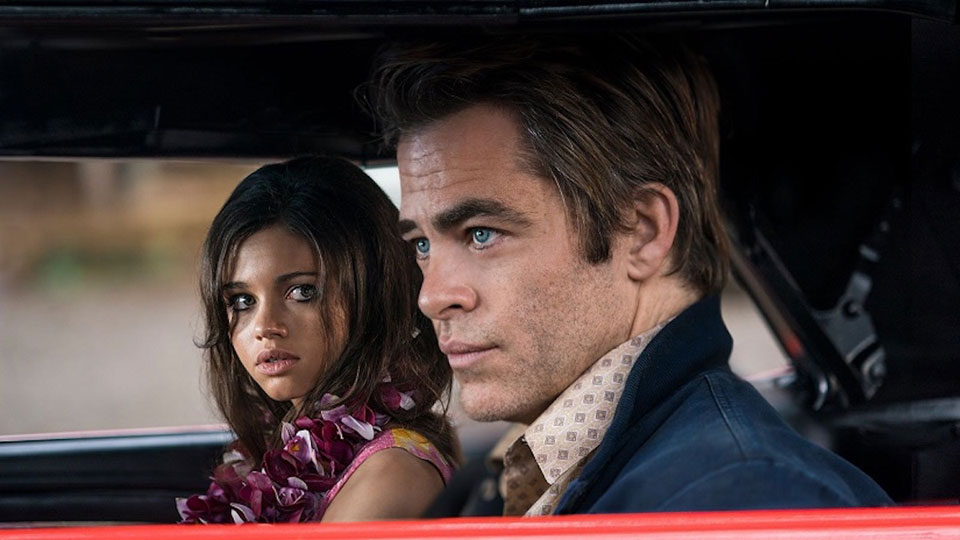 "Some stories will eat you alive," – I Am the Night
On the morning of January 15, 1947, the body of aspiring actress Elizabeth Short was discovered in Los Angeles, California. Her body had been severed in two pieces, drained of all its blood, mutilated, and posed in the grass where it was found as if Short were taking a modeling photo. It was a gruesome sight that led to a media frenzy but which would ultimately turn into a cold case, nicknamed the Black Dahlia, as Short's killer was never brought to justice. The new TNT mini-series, I Am the Night, attempts to shed light on the case by bringing focus to the equally strange true story of Fauna Hodel, the granddaughter of one of the main suspects in Short's murder, George H. Hodel. The crime noir style series mixes factual history with Hollywood folklore and only begins to scratch the surface on the controversial story.
I Am the Night tells the story of Fauna Hodel (India Eisley), a teenage girl living in Reno, Nevada in the 1960s. Fauna believes herself to be mixed race, having a Black mother and a white father. She lives a simple life, but constantly feels as though she doesn't truly belong, as often she is mistaken for white, but identifies as Black. It is soon revealed that Fauna was given away at birth, and that she is actually the granddaughter of the wealthy and powerful doctor George H. Hodel (Jefferson Mays). As Fauna travels to Los Angeles to investigate the secrets of her past, she meets journalist Jay Singletary (Chris Pine). As she works with Singletary to discover who she really is, and the kind of man her grandfather was as well, it takes both characters down a dark and dangerous path of revelations and Hollywood corruption. Director Patty Jenkins (Wonder Woman, Monster) is at the helm of the series, and serves as director and one of the executive producers.
The six episode mini-series takes on the ambitious task of trying to touch upon all the controversy surrounding the infamous George H. Hodel and his family. It uses the real Fauna Hodel's memoir One Day She'll Darken, as a base for the series. The television show then uses the fictional character of Jay to give viewers more insight into the case of the Black Dahlia and the Hodel family's connection to it. At times this method works, while at others, it leaves episodes feeling disjointed, as if they're trying to meld multiple styles of stories into one cohesive plotline. That may have more to do with the fact that the series takes liberties with historical happenings and timelines in an attempt to make a true story, which spans over the course of decades, fit into the show's timeframe of only a few weeks.
There are a good amount of positives the show has going for it. Jenkins has made sure to give the series a distinct crime noir film style. This is appropriate given the source material and the traumatic web of real events the series uncovers and alludes to. Hodel's story is one of medical malpractice, incest, sexual abuse, death, and corruption. There's mystery and intrigue in every frame and a foreboding of danger. George H. Hodel's character is part of that atmosphere, serving as a symbolic boogeyman that cast a dark shadow on the lives of Fauna, her family, and Jay.
Thus, with George H. Hodel serving as mostly a symbol, it is Fauna and Jay that are fleshed out as the story unfolds. Although Jay is a fictional figure, I Am the Night does a fine job of giving him layers and nuance. He's an army veteran with post traumatic stress disorder and a drive for uncovering truth through his journalism. He's something of a tragic figure for most of the series, as his quest for truth through his news reporting led to him being blacklisted early on his career. Now he finds himself addicted to drugs and constantly pulling himself back from the brink of a mental breakdown. His bond with Fauna serves as a small beacon of light, holding the possibility of redemption for Jay. Pine competently displays these layers and trauma in an effective way that will make the viewers root for Jay to find some semblance of peace in a world of deceit and lies.
Eisley's portrayal gives Fauna Hodel an air of subtle strength and resilience. Her character is one who constantly struggles to find somewhere to belong. At times though, Fauna is relegated to only reacting to circumstances around her, which could make it seem as though her character is more passive than proactive. Yet, Eisley still does well in making those moments resonate by displaying a wide range of emotions for Fauna as the series proceeds.
Golden Brooks gives a breakout performance as Fauna's troubled alcoholic mother, Jimmy Lee.
The relationship between Fauna and Jimmy is a turbulent one that gives viewers another peak of what Fauna has had to deal with in her life and how it shapes who she is. It would have been easy for the show to fall into the overused trope of simply relegating Jimmy to being an abusive mother with resentment towards her adopted child, but instead it puts the whole relationship on the table, with all its layers and shades—which ends up making for a more interesting subplot.
The characters and relationships are at the heart of the series, and when the focus is more on those moments, the show shines brightly. It does take some time for the series to find its footing, as the mystery is slow to unfold. The connections between many of the characters aren't revealed until later on. If a viewer knew nothing of the Black Dahlia case, or of Fauna's truly bizarre life story, the slow beginning of the series may make it hard for them to stay long enough to get through Jay and Fauna's journey. Also, the series has the outward appearance of a crime noir mystery, but overall it is more of a melodrama. There are moments when the themes of race and racism are touched upon, but they isn't ever given enough space to be a major aspect of the show.
Overall, I Am the Night only scratches the surface to the much deeper Hollywood tale of the Hodel family and the media phenomenon of the Black Dahlia case. Instead of taking on those larger than life stories, it chooses a more intimate approach of displaying how two characters, Jay and Fauna, are greatly affected by those happenings. The mystery serves as a backdrop for what ends up being a more human interest tale.
I Am the Night premieres Jan. 28 at 9 p.m. on TNT.