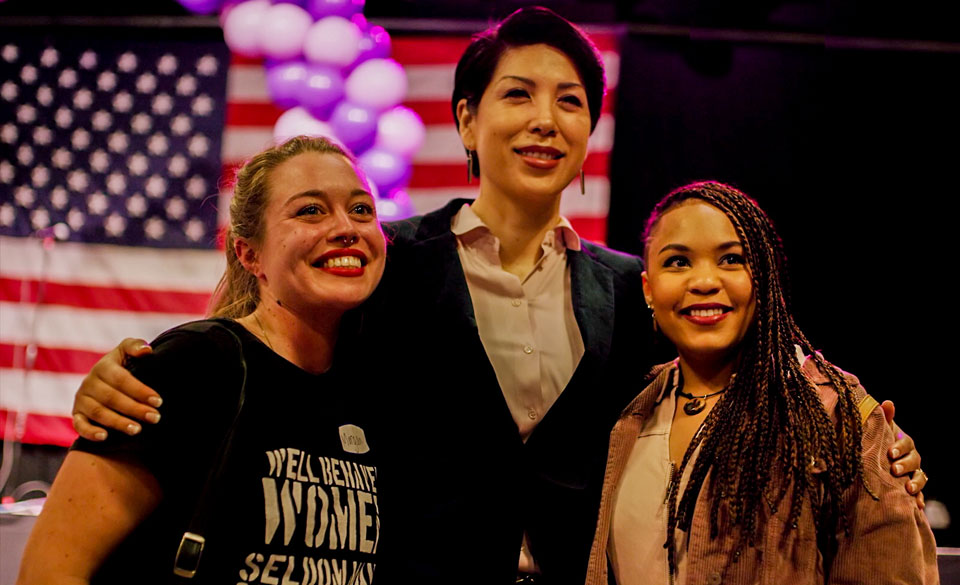 A U.S. Senate race in the state of Idaho could bring about sweeping change to the current Republican-controlled Senate and correct a longstanding historical wrong if it's won by the Democratic opponent to incumbent Republican Sen. Jim Risch.
"I'm Paulette Jordan, and I'm running to be the first female senator from the state of Idaho and the first female Native American U.S. Senator," the challenger declared at a Monday, Sept. 15 town hall hosted by Our Revolution. "And the fact that no Indigenous woman has ever served in the Senate, still shocks me, even though we (Native Americans) have played such an important and vital role in the history of this country."
An Idaho native and member of the Coeur d'Alene Nation, Jordan, a former Democratic member of the Idaho House of Representatives, is no stranger to uphill political battles. During her final term in the state House, she served as the legislature's sole Democrat. In 2018, she was the Democratic gubernatorial nominee against conservative political careerist Lt. Gov. Brad Little. She ran an election operation brimming with a sense of urgency, declaring, "The system is so corrupt that we have to fix it."
Despite a high-paced campaign that gained national attention, showing the importance of reaching out to rural communities, Idaho voters gave her Republican opponent the nod. Jordan came in with 38.2% of the votes to Little's 59.8%.
Running as a Democrat in Idaho is already tough, not to mention the extra challenges that come running as an Indigenous female candidate. The last Democratic governor elected was in 1990, and a November 2019 report from the Idaho Secretary of State showed over 51% of voters here were registered Republicans.
"There are some challenges to running for office, especially as a woman and a Native American, but the importance of women in politics—as my grandmothers taught me—is vital to our society because men alone cannot be dominating the decision-making process over women's rights or healthcare issues," Jordan explained at the Zoom town hall as she reflected on her 2018 race.
"And yet it's happening, especially here in Idaho, where men nationally take up 76% of the congressional seats. And I can tell you, the Indigenous voice in government is long overdue, in large part because we have been late to gain the rights as citizens to vote, and we are still having to face and overcome voter suppression, like much of the country today. But I am encouraged because are seeing more organizing in our communities as we are all collectively experiencing a political awakening."
Now, two years later, Jordan says there is a real chance to flip the Senate and "address and interact with the multiple crises that we face: health, economy, social justice, climate change—all these issues we feel very strongly about, especially when you live in remote areas, or Alaskan villages, or reservations like mine." The same goes for "urban cities like Detroit," she said, "whose residents still face a water crisis."
Read about another historic first for Native American Tribal Nations: The Frank LaMere presidential forum.
Jordan's campaign platform focuses on healthcare, the environment, and fiscal accountability. And while not listed on her campaign website, her progressive agenda goes beyond basic bread and butter issues. It outlines measures to pursue social justice and bring about a complete transformation of what voters know to be the forever "status quo." And for Jordan, this moniker applies to the Democratic Party as well.
"This is a very important time for us to look within, we have a great battle ahead of us, a battle between light and darkness. We need people outside of government buildings demanding accountability, but we also need people inside those buildings giving voice to the people," Jordan said.
The raging fires all along the West Coast and the orange-hazed Pacific Northwest served as a backdrop for Jordan's discussion of the environment and the escalating climate crisis. "We need much more attention when it comes to the vilest critical issue we are facing—climate change. Many should be talking about it, especially during this political cycle, this (recognizing and fighting for the rights of nature) has been a movement that my tribal relatives have been supporting here in North America for decades, and Indigenous peoples all around the world have become ambassadors of raising awareness in this fight. We are all connected to nature. If we are going to plan our future, we must also plan for the future of our environment."
On getting out the vote in 2020: We've been driving the message that when you don't take part, when you don't vote, you are letting others speak for you. And they may not hold sacred what you hold sacred—the rights to health care, housing, our children. We must participate in the decision-making process that will affect our children's children, our culture, our entire way of life."
Jordan continued: "Holding townhalls all across Idaho, we have seen young children, as young as 6-years-old, coming up to the microphone and demanding honest leadership, and bringing up issues around the environment and the economy."
She said that "Young folks who can vote are demanding action, and we need to make sure we register them to vote. When I hear any young person say my vote doesn't matter or doesn't count, I say that's what the corporations want you to say and think and believe so they can keep this capitalistic system in place…."
Jordan asserted that the issue of voter suppression is a very real one in Idaho. "We are meeting with local leaders to tackle voter disenfranchisement and with the Sec. of State about the purging of voter rolls. Our veterans, our elderly, our Latino, and Indigenous communities are all facing these challenges leading up to the November election, and it's on us to make sure they've registered to vote, or they've applied for a mail-in ballot, or have a ride to the polls."
Jordan encouraged all activists, community members, and leaders present to not give up hope. "We are up against quite a bit, but we are doing our best, giving our all in this major battle."
---
Like free stuff? So do we. Here at People's World, we believe strongly in the mission of keeping the labor and democratic movements informed so they are prepared for the struggle. But we need your help. While our content is free for readers (something we are proud of) it takes money — a lot of it — to produce and cover the stories you see in our pages. Only you, our readers and supporters, can keep us going. Only you can make sure we keep the news that matters free of paywalls and advertisements. If you enjoy reading People's World and the stories we bring you, support our work by becoming a $5 monthly sustainer today.