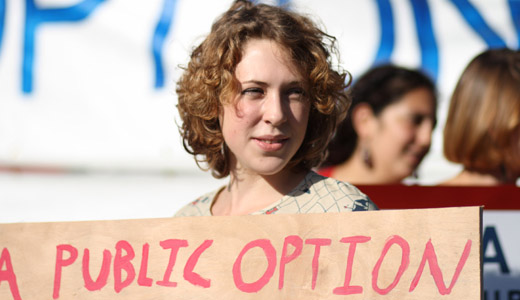 A bipartisan group of more than 1,000 state lawmakers have signed a letter to Congress calling for real health reform that includes a public option, according to a recent press conference call organized by the Progressive States Network (PSN).
"Talk radio and television may generate a lot of noise," said Nathan Newman, PSN's executive director, "but the over 1,000 legislators in all 50 states supporting affordable, quality health care for all Americans, including a public insurance option, reflects the voices of communities across our nation."
"State legislators have been on the front lines of health care reform for decades," said Texas Rep. Garnet Coleman (D), co-chair of Progressive States Network. "Most proposed elements of federal reform are based on ideas already debated and in many cases enacted in the states. So state legislators know what is needed to make reform work."
The National Conference of State Legislatures (NCSL) in August voted overwhelmingly to support federal health care reform with a public health insurance option.
During that conference, Iowa State Sen. Jack Hatch (D, Des Moines) said, "We sent a very clear message to people dragging their feet in Washington: the time to act on health reform is now. We need a public health insurance option to make sure working families and small businesses are free to choose the best health care available at a price they can afford."
On the recent conference call, Maine Rep. Jim Campbell, a Republican, lent his support for health reform. Middle-class families are struggling to make ends meet, let alone pay for health insurance. The very poor and everyone in government have taxpayer provided insurance; middle-income working families should have a chance at that too, Campbell explained.
"If that is socialized medicine, then I sure am for socialized medicine," the Maine Republican flatly stated.
State legislative leaders, along with mayors from around the country, will be in Washington, D.C. this week to bring this message of state support for reform to Capitol Hill and the White House.
PSN asks supporters of reform to urge their state legislators to sign the letter to Congress. Go here to see how.
Photo Credit: Sage Ross
Courtesy Wikimedia Commons, cc by 2.5