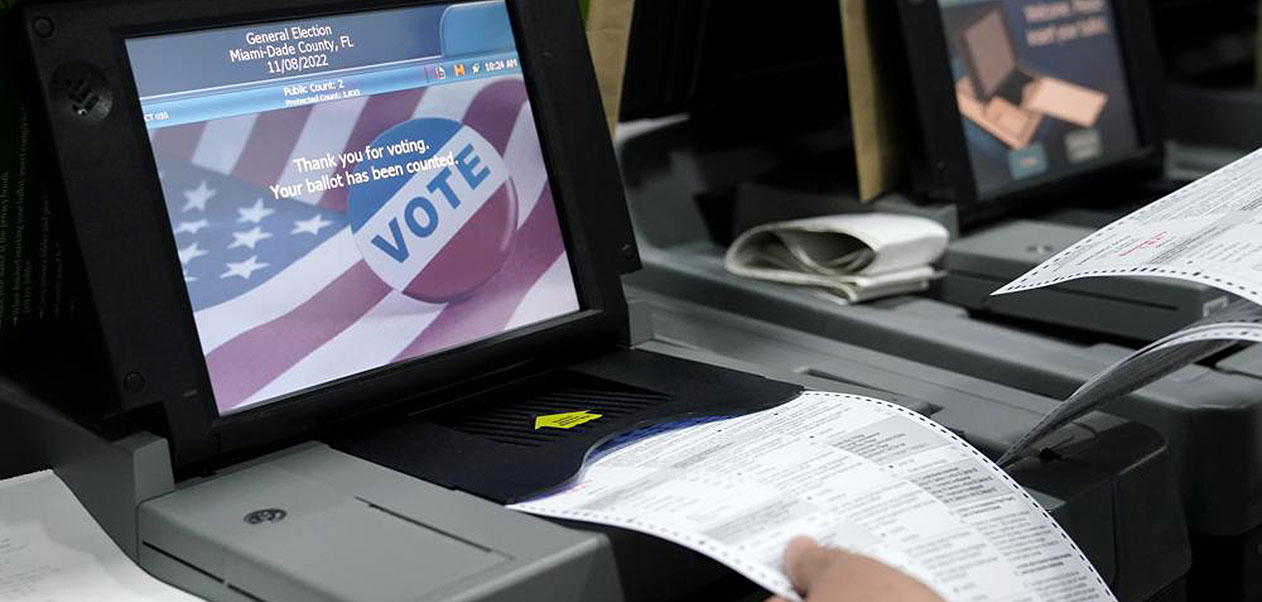 WASHINGTON—In Arizona, armed vigilantes "guarded" ballot drop boxes. In Florida, state troopers, part of a special "task force" organized by Republican right-wing Gov. Ron DeSantis, have already arrested at least 20 voters—more than half of them Black—for legally voting after serving prison time, despite a two-year-old state referendum decision that had restored their right to vote.
And election officials from coast to coast—or at least those who are still serving–have geared up for more such intimidation at the polls on Nov. 8. There have been so many threats and so much intimidation of those officials beforehand that thousands, from county election commissioners down to local volunteer election judges, have quit.
All of this is part of what Sen. Raphael Warnock, D-Ga., said in his first speech after his 2021 election "is part of a massive and unabashed assault on voting rights unlike anything we've ever seen since the Jim Crow era. This is Jim Crow in new clothes." Warnock was elected then to fill an unexpired term and he's on the ballot again this year—in a state whose Republican-dominated government has enacted even more voting restrictions.
So in the face of all this and more, including shortages of election poll workers and judges because of rightist threats and intimidation, what's a voter, challenged while waiting in line, to do?
Resources to fight back available
There are several resources. The key ones: Toll-free hotlines to report such offenses, all run by the nonprofit website 866ourvote.org, which Common Cause established. It includes toll-free numbers in various languages:
866-OUR-VOTE (English).
888-VE-Y-VOTA (Spanish).
888-API-VOTE (Chinese, Vietnamese, Korean, Bengali, Hindi, Urdu and Tagalog).
844-YALLA-US (Arabic, 844-925-5287)
And Our Vote also lets people text it directly at (866) 687-8683 to get voting help from a trained volunteer
Common Cause and its allies have also trained thousands of volunteers to assist voters who are hassled, threatened or intimidated at the polls.
The federal government is involved, too. The Justice Department 's Civil Rights Division established election monitoring and protection task forces in every state, headed by an Assistant U.S. Attorney. In states with more than one U.S. attorney's district, such as New York, Illinois, Pennsylvania, Michigan and California, there are task forces operating out of each DA's office.
All can be accessed by calling the department's Civil Rights Division toll-free 800-253-3931 or by filing a complaint form at https://civilrights.justice.gov/.
And while protecting voters once they get to the polls is primary, the NAACP is working to ensure they get there, first. Its Pull Up to the Polls project, with Lyft as a partner, provides complimentary rides to get you to your polling station. Sign up to receive a code for two rides up to $25 off (while supplies last) through Nov. 8.
Finally, in at least one state, Michigan, there's a ballot initiative, Proposal 2, to ensure such repression doesn't repeat itself in 2024. Michigan was one of the swing states where former Republican Oval Office occupant Donald Trump tried to strongarm the outcome in his favor, even though Democratic Joe Biden won it.
Trump first questioned voting in majority-Black Detroit, implying there was illegal voting. His schemers seized on an erroneous report from a small upstate county—which officials there corrected even before Election Night 2020 was finished—to claim widespread fraud statewide.
Then Trump tried to force the four-member Wayne County (Detroit) Board of Elections, of two Democrats and two Republicans, to refuse to certify the vote count. One of the Republicans refused. The vote count was approved 3-1—and the Republicans promptly fired the elections board member who provided the key vote.
"Proposal 2 will allow nine days of early voting, require pre-paid postage for absentee applications and ballots, require military and overseas ballots to be counted if postmarked by Election Day, and require ballot drop boxes for every 15,000 voters in a city," the ACLU reports.
"It will also protect the vote against the anti-democratic tactics other states used' in 2020," by establishing that post-election audits may be conducted by state and local officials and that canvassing boards may only certify election results based on official vote counts."