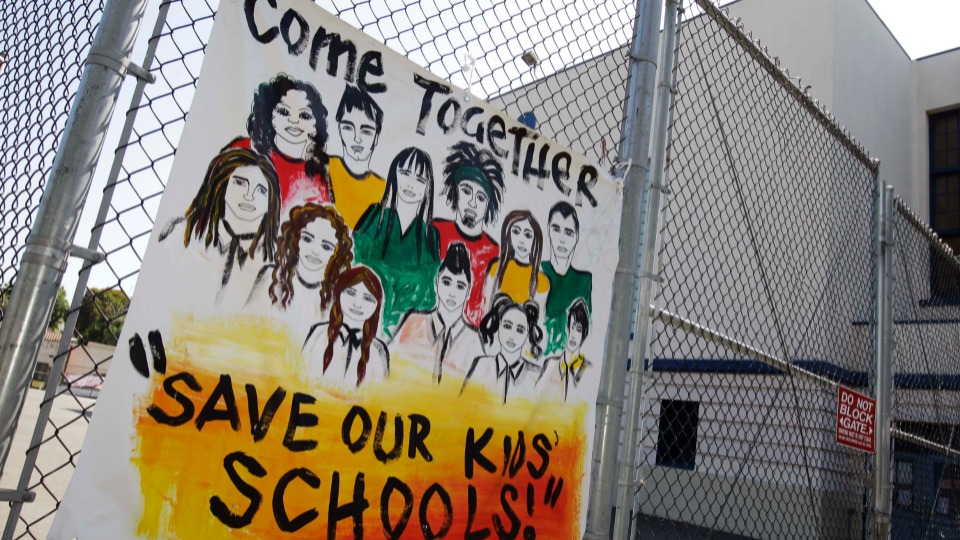 OAKLAND, Calif.—The struggle to prevent another round of school closures and mergers here entered a new phase this week, after the Oakland Unified School District Board of Directors voted at a special virtual meeting Feb. 18 to proceed with the plan it had approved earlier in the month despite overwhelming and sustained community opposition.
Over the Presidents' Day weekend, parents, students, teachers and community members held meetings and rallies at affected school campuses, and the teachers' union, the Oakland Education Association, was reportedly discussing whether to strike in protest.
Hopes had been raised briefly after school board members called the Friday meeting to consider postponing until next year closures and mergers originally planned for this year, to allow for a more thoughtful approach and adequate preparation. The two school board members who have consistently opposed the closures and challenged claims the district faces seriously declining enrollment and imminent financial crisis had called for postponing the actions. That had also been a demand of the two teachers on hunger strike since Feb. 1, who had pledged to end their strike if the Board would hold the special session.
But even as the Feb. 18 special meeting began, with a reported 999 participants on ZOOM, it was evident the cards were stacked against postponement.
After thanking the Westlake Middle School community and other supporters for their help and care, hunger striker and Community Schools Manager Moses Omolade told the crowd, "These past 18 days have been rocky, they've been beautiful. We've laughed, we've felt cranky, we've been hungry, we've been fed in so many ways, we've been loved.
"But we've also had to rub shoulders with some of the people we have in power in this country, and also the people in power in this city."
Omolade said while he was still going to end his hunger strike, the hope he had for the meeting's outcome had dwindled, based on his conversations with school board members.
Also expressing gratitude to supporters within and beyond the school community, fellow hunger striker Andre San-Chez said their private conversations with board members and others in district and state bodies had let them see the depth of the Board members' character.
Saying their research showed school closures to be inequitably distributed across different types of communities and to have very negative consequences for students and neighborhoods, San-Chez pointed out that the two schools slated to be closed at the end of this year, Parker Elementary and Community Day Schools, have majority African American student bodies, with over 90% of students eligible for free or reduced cost meals.
Omolade and San-Chez both declared they would continue their fightback against the closures.
Dozens of students, parents, teachers and retired teachers, and community members joined the conversation with public comments over ZOOM. Several said they would take up the hunger strike the next day.
No speakers in public comment supported proceeding with closures and mergers.
Said a woman whose granddaughter attends Parker Elementary, an East Oakland school slated to close at the end of this year, "I have one question to ask the Board – how many schools do you have between Seminary Ave. and 82nd St., between MacArthur Blvd. and Edwards Ave.? You have one that's open, and that's Parker. Where do you expect these kids to go, and you're not going to pay for it?"
Her granddaughter chimed in, "I don't want you guys to close down my school because I have a lot of friends there, and Parker is the school I feel loved and appreciated at," and the woman added, "If that's where they feel loved and appreciated, that should tell you a whole bunch, because you all don't care anything about them."
"We have continuously shown up to these board meetings," said another woman, "standing together to show that we do not support these school closures, but you still voted against the people you're here to represent." Referencing the November 2020 ballot measure voters passed to give 16- and 17-year-old Oaklanders the right to vote in school board elections, she told the board, "I want you to know that for the coming election we will make sure every single 16- and 17-year-old student registers to vote. None of you will make it back to the board because you have shown how little you deserve the title of school board member."
Maria, a former student at La Escuelita whose sister will be affected when the school loses its middle school grades next year, urged the board to reject closing schools. "If you care about our communities," she told the board, "you would listen to all these children and families and do what pretty much everyone is telling you to do – to stop the school closures."
Liz Suk, executive director of the social justice collaborative Oakland Rising, and the parent of a public school student, told the board, "This is the moment to stand up for the Oakland we all believe in, to stand on the side of the community and call for no school closures, call for community engagement, to talk to the community and build. This is not the moment for you to stand on your bad choices!"
As time for the vote approached, the two student school board directors, whose votes are ceremonial, called on their fellow board members to support the amendment.
Student Director Natalie Gallegos Chavez, a junior at Oakland High School, told them of the visit she and Student Director Samantha Pal had paid to an elementary school in East Oakland.
"You see elementary students laughing, having a great time, having great relationships with their teachers," she said. "These are our little leaders. If these were your students, if this was your child, and that was your school on the list, you would be voting Yes right now … I encourage you all to vote with the community."
Director VanCedric Williams, who supported the amendment, urged fellow board members to take an additional year to engage with and listen to the community. "And the reason I'm asking you to reconsider is that as many community members have said, this harm we've created is a harm against our students with disabilities, a harm against our Black students, and it's creating damage that will last a few generations."
Director Mike Hutchinson told his colleagues, "The whole country is watching our democratically elected school board ignore the voices of the community that elected them … you all are democratically elected representatives, and it's clear what the will of the people is." Reminding them that the Oakland City Council, Alameda County Board of Education and state legislators representing Oakland all oppose proceeding with immediate closures, he warned them that the community will respond.
In the end, Directors Hutchinson and Williams voted to postpone this year's closures and mergers, while Directors Aimee Eng, Clifford Thompson and board President Gary Yee voted against postponement. Director Sam Davis abstained, and Director Shanthi Gonzales did not attend the meeting.