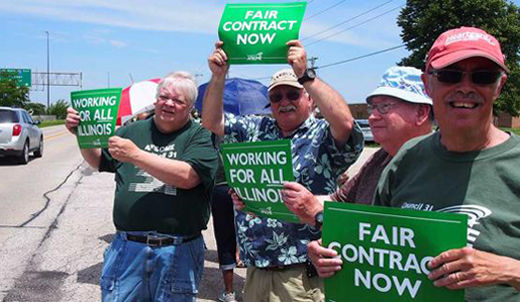 SPRINGFIELD, Ill. – Echoing his campaign threats to strip public service workers of their rights and drive down their middle-class standard of living, Gov. Bruce Rauner's administration is asking retired state employees to report to work as strikebreakers in the event of a possible work stoppage.
The governor also failed to deny reports that he is considering calling on the Illinois National Guard to replace state workers in the event of a lockout or strike – even though there's never been a work stoppage in the more than 40 years of state employee collective bargaining in Illinois.
According to a report by the State Journal-Register, AFSCME retiree David Scheina of rural Sangamon County received a call from the Illinois Department of Children and Family Services, asking him to work in the event of a strike.
"I was somewhat appalled by it," he said. "I feel it was wrong, an employee on state time trying to line up retirees to cross a potential picket line that I didn't see being suggested. I thought it wasn't bargaining in good faith."
Following a 25-year career working for the state of Illinois, Scheina retired three years ago.
"I think it's important that the retirees also understand that these negotiations have an impact on their future also," Scheina added. "Our medical and dental and vision care benefits could still be on the table."
The possibility of using Illinois National Guard soldiers in place of locked-out or striking state workers got a negative review from former National Guard Adjutant General and current state Rep. David Harris, a Republican.
"It's a terribly impractical and, in my opinion, inadvisable idea," said Harris. "You're going to replace [state public service workers] with people who carry M-16s and .45 pistols?"
After more than five months of negotiations over a new union contract, AFSCME's current agreement that covers more than 35,000 Illinois state employees expired on June 30. AFSCME Council 31 and Governor Rauner's administration agreed to a two-month contract extension on July 29. Soon after, however, Rauner vetoed legislation that would have offered state employees the option of binding arbitration to resolve contract differences and avoid a strike or lockout.
The veto is a further sign that the governor may be seeking to provoke a needless crisis. AFSCME will join with all unions that represent Illinois state employees in seeking to override the veto.
Check out this video to learn more about what is at stake.
Photo: Retired Illinois state workers rally in support of AFSCME Council 31's efforts to gain a fair contract.
Reposted from the AFSCME Blog