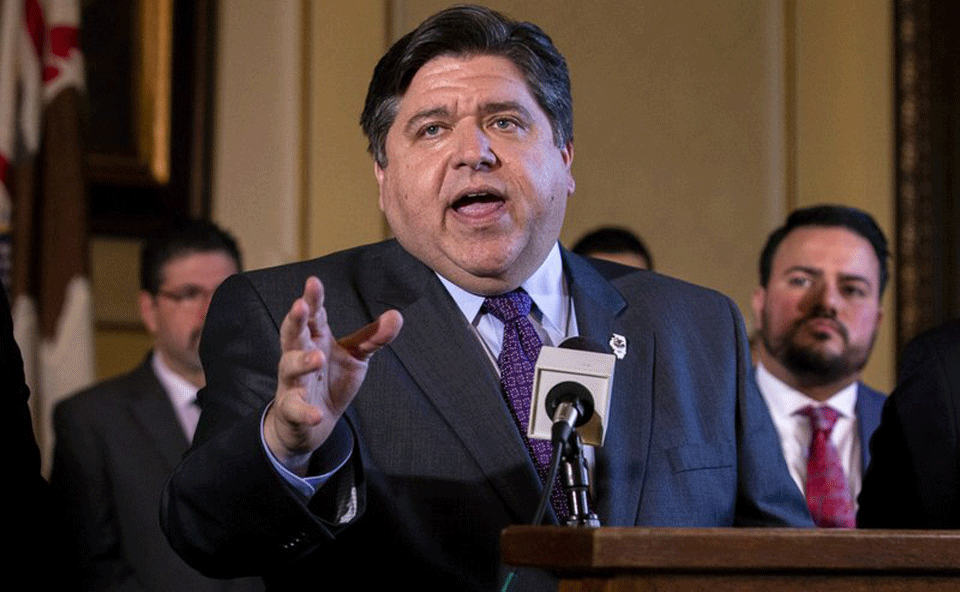 CHICAGO – Gov. J.B. Pritzker, D-Ill., the progressive legal group Human Rights First and the pro-worker VoteVets veterans organization are all sounding alarms about GOP President Donald Trump's turn towards fascism, starting with his threats of a military takeover of U.S. cities.
Pritzker was irate, saying afterwards that Trump "is strictly trying to make himself sound like a strong man – almost like a dictator." HRF blasted Trump's "frightening turn towards despotism."
Trump was angry over protests nationwide about the Minneapolis police's murder of unarmed African-American George Floyd the week before. Some protests produced window-smashing and burning buildings at the end of the night of June 1.
But probers later learned that much of the smashing and burning, in Pittsburgh and elsewhere, was instigated by right-wing white nationalists masquerading as demonstrators or mixing in with them. Elsewhere, police ran amok, leading the Chicago chapter of the National Lawyers Guild to say, in a phrase reminiscent of 1968, "The police rioted." It sent volunteer lawyers into the streets to protect rights of protesters.
Trump didn't see it that way. He lashed out at the protesters, calling them "professional anarchists" and "violent mobs" and ordered troops into Lafayette Square in front of the White House to clear out protesters and provide him with a photo op in which he strutted across the violently-cleared space to stand, brandishing a bible, in front of St. John's Church. A small blaze had been set and squelched in the basement of the church the day before.
He ordered his Justice Department to mobilize a horde of federal police forces – from the FBI and the Secret Service to the U.S. Park Police and the U.S. Army – to protect property "and your Second Amendment rights" from those he called "looters" or worse.
Earlier, in a conference call, he berated governors, saying "most of you are weak" and "you have to arrest people." He later used a Nixonian phrase from 1968, labeling himself the "law-and-order" president. Two other prominent Republicans, Gov. Henry McMaster (S.C), on the call, and Sen. Tom Cotton (Ark.) in a statement, supported Trump. Gov. Larry Hogan, R-Md., objected. Other GOPers were silent.
Trump also plans to invoke a 217-year-old law to send troops into the streets nationwide, just as he did in D.C., after first trying – but failing, according to the Washington Post – to take over the D.C. Police Department.
"The rhetoric coming out of the White House is making it" – the situation on the streets – "worse," Pritzker told Trump, according to the leaked conference call. "I don't much like your rhetoric, either," Trump shot back. What Trump planned is "illegal," the governor said later.
"I reject the notion the federal government can send troops into the state of Illinois," he told National Public Radio June 2, the day after the conference call. "The governor of a state has to ask for federal help. I don't know any governor that intends to do that. And secondly, you know, you can hear in his rhetoric that he is simply trying to make himself sound like a strong man — almost like a dictator, as if he's going to be responsible for bringing order all the way."
Illinois has a history of presidents overriding governors and sending troops against unarmed civilians, going back to the 1893 Pullman Strike, when President Grover Cleveland, a pro-business Democrat, overrode pro-worker Gov. John Peter Altgeld (D). Cleveland sent troops to take over Chicago, smash the American Railway Union and arrest strike leader – and Socialist icon – Eugene V. Debs.
Human Rights First was even blunter than Pritzker.
"When the president of the United States says, 'I will deploy the United States military and quickly solve' a domestic issue, it threatens to cross a bright line that has helped define America as a democracy for more than 200 years,'" said the group, known for publicizing dictatorial abuses abroad.
When Trump "told the governors, 'You have to dominate.  If you don't dominate, you're wasting your time – they're going to run over you'…he was speaking the language of autocracy, not like the leader of a pluralistic and federal democracy."
"These statements not only inflame tensions in an already fragile situation, but they are also dangerous and suggest a frightening turn toward despotism."
Former Iraq and Afghanistan combat officer Michael Breen, the legal group's president, said the military "must not be used as a tool for social control in American communities." He added the states "have adequate first responders and emergency service providers, including the National Guard" to manage things.
The governors talking with Trump, including Pritzker and other targets of Trump's tirades – Democrats Andrew Cuomo (N.Y.), Gretchen Whitmer (Mich.), and Gavin Newsom (Calif.) — made the same points about using the guard, though Newsom and Cuomo have not done so.
VoteVets also blew the whistle on Cotton, a Middle East war veteran. The group's director of government relations, Will Goodwin, also predicted calling in the troops would mean civilian deaths in the streets, which the military euphemistically calls "collateral damage." And those would be war crimes, said Goodwin.
Trump "told governors he wished he had an 'occupying force' he could send into Minneapolis.  His Secretary of Defense described protests as a 'battlespace' that had to be dominated.  Meanwhile, Cotton has called for mobilizing the active duty component of the military, to illegally face off directly with protesters and order them to give 'no quarter,' which isn't just against the rules of our own War Manual, but is a war crime under international law."
In military terminology "no quarter" means not accepting even outright surrender of the enemy but proceeding instead with killing them.
"Before mobilizing our military to illegally fight this 'war,' how many innocent American lives would be an acceptable level of collateral? If the answer to that question is zero, then we'd suggest you stop comparing this situation to a war, and start acting like responsible leaders," Goodwin warned both Trump and "hawks" such as Cotton. "That is if you're even capable of that," he concluded.