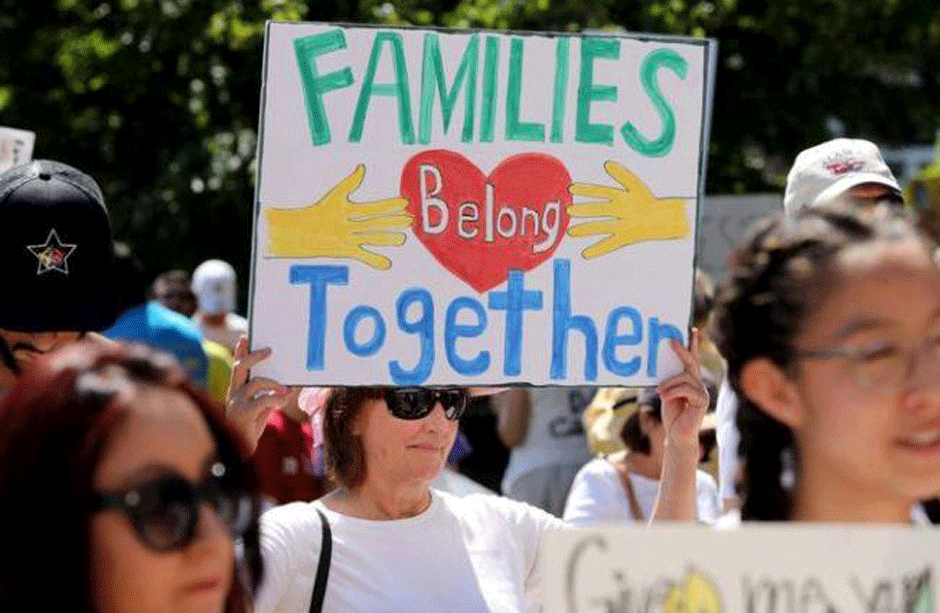 A proposed $20 million ICE detention center in Dwight, Illinois will not be built if, as expected, Illinois House Bill 2040 passes the state Senate. Private for-profit companies will be prohibited from operating civil detention facilities in the state as a result of the legislation passed earlier this month which would expand the state's moratorium on private prisons to include civil detention centers like those that hold immigrants facing deportation. The House voted 85-26 in favor of the bill on April 10.
In March, the Dwight Village Board approved an agreement with a Virginia-based firm, Immigration Centers of America (ICA) to annex land to build the center. The trustees' approval of the annexation agreement sparked outrage from community organizers who claimed that the board had purposely left the public out of the conversation in order to rush their vote through.
Gabriela Marquez-Benitez, 30, a pro-immigrant activist who was present at the hearing, told People's World that despite overwhelming resistance, the initial proposal passed by one vote. Activists alleged that ICA spent years building relationships with local politicians. "When we dug into it some more, we discovered that they had been in conversation with Mayor Jared Anderson for two years," says Benitez. "At no point in time during the 2-year period was the community informed."
Benitez is membership director of the Detention Watch Network. She says that the lack of transparency around the hearing made it easy for the mayor to spin a positive narrative about the construction of the detention center to local residents. "They talked about how these centers would be great venues that would have soccer fields and amenities," she explained. Mayor Anderson also highlighted the "economic benefits" of the detention center – pushing the promise that the facility could potentially employ more than 200 people.
According to the Chicago Tribune, the ICA has tried to expand to the Midwest region, and previously sought to purchase a former state prison in Ionia, Michigan, east of Grand Rapids. City officials in New Richmond, Wisconsin recently rejected ICA's request to build a new facility after organizers urged them against it.
Home to approximately 4,038 residents, Dwight Village was ICA's most recent target for a detention center due to its proximity to the Chicago metropolitan area. The Request For Proposal (RFP) on the federal agency's website indicates that ICA was seeking a facility that fell within an 80-mile radius of Chicago's Immigration Court. Dwight is situated near Interstate 55 and Route 17, facilitating travel to and from cities like Milwaukee and Indianapolis where other major prison hubs are located.
"Regardless of the location of the detention center, a large portion of the community that would be detained would come from our area [Chicago]," says Benitez. This is one reason city activists have rallied so hard against the construction of the detention center in Dwight, and why they continue to push back against requests by ICA to contract in nearby states, Benítez says.
Despite Chicago being a "sanctuary city," some officials have supported policies encouraging police collaboration with ICE, such as the city's gang database program.
State legislators have spoken out in support of immigrant communities. State Sen. Omar Aquino, D-Chicago, slammed the village's trustees for approving the annexation of land for the detention center. "ICE has consistently violated human rights to carry out the president's racist agenda of deporting immigrants of color," he said in a press release, "and they are not welcome to carry out that agenda in my state."
Like many of her fellow organizers, Benitez has experienced the inhumanity of the immigration prison system in her own family. In 2009 Benitez's father was held for months in a private detention center in Louisiana. While he was incarcerated, Benitez says, her father was "denied access to medication and berated by ICE officers to sign deportations orders." Such coercion tactics are common in detention centers, as owners have financial motives for keeping detainees locked up. "It isn't just the fact that they took away my father, but they that were also profiting off of locking him up."
The proposal for an immigrant detention facility in Dwight, one of many such proposed centers in the Midwest, represents a national trend to profit off the imprisonment of Black and brown communities, Benitez says.
Illinois already prohibits private prisons from operating in the state, and the new bill follows that trajectory. Community activists and pro-immigrant-rights lobbyists continue their advocacy as the House bill moves to the Senate. The Detention Watch Network, Illinois Coalition for Immigrant and Refugee Rights, and Organized Communities Against Deportations continue to advocate for legislative change through collective grassroots organizing.
Community members are calling on the Illinois Attorney General Kwame Raoul, and Governor J.B. Pritzker to speak out in support of the bill. "We've seen how politicians can play a big role in these fights," says Benitez, citing Gov. Gretchen Whitmer's decision to block the construction of an immigrant-detention center  in Ionia County, Michigan.
In the meantime, advocates of undocumented and immigrant communities are focused on the long-term goal of dismantling ICE, completely abolishing immigrant detention centers in the U.S. and providing accessible pathways to citizenship.
"We are an abolitionist organization, we are not advocating for better conditions," says Benitez, "We are advocating for the end of these cages altogether."
A "Rally Against Trump's Deportation Machine" will take place Wednesday April 24 at Chicago's Federal Plaza at 5:00pm.